It's not even 1 December, yet we're in a generous, festive mood here at Scotchwhisky.com. That's why we're adding a pair of tickets to The Whisky Exchange Whisky Show 2017 to our Big Fat #XmasWhisky Hamper giveaway.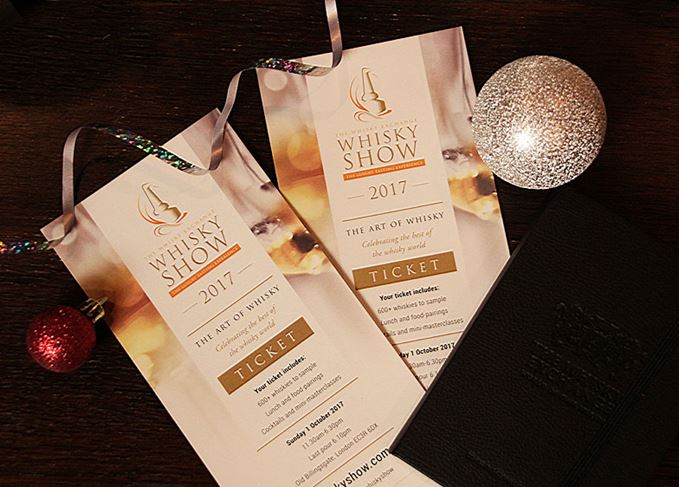 The hamper is already chock-full of whisky goodies worth a staggering £1,200 to help you and your loved ones see Christmas and the New Year in with a dram in hand, including 11 bottles of whisky, two books, whisky crackers, fudge and more.
As if the prize wasn't ridiculous enough, we're also adding a pair of tickets to the Sunday session of The Whisky Show 2017, held on 30 September-1 October at Old Billingsgate in London.
The tickets, which usually retail for £99 each – but are currently on an early bird offer of £80 – include access to more than 600 whiskies to sample, food pairings and cocktails, mini masterclasses and talks, a two-course meal, one Dream Dram token and a tasting glass to take away with you.
On top of that, we're also throwing in a hardback Whisky Exchange tasting notes book so you can keep track of all your favourite whiskies at the show and throughout the year.
All readers have to do to win this unique prize is post a festive photo of their favourite dram on Twitter, Facebook or Instagram with the hashtag #xmaswhisky.
Dress your dram up with tinsel, snap your Scotch beside the fireplace or capture a bottle beside the Christmas tree. Whatever the festive season means to you, we want to see it on social media. Just don't forget the hashtag and remember to make your Facebook posts public, or we won't be able to find your photo.
You can find Scotchwhisky.com on Facebook at @Scotchwhisky.com, and on Twitter and Instagram at @Scotchwhiskycom.
The competition is open to UK and Europe residents only, and closes at midnight on Sunday, 11 December. The winner will be selected at random and contacted on Monday,12 December.
Scotchwhisky.com always recommends its readers enjoy their whisky responsibly.
Details about the full list of prizes included in this massive hamper are listed below.

Dreaming of a whisky Christmas: The #xmaswhisky hamper includes everything you need for a dram good time this festive season

THE SCOTCHWHISKY.COM BIG FAT XMAS WHISKY HAMPER INCLUDES:
Two Whisky Exchange Whisky Show tickets & tasting notes book
A pair of tickets to London's biggest whisky show on 1 September 2017, plus a hardback tasting notes book. The tickets include access to over 600 whiskies to sample, food pairings and cocktails, mini masterclasses and talks, a two-course meal, one Dream Dram token and a tasting glass.
Lagavulin 200th Anniversary Set
Includes a bottle of Lagavulin 8 Year Old, a Lagavulin virtual reality headset, Lagavulin sensory kit, two Lagavulin Glencairn glasses and a Lagavulin pin badge.
Auchentoshan gift set
A bottle of Auchentoshan American Oak complete with four ceramic mugs, perfect for warming Toddies or mixing the brand's signature beer cocktails.
A Table: Whisky from Glass to Plate by Martine Nouet
French whisky expert and author Martine Nouet presents an original take on whisky as an accompaniment to food through 60 recipes honed over many years as a whisky presenter and cook.
The Malt Whisky Yearbook 2017 by Ingvar Ronde
The latest edition of every malt whisky enthusiast's handbook features facts and figures from every Scotch malt whisky distillery, as well as in-depth articles on current whisky topics.
Drinks by the Dram Whisky Crackers
A box of six luxury crackers, each featuring a 3cl bottle of whisky, a party hat and joke.
That Boutique-y Whisky Company Blended Whisky #2 18 Year Old
A blended Scotch whisky from That Boutique-y Whisky Company, this time an 18-year-old dram bottled at 46.7% abv.
The Blended Whisky Company Half-Century Blend
A whisky described as a 'bottle-shaped love letter' to the days of floor maltings, long fermentations, direct-fired stills and worm tubs, this blend has been created with whisky that's been aged for over 50 years, and bottled at 45.5% abv.
Scotchwhisky.com Editors' Choice miniature
A special miniature bottled to celebrate the launch of Scotchwhisky.com in October 2015. The site's three editors – Dave Broom, Becky Paskin and Richard Woodard – chose to bottle a single malt without an age statement or distillery disclosure to allow readers to just enjoy the whisky in front of them without pre-conceived perceptions of its flavour.
Oban-flavoured fudge
Delicious fudge produced by Gardiners of Scotland that's infused with the taste of Oban malt whisky. The perfect accompaniment to an after-dinner dram.
Strathisla hip flask
A long British pewter hipflask created by the Quaich Company using traditional methods. Perfect for carrying a dram with you on a long Christmas Day walk.
Macallan Edition No 2
A no-age-statement single malt from Speyside distillery Macallan, featuring whiskies matured in seven different cask types from four Sherry bodegas: Tevesa, Diego Martin, Jose Miguel Martin and Vasyma. It's bottled at 48.2% abv.
Single Malts of Scotland Linkwood 24 Year Old
A classic Linkwood distilled in 1991 and bottled in 2015, this is a single cask bottling from a Hogshead cask, bottled at 53.8% abv for the Single Malts of Scotland range.
Bowmore 12 Year Old
The 12-year-old sits in Bowmore's core range of Scotch whiskies, and is a nod to the classic Bowmore style of the 1960s and '70s. Bottled at 40% abv, this is a sure palate pleaser for Scotch whisky fans who like a touch of peat in their drams.
Laphroaig 10 Year Old, personalised bottle
Another peated delight, Laphroaig 10 Year Old is the original peated whisky from the Islay-based distillery, and is bottled at 40% abv.
Time II, Benrinnes 20 Year Old
Distilled at Benrinnes distillery, this 20-year-old Scotch whisky was bottled by Speciality Drinks exclusively for The Whisky Show in London. Bottled at 50% abv, there are only 280 bottles in existence.
Port Askaig 8 Year Old and notebook
This is the youngest age statement single malt released by Port Askaig from an undisclosed Islay distillery. Bottled by Speciality Drinks, it has an abv of 45.8% and comes with a Port Askaig notebook to scribble all your tasting notes as you enjoy this peated dram.
House of Cheviot tweed flat cap
House of Cheviot is renowned for its Highland attire, with more than 200 years' experience. This stylish tweed cap was made in Scotland from all British wool tweed.