Arran distillery
Islands Single Malt Scotch Whisky
As an island whisky, it might be thought that Arran would always have been peaty. Instead, it started life as a non-smoky 'Highland-style' malt. Like any new build distillery, the equipment is in an easily managed single tier space with small semi-lauter mashtun, wooden washbacks and a pair of small stills.
The character shows light cereal crunchiness behind a distinctly citric note. Arran has also shown that this distillate, allied to a quality-focused wood policy, has given single malt that is capable of extended ageing. These days, peated malt is also being run.
Region

Islands

Production type

Single malt

Distillery Status

Working

Brands produced here

Robert Burns
Arran History
Although the Arran distillery is relatively new (production started in 1995), the island in the Firth of Clyde has a long history of whisky-making. A fertile place, the farmers in the south of the island had plenty of raw materials to work with, and when home distillation and small stills were effectively banned in the late 18th century, they simply went underground.
After all, demand for smuggled whisky was on the rise and Arran had excellent links to Glasgow. There is some evidence that molasses was also distilled here. When the law changed a legal distillery ran at Lagg from 1825, but it closed in 1837 and Arran's distilling heritage was seemingly lost forever.
All that changed in 1995 when a consortium, headed by former Chivas Bros MD Harold Currie, chose a site at Lochranza in the north of the island. The decision to move to a part of Arran that was previously unknown for whisky was a result of two facts: a good water supply and potential for tourism. Today, in excess of 60,000 people visit the distillery every year.
Further cash was made by selling casks of whisky to private individuals but the scheme was halted when it was discovered that though the money raised was useful in creating initial cashflow, it resulted in the distillery not owning a significant percentage of its own stock – a problem when trying to build a brand.
Bottling started with a limited edition three-year-old in 1998 and the range has continued to expand, although today there are fewer 'finished' variants than in the past. A peated expression 'Machrie Moor' has also been introduced.
Timeline
1994

Work starts on building a distillery at Lochranza, Arran

1995

Distilling officially commences at Arran

1997

Arran's visitors' centre is opened by Queen Elizabeth II

1998

The distillery's first bottling, a limited edition three-year-old, is released

2010

Arran releases its first peated single malt, Machrie Moor

2015

The distillery releases its first limited edition bottling of an 18-year-old
Owner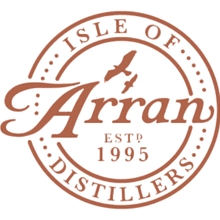 Contact
Address

Arran Distillery




Lochranza




Isle of Arran




Bute




KA27 8HJ




United Kingdom

Website

Phone

+44 1770 830334

Email

Visitor Opening Hours

Monday

10am (11am Nov-Feb) to 5.30pm

Tuesday

10am (11am Nov-Feb) to 5.30pm

Wednesday

10am (11am Nov-Feb) to 5.30pm

Thursday

10am (11am Nov-Feb) to 5.30pm

Friday

10am (11am Nov-Feb) to 5.30pm

Saturday

10am (11am Nov-Feb) to 5.30pm

Sunday

10am to 5.30pm
Missing Information?
We strive to provide the most up-to-date and accurate information possible, but if you think we have missed something or you have an image you'd like to share, then please let us know.
Get in touch