Clements & Church and Chivas Fine Blends
Start Date

24 November 2016

Time

7pm - 9pm

Location

Birmingham, UK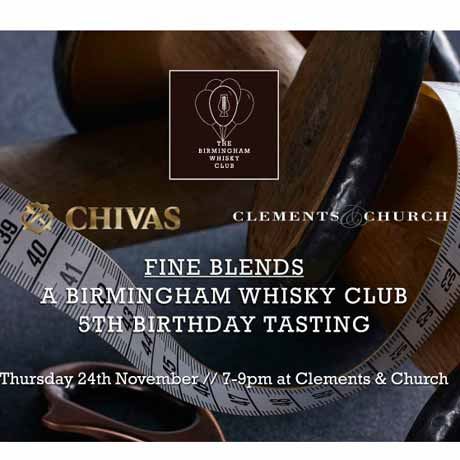 The Birmingham Whisky Club would like to invite to you to join them for an evening of tailoring and whisky at Clements & Church for Fine Blends.

Take a journey into the world of bespoke tailoring and the art of whisky blending with Chivas at this one-off event.

The art of blending is to harmonise the characters of many selected malt and grain whiskies to produce brands of the highest quality, such as Chivas, that are consistent in flavours and taste from year to year.

Colin Scott, master blender for Chivas, explains: 'The art of the master blender in understanding the many different flavours in Scotch whisky is like the work of a composer: not only do you need to completely understand the musical characteristics of every instrument, but you must also understand how to combine them to build an unforgettable, spell-binding symphony.'

Attention to luxury detailing encompasses the very heart of the Clements & Church brand. Pride in sartorial excellence and a complete focus on discovering the very best fabric for its sophisticated collections sits at the very foundations of the brand's belief that 'a tailor is for life'. Working to their own bespoke blocks and accomplished in finishing, they are masterful in their execution to curate the most beautifully decadent and refined results.

The line up will be:
Chivas 12
Chivas 18
Chivas 25
Royal Salute 21
Ballantines 17

Schedule
7pm - Doors open. You will be welcomed with a dram of Chivas 12 and a chance to meet and chat with other like-minded whisky lovers, in the beautiful surroundings of Clements & Church.
7.15pm - You will be formally welcomed to the event by Phil Huckle, brand ambassador for Chivas, and Matt Roden, head tailor at Clements & Church, before delving into the wonderful world of bespoke tailoring and whisky craftmanship.
8.45pm - Although the tasting is over, please feel free to stick around. Anything you were afraid to ask? Grab our residents expert and have all your queries answered.

No food will be provided during this event.

Terms & Conditions
No transfers. Events is strictly over-18s only.
Address

Clements & Church
22 Church St
Birmingham
West Midlands
B3 2NP
UK

Phone

07843206506