Special event Special event
Start Date

01 June 2017

Time

11am-6.30pm

Location

Isle of Jura, UK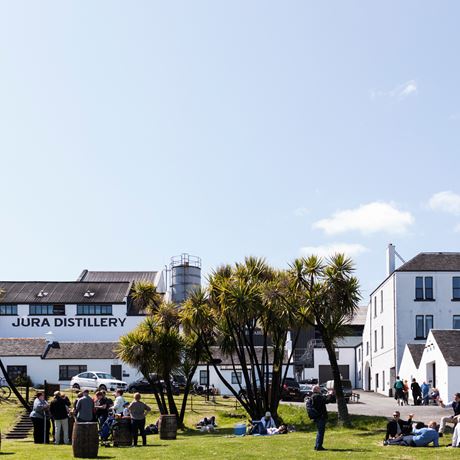 Join us at Jura Tastival on the 1 June to discover new ways to enjoy whisky through a jam-packed programme of one-of-a-kind taste experiences.

This year's Tastival event is limited to one day only (it has spanned two days in previous years), so get in early to snap-up tickets. See full information on each session below.

In addition to our ticketed sessions, music (including legendary Scots Trad band RURA) and the opportunity chance to sample Jura's range will be available in the Dramming Bar in the Cooperage, where you'll also have the first opportunity to try, and purchase, our limited edition Tastival 2017 bottling.

Please note: A £5 general entry fee will be charged to access the cooperage – available to buy now, online, or on the door on the day. This cost will include a brochure, souvenir glass and two drams at the bar. A cash bar will be available thereafter, with a full drinks menu including drams, cocktails and an exclusive Drygate beer brewed to pair with Jura's Tastival 2017 bottling.

The distillery will also run free tours of the still house throughout the day on a first come, first served basis.

We look forward to welcoming you to #JuraTastival.
Strictly over 18s only.

This year's ticketed sessions include:

The Jura Long Table: Dine with the Diurachs (the name for Jura's community) at this 'getting to know you' session. A special one-off lunch in the distillery's Grainstore, guests will join the locals (including some distillery staff) to hear stories on island life as they enjoy Jura's laid back take on street food, prepared with the freshest local produce and each dish designed to be paired with a dram of Jura whisky.

All Terrain Whisky Tasting: Discover the different sides of Jura and learn how the landscape inspires a whisky range as unique as the island itself. Venturing far beyond the realms of the distillery, the Jura bus will stop off at locations from serene beaches, to craggy mountain foots – with a whisky inspired by each location stashed for guests to find (if they listen to the clues) at every stop.

Whisky 101 – Meet Whyte & Mackay whisky maker and blender Gregg Glass in this unique session designed for both whisky newcomers and aficionados alike. Smashing perceptions on traditional whisky tastings, guests will be invited to take on a different 'state of mind' when it comes to single malt – sampling Jura in a number of non-fluid states, before an anonymous Q&A will give visitors the chance to ask anything they've ever wanted to know about whisky but were too afraid to ask.

The Single Malt Masterclass: An exclusive masterclass hosted by Jura distillery manager Graham Logan, honorary distillers will get on-the-job whisky making experience – from learning how to keep a careful watch over the spirit gauge, to testing the mash tun and wash backs, rolling a barrel through the warehouse and siphoning whisky straight from the cask.

Jura Jetty: Ticket holders will arrive at Tastival in true island style, cruising from Islay's Port Askaig directly to Jura's Craighouse, delivered to the heart of the event by Captain Nicol. On their journey, guests will enjoy a special tasting of travel retail exclusive Jura Turas-Mara the way it was meant to be experienced – with the wind and sea spray in your face.
Address

Jura Distillery
Isle of Jura
Isle of Jura
PA60
UK