Highland Park Whisky Tasting
Start Date

12 October 2017

Time

6-9pm

Location

Brooklyn, United States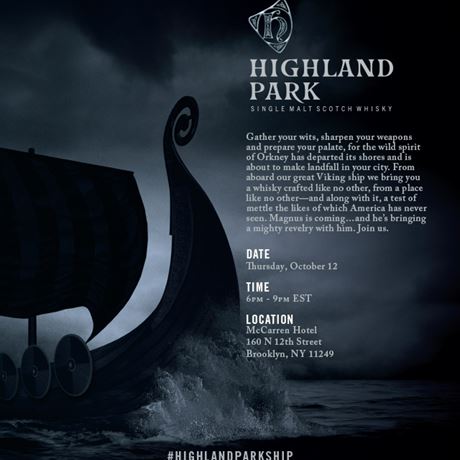 Gather your wits and prepare your palate, for the wild spirit of Orkney has departed its shores and has made landfall in NYC.

From aboard its great Viking ship (literally we built a ship on wheels), the Orkney Single Malt With Viking Soul brings whisky crafted like no other, from a place like no other. MAGNUS, the latest release from Highland Park invites you to join in the revelry and pay homage to the Viking heritage of Highland Park and the brave explorers like Leif Erikson, who led the first Europeans thought to have set foot in continental North America more than a millennium ago.

Join us for whisky tasting and challenges to test your mettle.
Address

The McCarren Hotel
160 N. 12th St.
Brooklyn
NY
11249
United States