The Rhythm and Booze Project in London
Special event Special event
Start Date

30 March 2019

Time

7.30pm-10.30pm

Location

London, UK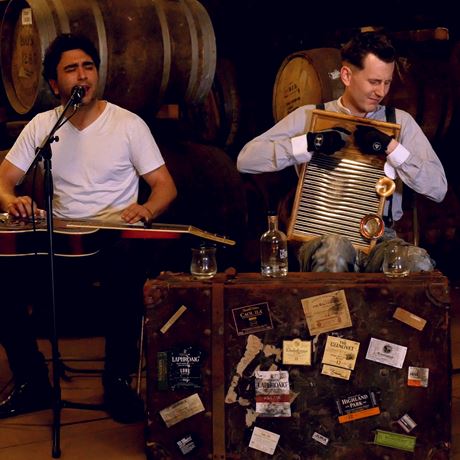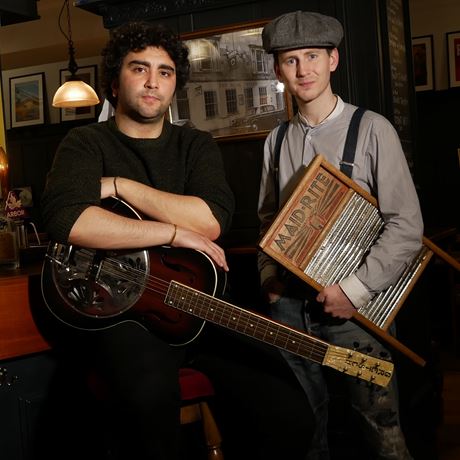 The boys from the Rhythm and Booze Project are back and ready to cause trouble in King's Cross! Felipe and Paul are going to bring you a night full of whisky, music, and mischief.
Taking place in the intimate basement of the Harrison bar, this is a combination gig and whisky tasting, featuring an open whisky bar (yes, you read that right) and the boys doing what they do best as a gritty musical duo. There are only limited spaces for this intimate and whisky-soaked event, so book now!
Here's the duo's official bio:
The Rhythm and Booze Project features Felipe and Paul, a duo fusing live music and whisky through gigs, tasting events, and multimedia experiences.
The project was born during a 2012 pilgrimage to the whisky capital of Islay, when Felipe and Paul played in bars and hotels in exchange for a meal, a bed, and healthy drams of whisky. Regular collaborations since then, including tours in the UK, United States, and South America, led to the creation of The Rhythm and Booze Project, which combines Felipe's and Paul's extensive background as professional touring musicians, event producers, and passionate fans of whisky in all forms.
As a musical outfit, the band incorporates roots, folk, and blues music in a uniquely gritty mix of its own, blending hypnotic grooves with raucous energy and irresistible showmanship. For their whisky tasting events, Felipe and Paul merge performance, live music, and multi-sensory experiences. Past projects encompass blues and whisky tasting events for Islay's Caol Ila distillery, a tasting event series in Edinburgh that saw live music from local musicians actually alter the taste of whisky itself, and intimate masterclasses with Lagavulin's distillery manager.
With five professional degrees between them, Felipe and Paul have an academic background to match. Felipe wrote his Masters degree thesis on sustainable distillation on Islay (conducting field interviews after Islay's Fèis Ìle whisky festival), while Paul has just completed his PhD in the history of jazz drumming and the drum kit in New Orleans.
Felipe is also a leading writer about all aspects of whisky for top industry publications including the websites Distiller.com and Scotchwhisky.com, and also writes about whisky for Forbes.com.
Disclaimer:
We'll turn away anyone (with no refund) who shows up drunk or not in a fit state to appreciate the music and whisky. You've been warned.
Address

28 Harrison St.
London
WC1H 8JF
UK