Ferintosh distillery
Single Malt Highlands Scotch Whisky
Ferintosh was a giant for its time, spread across three acres of land and with an annual output of 725,000 litres of spirit from its two large stills. It even had its own rail sidings. With no water source nearby, its founder D.G. Ross built a 3.5-mile pipeline to Loch Ussie, the water of which was apparently lauded by revered chemist Dr Stevenson Macadam.
The distillery was built with two very large copper pot stills, both of which ran into shell and tube condensers.
It was known as Ben Wyvis distillery until 1893.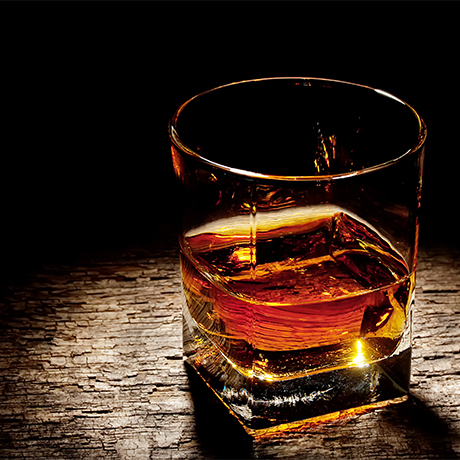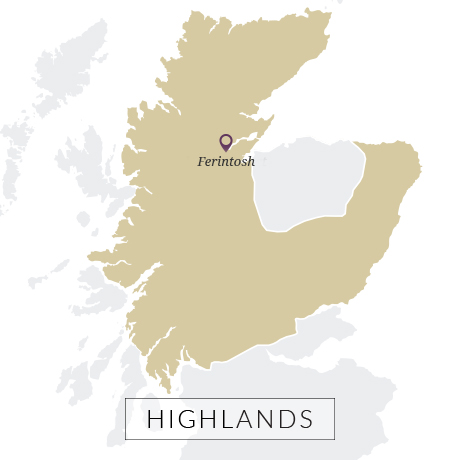 Region

Highland

Production type

Single malt

Distillery Status

Demolished
Ferintosh History
Ferintosh distillery was nestled in what Alfred Barnard describes as 'one of the most beautiful' valleys in the district. It was built on a three-acre plot in the shadow of Ben Wyvis itself, the mountain after which it was named, a quarter mile along the main road from Dingwall with just the railway between it and the Cromarty Firth.
The distillery was founded in 1879 by D.G. Ross, but became part of the Scotch Whisky Distillers consortium eight years later, joining Glendarroch distillery at Ardrishaig, Glen Nevis at Campbeltown, Dean in Edinburgh and Gleniffer near Paisley.
The syndicate was a failure, and was wound up just two years later, a sticky process that took five years to complete.
Ben Wyvis was sold in 1893 to the Ferintosh Distillery Co., a subsidiary of Belfast's Kirker, Greer & Co. Ltd, which renamed it Ferintosh distillery – not to be confused with the Ferintosh lamented by Robert Burns in his poem, Scotch Drink:
'Thee, Ferintosh! O sadly lost!
Scotland lament frae coast to coast!
In 1913 United Distilleries set up the Distillers Finance Corporation (DFC) in Belfast, without the involvement of its co-owner, Distillers Company Ltd (DCL). It quickly went on a spending spree, snapping up three Belfast blenders, London gin-maker Tanqueray-Gordon, plus Ferintosh distillery.
However DFC quickly landed in hot water when new legislation requiring grain whisky to be matured for at least three years was introduced by David Lloyd George, which hindered the operating profits of its blending business.
In 1922 DCL agreed to bail the floundering business out, purchasing the entirety of United Distillers. The license for Ferintosh was transferred to John Begg two years later, another company operated by DCL, while Ferintosh Distillery Co, was liquidated.
In 1926, with Prohibition in the US in full swing, and declining demand for Scotch whisky in what had become an over-supplied market, DCL permanently closed Ferintosh distillery.
The distillery's warehouses, located on the opposite side of the railway line, were still used by Scotch Malt Distillers until 1980, by which time they had fallen into a sad state of disrepair. In 1993 DCL sold the buildings for redevelopment as a housing complex.
Timeline
1879

D.G. Ross opens Ben Wyvis distillery near Dingwall

1887

Ben Wyvis joined the Scotch Whisky Distillers consortium

1893

With the dissolvment of Scotch Whisky Distillers, Ben Wyvis is sold to Irish group Ferintosh Distillery Company, and renamed Ferintosh distillery

1914

Distillers Finance Corporation Ltd. purchases Ferintosh

1922

Distillers Company Ltd purchases Distillers Finance Co., assuming control of Ferintosh

1924

Ferintosh Distillery Co. is liquidated, and the license for the distillery transferred to John Begg at DCL

1926

Ferintosh distillery is permanently closed

1993

The now decrepit warehouse buildings are sold for redevelopment at housing
Ferintosh Facts
Owner Previous owner
Contact
Address

Ferintosh distillery




Station Road




Dingwall




IV15 9FF




United Kingdom
See also
Distillery

Scotland's first community-owned distillery is also 100% powered by renewable energy.

Distiller

Community-owned society behind the eco-friendly GlenWyvis distillery in Dingwall.