Intertrade Profile
Intertrade – and many of the other famous Italian names from the 1980s – are commonly thought of as bottlers, but the term importer is probably more accurate. In Intertrade's case it selected stock from Gordon & MacPhail which, once bottled, was shipped to Italy and sold and distributed by the group.
The company was established by Ferdinando (Nadi) Fiori at a time when single malts were still relatively niche and low-key. It was a partnership between Fiori and the Turatello Brothers – Nadi would select the whiskies and oversee their import while the Turatello Brothers would handle the sales.
By the 1980s Italy had become a burgeoning single malt market, well developed by Glen Grant and Gordon & MacPhail for several decades already. As such, Intertrade was just one of several new importers and bottlers that exploited the country's more mature interest in single malts.
The whiskies it selected from G&M were considered to be of exceptional quality, with many rare non-chill-filtered, cask strength examples of the style of whiskies produced by distilleries during the 1960s.
Intertrade, along with Samaroli, Donini and others, was ahead of its time as bottling at natural cask strength was extremely uncommon in in the 1980s. This practice helped pave the way for future bottlers and played an important role in the evolution of enthusiasm for single malt whiskies.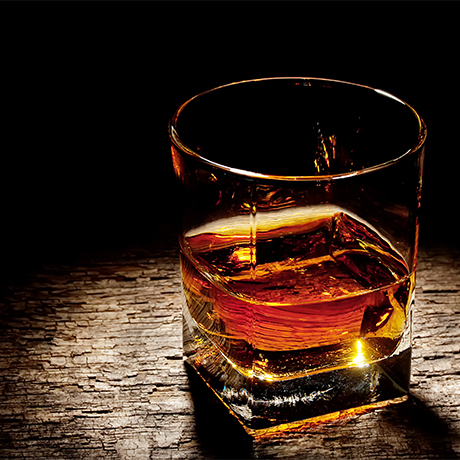 Intertrade History
In 1970 Nadi Fiori opened the Taverna degli Artisti restaurant in Ramini in partnership with his brother. By the end of the decade Fiori was making increasing visits to Scotland, where he struck up a friendship with George Urquhart of Gordon & MacPhail. The relationship led to Fiori stocking G&M whiskies in his restaurant. As Fiori's relationship with Gordon & MacPhail flourished, Taverna degli Artisti's whisky stocks increased.
Eventually Fiori founded Intertrade in 1984 as a spirits importer, in association with the Turatello brothers, who were Italian distributors and traders. The first bottlings by Intertrade appeared the following year and continued until 1989. After this time Fiori continued to import bottlings through his restaurant, although they were bottled under Turatello Import.
In 1999 Taverna degli Artisti was closed and Nadi started a new independent bottling business – High Spirits – the same year.