Schenley Industries Profile
Schenley industries was one of the largest liquor groups operating out of the US during the 20th century, with significant interests in Bourbon, American and Canadian whisky, gin and vodka.
In Scotch terms, Schenley was responsible for the construction of Kinclaith and Tormore malt distilleries, and – through its English subsidiary Seager Evans & Co – also once owned Laphroaig distillery and Long John blended Scotch. As well as owning several distilleries and blending companies through Seager Evans, it also distributed many of the Scotch and gin brands belonging to the DCL in the US, including Dewar's and Gordons.
Schenley's New York headquarters once occupied five floors of the Empire State building, which with over 800 employees made it the largest employer in residence.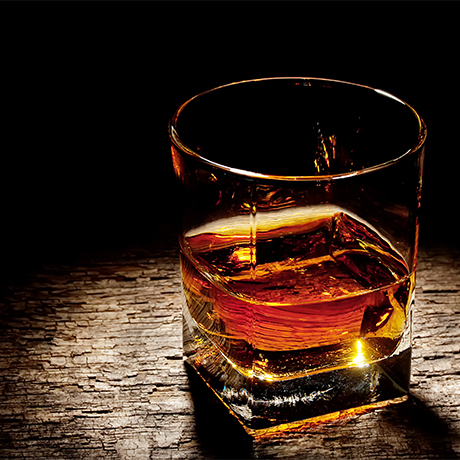 Schenley Industries History
Schenley Industries was founded in the 1920s, when Lewis Rosential purchased a group of distilleries, including one in Schenley, Pennsylvania that had a license to produce whisky for medicinal purposes during Prohibition – one of only six in the country to do so. Acting on the advice of Sir Winston Churchill, whom he met during a visit to the French Riviera in 1922, Rosential purchased large whisky inventories in preparation for the end of Prohibition.
When Repeal came in 1933, Rosential incorporated Schenley Distillers Company, which grew rapidly to become one of the largest liquor businesses in the US. It obtained the rights to distribute DCL's Dewar's in the US, with the blended Scotch allegedly contributing half of Schenley's profits.
The business was renamed Schenley Industries in 1949 and became a public company shortly afterward.
With Scotch whisky so vibrant in the US during the 50s – it took on the bulk of exports after the war – American ownership of Scotch interests abounded. Publicker Industries established Inver House Distillers; Hiram Walker made acquisitions of Scapa, Glencadam and Pulteney distilleries; while Seagram, which bought Chivas Brothers following the war, picked up Strathisla and Glen Keith.
In 1956 Schenley purchased London's Seager Evans & Co., at that time owner of the Strathclyde grain distillery in Glasgow, Glenugie malt distillery in Peterhead, and the Long John blended Scotch whisky brand.
Under Schenley, Seager Evans opened the Kinclaith malt distillery within Strathclyde, Laphroaig on Islay and Plymouth Gin distillery. It built Tormore in Moray, and acquired blender Gordon & Graham of Aberdeen (owner of Black Bottle) and Stanley Holt & Son, which had one of the largest stocks of maturing whisky in England.
Rosential sold his controlling interest in Schenley to the Glen Alden Corporation in 1968, and resigned from the company. Glen Alden was purchased by Rapid American in 1972 but, owing to US monopolies legislation, was required to divest some of its liquor interests.
In 1975 Seager Evans & Co – which controlled all of Schenley's Scotch assets – was sold to British brewer Whitbread and later renamed Long John International.
Meanwhile, Rapid American's CEO, Meshulam 'Rik' Riklis was caught up over allegations of share price fixing during Guinness' infamous takeover of Distillers Company Ltd in 1986. The following year Guinness also acquired Schenley industries from Riklis.