Samaroli Profile
The name Samaroli has become synonymous to whisky enthusiasts with rarity, legend and immense beauty, both organoleptic and aesthetic. The company – originally founded by Silvano S Samaroli – was one of the first dedicated bottlers to actively promote cask strength whisky, and is still one of the only ones to tout the beneficial effects of bottle ageing with the much-loved line on the rear labels: 'Further matures in its bottle'.
Throughout its 1980s heyday Samaroli released dozens of bottlings which are now considered 'legends' and are fought over tooth and nail whenever they appear at auction. The artistry of the labels has also proved influential over the years with numerous bottlers taking inspiration from Samaroli's elegant and artistic style.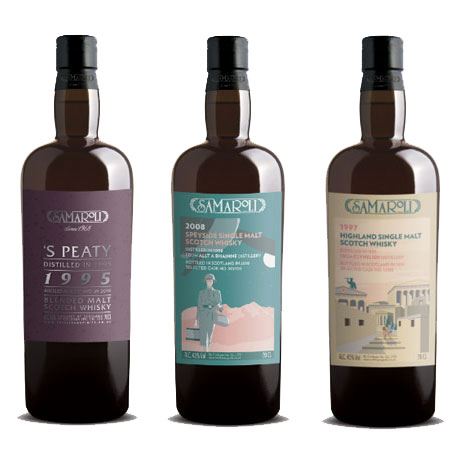 Samaroli History
Founded in 1968 in Rome, Italy, Samaroli was first and foremost an importer for the first decade of its existence. The first series, a specially-labelled set of dumpy Cadenhead bottlings, was released in 1979, followed by the 'Flowers' series shortly after in 1981.
During the early 1980s Samaroli began to source more individual releases directly from Cadenhead. Bottlings at cask strength began to appear, early examples being the Glen Grant 1969 59.0% and the Glen Garioch 1971 59.6%. Some bottlings were vattings of more than one cask while smaller outturns were from single casks.
By the late 1980s the majority of bottlings were at cask strength. As the 1990s wore on Samaroli sourced its stocks from a more diverse range of sources and bottlings began to slow a little around the early 2000s as demand for aged stocks of whisky began to increase.
In 2008 the day-to-day running of the company was taken over from Silvan Samaroli by Antonio Bleve, although Samaroli maintained an active role in the business right up until his death in February 2017.
The company continues to bottle artistically striking, exceptional quality whiskies, although its livery is more concise these past years with a consistent bottle design and label shape. It has also branched out into rum, like many of the modern Italian and European bottlers.
Contact
Address

Samaroli




Via Groenlandia 31




Rome




00144




Italy

Phone

+39 06 68 64 813