Beneagles Profile
Blended Scotch Whisky
Beneagles was created in 1922 and constructed largely from Speyside malts with a far higher proportion of them than is the norm today. Although originally a 'grocer's brand,' Beneagles rose to become one of the most well-known in Scotland. Samples from the 1970s revealed a creamy vanilla nose with some smoke. The taste was well-balanced, rich and creamy with a hint of Islay iodine and a smoky finish. The brand is no longer marketed.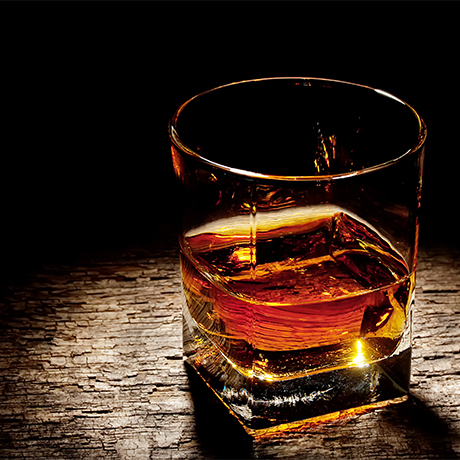 Production type

Blended Scotch
Beneagles History
In 1908 Peter Thomson established his first grocery store in Perth and his own brand of in-house Scotch: Peter Thomson's Whisky. As his chain expanded to four shops, demand for his blend increased until he decided to rename it Beneagles after the Gleneagles Hotel, which was being built near Auchterarder by the Caledonian Railway Company.
The company eventually moved into wholesale wine and spirits distribution and expanded into export markets after 1951. In 1969 the innovative development of a range of Beswick and Wade whisky ceramics brought the Beneagles name to a wider public, especially abroad. The first two were a miniature whisky barrel and a curling stone but restrictions in some US states and in Canada meant the company had to be inventive to create whisky-filled ceramics large enough to meet the legal requirements.
The birds of prey decanters were the most famous and included Golden Eagle, Osprey, Kestrel, Buzzard, Tawny Owl, Merlin and Peregrine Falcon. A Thistle and Rose chess set of Scots and English (black and white respectively) historical figures followed (the pawns were empty) and these have now become collector's items. In the late 1970s, at a time when Beneagles was one of the top 12 whisky brands in Scotland, they were sold to British Caledonian's first class passengers.
In 1973 the retail store side of the business was wound up and in 1983 the company was sold to the Stakis organisation. Two years later the company was sold on again to Leith-based Charles Mackinlay & Co, the sister company of Waverley Vintners Limited that was owned by Scottish & Newcastle Breweries plc. Later that year Mackinlay was acquired by Invergordon Distillers.
In 1993 Invergordon became part of Whyte & Mackay where the Beneagles brand name now lies dormant.
Timeline
1908

Peter Thomson creates his own blend of Scotch for sale in his Perth grocery store

1922

Peter Thomson's Whisky is rebranded Beneagles

1951

Beneagles enters export markets

1972

The Beneagles ceramics range is introduced

1983

Peter Thomson (Perth) Limited is acquired by the Stakis organisation

1985

Stakis sells Peter Thomson (Perth) Limited to Charles Mackinlay & Co, which is then taken over by Invergordon Distillers

1993

Whyte & Mackay acquires Beneagles with the takeover of Invergordon Distillers

2011

Peter Thomson (Perth) Limited ceases to be a registered company
Owner Current owner