Hiram Walker & Sons Profile
Predicting the end of Prohibition in the United States Harry Hatch, owner of Canadian distiller Hiram Walker-Gooderham & Worts Ltd, wanted to move into the Scotch whisky market. Originally working with contacts built up during the Prohibition period, the company began to purchase distilleries and whisky blenders. Its main acquisition was George Ballantine & Sons, which was purchased in 1935.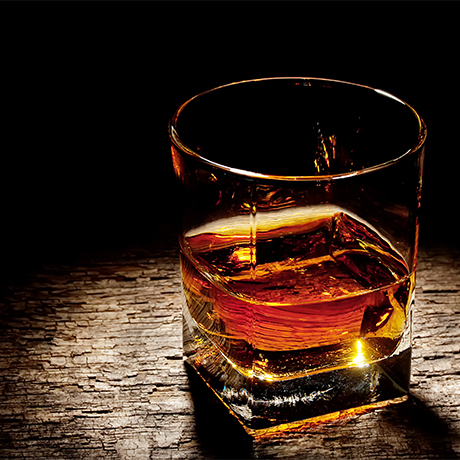 Hiram Walker & Sons History
Hiram Walker & Sons (Scotland) Ltd. was a holding company controlling the Scotch whisky operations of Canadian distiller Hiram Walker-Gooderham & Worts Ltd.
By the time it was founded in 1937, as part of a reorganisation of the Canadian company, Hiram Walker's Scotch whisky interests already included George Ballantine & Son, whisky blender J&G Stodart, Stirling Bonded Company, Glenburgie and Miltonduff distilleries, all of which were acquired during the early 1930s.
In the same busy year Hiram Walker & Sons (Scotland) was founded, the group sold the Ballantine's licenced grocer shops in Glasgow and Edinburgh, and commissioned a grain distillery in Dumbarton, near Glasgow – the largest of its time. The same site also housed the Inverleven malt distillery.
In 1954 Hiram Walker purchased Glencadam distillery and Bloch Brothers (Distillers) Ltd. which, through subsidiary company Taylor & Ferguson Ltd., owned Scapa distillery in Orkney.
In the years that followed, Hiram Walker purchased blender Gavin Distillers Ltd., Coulmore Distillery Co., Pulteney distillery at Wick, whisky broker Lundie Brothers (Whisky Brokers) Ltd., and, in 1969, Balblair distillery in Tain.
The acquisitions didn't stop there. Ardbeg joined the fold in 1976 and a year later the company opened a state-of-the-art blending facility at Kilmaid near Dumbarton. Just one of the blending vats required 850 casks of whisky to fill it. By 1983 the complex included a bottling plant that could process four million cases of whisky a year.
The Scotch whisky industry began a period of rapid consolidation in the late 1980s which saw, after its purchase by Allied Lyons, Hiram Walker & Sons (Scotland) Ltd. become part of Allied Distillers before eventually joining French drinks group Pernod Ricard.
Distilleries & Brands
Jamie 08

Blended Scotch Whisky
Associated companies
Contact
Address

Hiram Walker & Sons Limited




PO Box 2518


Walkerville


Windsor




Ontario




N8Y 4S5




Canada