Canada's complicated liquor laws are giving whisky lovers a headache. Last month's Prohibition-style raids on British Columbia bars highlighted the absurdity of some provinces' byzantine rules. How did we get here? Davin de Kergommeaux explains it all.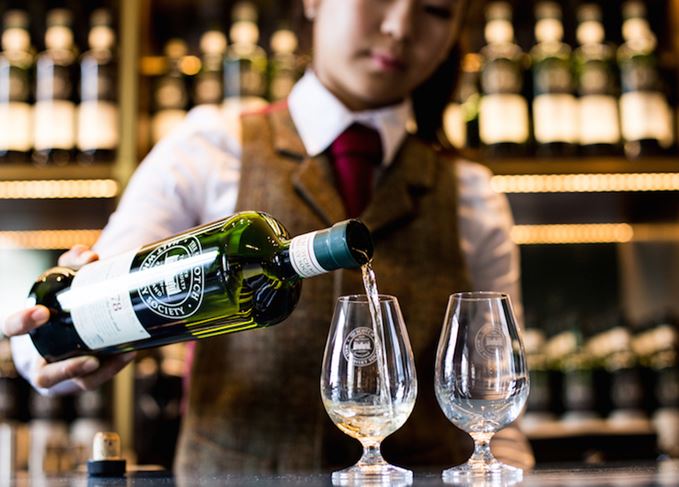 Canada has a drinking problem. In a confederation of 10 provinces and three territories, 13 different bodies are responsible for regulating sales and distribution of alcoholic beverages. The rulebooks can be long, convoluted and difficult to interpret, and enforcement is decidedly inconsistent. So there are bound to be bewildering interpretations by all parties, from time to time.
Such was the case on 18 January 2018, when enforcement agents from British Columbia's Liquor Control and Licensing Branch seized several hundred bottles of Single Malt Whisky Society (SMWS) whiskies from four popular whisky bars, because of how they purchased them.
In most provinces there are government-owned stores that have a monopoly to sell spirits. British Columbia is slightly different. There, a hybrid system operates with government stores, (called BC Liquors) and private retailers working side by side.
The private stores must purchase all of their stock at a premium through the government monopoly British Columbia Liquor Distribution Branch (BCLDB). Private stores succeed because they offer longer hours of operation than the government stores, and a much better selection.
All bars and restaurants in British Columbia are required to purchase their stock from government liquor stores exclusively. Even so, the practice for as long as many can remember has been for them to purchase from private stores as well, without fear of prosecution.
Restaurants, particularly, benefit by serving wines that are not generally available elsewhere. They source these from private stores. SMWS whiskies are not stocked in government stores, so are purchased privately by 'SMWS partner bars' via the government Liquor Distribution Branch.

'Illegal' operation: Fets Whisky Kitchen in Vancouver was raided for sourcing some of its whiskies from independent stores

The Liquor Control and Licensing Branch is responsible ultimately to the province's Attorney General, David Eby, who was the recipient of a petition and considerable negative press, making him abundantly aware of the people's displeasure with the seizures.
While it is not appropriate for Eby to comment on actions of the enforcement branch, in a 26 January statement he offered bars and patrons some hope. Speaking outside the provincial legislature, Eby told reporters: 'Bars or restaurants that specialise in exotic products that they can't get through the public wholesaler should be able to access that kind of product legally, but that is an issue of law reform and that law reform hasn't happened yet.'
As it happens, a review of British Columbia's liquor laws is currently under way, with a report expected by the end of March.
Governance of beverage alcohol in Canada has a complex history that involves every province and territory. Even though they have sole authority over distribution and sales through their various control boards, it is the federal government that is responsible for all aspects of its manufacture. This is why booze has always been entangled in complicated issues of control.
In 1920, when the US introduced Prohibition, some Canadians lobbied their federal government to do the same. However, the Government of Canada did not have the authority to outlaw sales, and the provincial governments could not stop production or the importation of alcohol, as these were federal responsibilities.
Thus, when one province banned sales, retailers simply set up shop in a neighbouring province. They would buy alcohol legally for delivery to their business address, then ship it back, bottle by bottle, to thirsty customers in the province next door.
The First World War brought a temporary nationwide ban on distilling, but sales agents were still able to import alcohol from abroad for sale in Canada. As uncoordinated provincial attempts at Prohibition failed, the provinces believed that there was an obvious source of income if they set and collected taxes and duties.
To do that, they needed a mechanism to control sales and distribution. Thus, one by one, each provincial government set up its own liquor board and required that all retail transactions take place through it. This gave each board remarkable power as the sole customer for producers and their sales agents and, simultaneously, the sole retailer to consumers.

Official store: The Liquor Distribution Branch operates about 170 BC Liquor Stores in British Columbia

Agents who were unsuccessful in placing their products with boards were not pleased; neither were upscale restaurant and bar owners who wanted to serve wines and spirits that were not available from the liquor board. Some believed that offering wines not generally available to the public would help draw in customers. Eventually though, most liquor boards introduced a work-around. Ontario provides a good illustration.
In addition to its regular stores, the Liquor Control Board of Ontario (LCBO) operates what it calls a 'consignment warehouse'. Sales agents may instruct LCBO to order products that are not regular LCBO stock items, which are delivered by the producer directly to the consignment warehouse.
The agent, working as a go-between, is free to take orders from restaurants, bars, and theoretically from individuals. The LCBO consignment warehouse then releases the product to the agent for delivery to the customer.
Strict rules apply to the agent, who is not allowed to add any mark-up to LCBO's calculated prices. The agent's commission comes from the producer. Because LCBO releases product in minimum case lots, this system is more practical for wine than for spirits, although some larger whisky clubs have used it to purchase Scotch single malts. Most other provinces have similar systems, but not British Columbia.
Canada's various levels of government tend to see beverage alcohol primarily as a guilt-free source of tax revenues. Anything that could potentially reduce revenues is discouraged. Thus, monopoly stores tend to stock high-volume products, but this practice often leaves the connoisseur badly served.
Only the province of Alberta has abandoned government-run stores in favour of the private sector. Despite the resulting increases in tax revenue there, other provinces are reluctant to follow suit. In part, this is the result of strong employee unions that do not want to lose well-paying government jobs to the private sector.
In provinces where there is exclusive government control, enforcement agents appear to use their discretion in exercising their responsibilities. This certainly seems to be the approach with the SMWS bottlings. In at least one raid, non-SMWS whisky was left on the shelves, even though it had been purchased privately.
SMWS was targeted despite all the other privately purchased bottles. It's hard to see this as anything other than arbitrary and heavy-handed intervention, rather than the equitable and consistent enforcing of the law.
Still, there may be a positive outcome. If regulators take Attorney General David Eby at his word, when legal access to a legal product is illegal, something has to change. And that's the law.