From classy cocktails to reconstructed boilermakers, Scotch is enjoying a new golden age in the bars of Sydney, Melbourne and beyond. And, as Sean Baxter discovers, it's all about the delivery.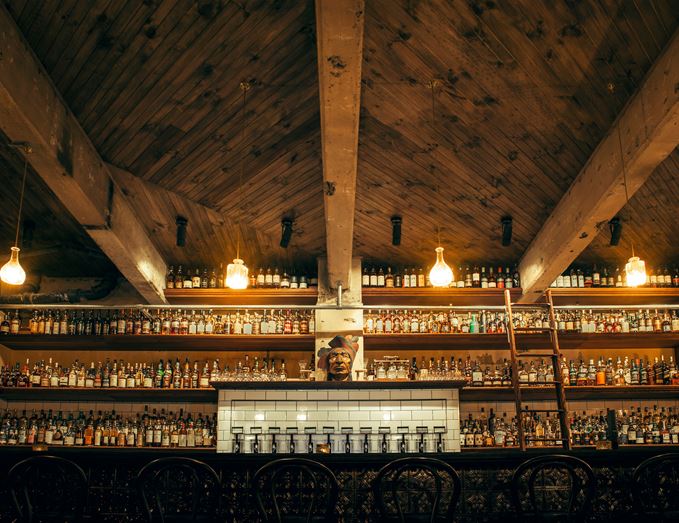 Walk into any self-respecting bar in Australia's major cities and you'll be confronted by a peculiar thing. Whether they're cocktail bars, old man pubs, hotel foyers or swill-house boozers, Scotch whisky is flying across the pass in a multitude of different guises, and more than ever before.
According to the Malt Whisky Yearbook 2015, Australia has had a 12% bump in Scotch imports on the previous year alone. Why the sudden burst of interest? And where are the epicentres of Australia's Scotch whisky boom? You only need to look at Australia's most popular nightspots to see a pattern emerge.
It's seemingly all about the delivery, and the delivery in this case is as varied and eclectic as the many regions the stuff hails from.
Dare I say it, whisky is even becoming a little bit sexy and the venues that specialise in serving it have a lot to do with this shift in mentality of the general punter. It's all about making whisky more accessible, losing old stereotypes and building some new ones.
The easiest path is to follow the paper trail. In Sydney, The Baxter Inn has been a proverbial hotbed of global attention since its inception in 2012.
This heaving, sweaty party space has done something that few whisky bars have been able to achieve, mixing the serious quaffers with the serious drinkers like it's as easy as their signature fresh rye and apple juice.
The space is permanently filled with the rapturous pleasure of a few hundred willing souls, all ready to part with their coin on some malt they've probably never heard of before.
That's the magic of The Baxter Inn: it takes this seemingly inflexible structure of a whisky bar and flips it on its head, making it brash and fun and accessible to everyone.
Its popularity can be easily measured by the line to get in, but even then it makes it easy with no pretentiousness. No bookings, no functions, no door list, just queue like everyone else, wait long enough and you'll get a seat.
We often talk about accessible whisky styles; why shouldn't this extend to the places where we want to drink them?
Long before Sydney had caught the whisky bug, Melbourne was happily dealing in drams for years. Only in Melbourne would you find a bar called Gin Palace with a whisky list longer than the queue outside (to be fair, its gin list was even longer).
A bar called Baranows served malts and cigars to the old school in Hawthorn, while a new breed was brewing closer to town.
Incidentally, Baranows too has recently been transformed, peeling back the cigar-stained wallpaper of its past to expose the vibrant underbelly of a new style of whisky boozer.
The Kilburn now stands where Baranows once did, its dedicated cocktail team redefining how a whisky bar must act, while still respecting the odd gent who wanders in looking for his old smoking lounge.
Before the Chez Regine got its own facelift to become one of Melbourne's tidiest and most affordable whisky joints, it was a pulsing late-night bar, where bartenders met at three and drank till six, boilermakers aplenty.
Whisky and Alement grew from the ashes of the old 'Shay' and is now a decidedly different place. Its whisky frivolity is no less jovial, they're just a little more cordial in their closing times.

Cordial closing times: Whisky and Alement, Melbourne

This bar's wider influence was far greater than a few sore hospitality heads the next day. What it managed to do was infect a whole local industry with the concept of what a whisky and beer chaser could achieve.
Victoria's exploding boutique beer industry suddenly had a new champion, and the 'boilermaker' was it.
Again, it was all about accessibility, taking a beer and matching it with whisky, embracing Australia's love of ale and fortifying the serve with Islay peat or Speyside Sherry on the side. Suddenly whisky was a little less serious and featuring on specials boards right across the city.
It's no surprise that from the group that brought Australia some of its most innovative cocktails comes its next big whisky venture. Eau de Vie in Melbourne has always had a whisky list that could stop a bullet, but it was its sheer cocktail brilliance that earned it world renown.
Whisky and beer pairing is nothing new, but the group's new venue, Boilermaker House, takes it to another level. Large cast-iron handles look more like industrial electricity switches than beer taps, cured meats hanging in the entrance, slabs of oak sufficing as coasters.

Beer and whisky: Boilermaker House, Melbourne

This place is a whisky lover's dream; even those who don't drink the stuff leave converted to the cause. The list is intricately broken down into flavour – gone are the regional segregations that history demands.
Every cheese, every meat, every beer is combined with a suitable whisky (a massive feat considering the sheer scale of the enterprise). Its cocktail list is just as popular, highlighting whisky's versatility to the Instagramming, blog-savvy, socially connected army of Melbourne's hipster foodie class.
Even in 'sleepy' Brisbane, the sweatiest part of the east Australian coast, whisky is quickly becoming the top tipple. This is rum country, where liberal lashings of Coke are generally the desired way to wash anything down.
Not so at Cobbler in West End, where sometimes the only thing neat about the clientele is how they drink their whisky.

Neatly turned out: Cobbler, Brisbane

Hundreds of malts line the shelves, tended by some of Australia's finest cocktail bartenders, all beards and braces. The West End of Brisbane has always been a hub of the latest trends, the coolest cafés and the most eclectic bars – so it comes as no surprise that whisky has found its way west as well.
Across every major Australian city, Scotch whisky is attracting new enthusiasts. However, credit needs to be given when credit is due. This 'accessibility' is largely due to venues plying it in refreshing new ways, highlighting its flavours through exciting techniques and daring to break from the traditions that previously bound the category.
Let's just hope they've got enough, because Australia's thirst is far from sated.