Four 'Shetland' whiskies have recently been launched – but what's their true connection with the isolated island group? Tom Morton tells the convoluted tale of Scotland's most northerly cratur.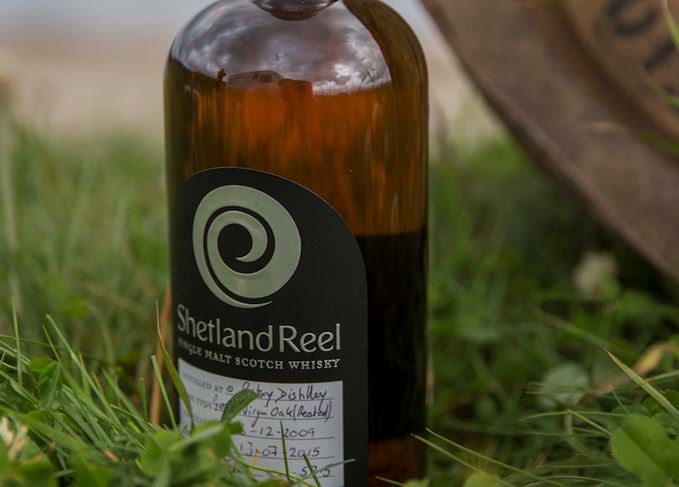 When it was announced recently that the 'first ever whisky from the Shetland Islands' was being made available in small quantities, you may have thought: 'At last! The long and tortuous saga is over, and Britain's northernmost whisky distillery is up and running.'
Except it isn't. There is a still, on the island of Unst, but it's a little rectifier infusing imported raw alcohol with flavours to make Shetland Reel gin.
The four – rather good – whiskies officially released on 1 September (all sold out on pre-order) are being hand-bottled in Shetland (from 50-litre octaves brought to the island and 'allowed to settle'), but they were made and matured in Portsoy.
They're Glenglassaugh, which is hardly coincidental since the industry veteran who revived that distillery, Stuart Nickerson, is one of the people behind Shetland Reel. And yes, he plans to have a whisky distillery up and running on Unst within a couple of years.
So the Shetland Reel whiskies are meant to be a taster for what is to come, but they are not from, or of, Shetland. Or even the first to bear the 'Shetland' brand.
For many years a local shipping supply company (or 'victualler') has had its Zetland North Sea blend produced in the central belt of Scotland. It's fair to say that, at £12.99 a litre, it's not a premium dram.
But the label has a Viking galley on it, not unlike Shetland Reel – whose whiskies are not even the first to be bottled in the islands from cask.
That was commonplace through the 19th and early 20th centuries, when almost every local grocer hand-bottled rum and whisky from the barrel.
And then there's the strange business of Muckle Flugga blended whisky, named after the rocky islet north of Unst where the last lighthouse in the UK stands.

Hidden location: Muckle Flugga is 'over-wintered' on Unst​

Flugga is 'over-wintered in a hidden location' on the very same island where Nickerson has his rectification still and bottling line. It's been on sale for a couple of years, and has its roots in the activities of one Caroline Whitfield, who first arrived in Shetland... can it really be 13 years ago?
Oh, Caroline, Caroline, Sweet Caroline…the plan, announced in 2002, to build the first whisky distillery in Shetland centred on a company called Blackwood.
Run by the dynamic Ms Whitfield, it attracted enormous enthusiasm, both from the local council and development agency Highlands and Islands Enterprise.
Various products carrying the Blackwoods label and heavily branded with Shetlandic hyperbole hit the marketplace: Jago's cream liqueur, Blackwoods gin and vodka. Spirits, if you will, were high.
But somehow it all fell to bits. The location for the planned distillery switched from Catfirth to Unst. Proposals for producing Muckle Flugga whisky, a cash cow blend distilled in Scotland but to be matured on Unst, were announced.
Local people were invited to become 'bond holders' or 'angels', buying shares in the project in exchange for, at the very least, a six-bottle case of Muckle Flugga when it became available.
And then there was a mysterious theft, with 360 cases of Muckle Flugga disappearing from a warehouse in Hampshire. Disaster beckoned.
A new firm, Catfirth Ltd, took over the proposed whisky plan and what stocks remained of the 'over-wintered' spirit.
The gin and vodka brands were sold to a firm called Blavod Extreme Spirits and are still available, though there is no longer any connection with Shetland.
After a period of silence, Caroline resurfaced three years ago as international trade advisor with the Scottish Government's inward investment organisation Scottish Development International.
Some investors definitely received their bottles of Flugga. Cases reputedly still lie unclaimed at Hughson's Bond in Lerwick. The whole affair dissolved into a complex miasma of wheeling and dealing.
In 2008, John Robertson wrote in The Shetland Times:
'In a letter, the two directors of Catfirth, Tim Lyle of City & Merchant and long-term Blackwood shareholder Andy Burrows, inform Blackwood shareholders that the new company will take over the existing Shetland whisky project and start trading whisky to provide income.
'It will buy the existing barrels of so-called Muckle Flugga whisky at £1,000 a barrel from Blackwood founder and managing director Caroline Whitfield. The liquor will be sold and more acquired, matured and sold to earn funds. Catfirth will be run as a "virtual" company with no staff, administered by City & Merchant.'
The Muckle Flugga now on sale at £34 a bottle is still claiming to be 'over-wintered… near Muckle Flugga'. Originally the labelling claimed this happened 'in a cave' but now points only to 'a hidden location'. No-one in Shetland knows where this could possibly be.

Glass half-full: Stuart Nickerson hopes to finally bring whisky-making to Shetland

Shetland Reel, on the other hand, is part of The Shetland Distillery Company, formed by Nickerson and his wife Wilma with one of Whitfield's previous business partners, the owner of the old Saxa Vord RAF base in Unst, Frank Strang, and his wife Debbie.
Shetland Reel is based next-door to Unst's brewery, appropriately called Valhalla, and is already surfing, profitably, the current wave of fashionista interest in Scottish craft gin.
According to Nickerson, the four whiskies bottled in Unst represent 'a hugely exciting development for us and for Scotch whisky. They literally put Shetland on the map as far as whisky production is concerned.
'These four casks represent a start to whisky production in Shetland and we have plans to introduce more "Bottled in Shetland" Scotch whiskies, with the long-term plan being to install our own distillery and start distilling Scotch whisky on Unst.'
The Shetland Reel whiskies, leaving aside any 'resting' in Unst or the Shetland labelling, are interesting in their own right.
Two of the four octave casks were made from staves of larger casks which had previously held Scotch. The other two were made in Germany from virgin German oak.
And so so the saga of Shetland whisky continues, with a drink whose 'origins' in the islands amount to bottling, labelling, branding and public relations.
That they are interesting expressions of Glenglassaugh, though, is possibly the biggest signifier that there may yet be a 'real' Shetland Reel whisky. It was Stuart Nickerson's skill, experience and passion that brought the Portsoy plant out of silence and into production.
Assuming the money is available – and it's a big assumption – if anyone can make Shetland make whisky, Nickerson can.