Speyside's Glenglassaugh distillery has released a new collection of vintage single cask bottlings, including a 50-year-old single malt for £4,500.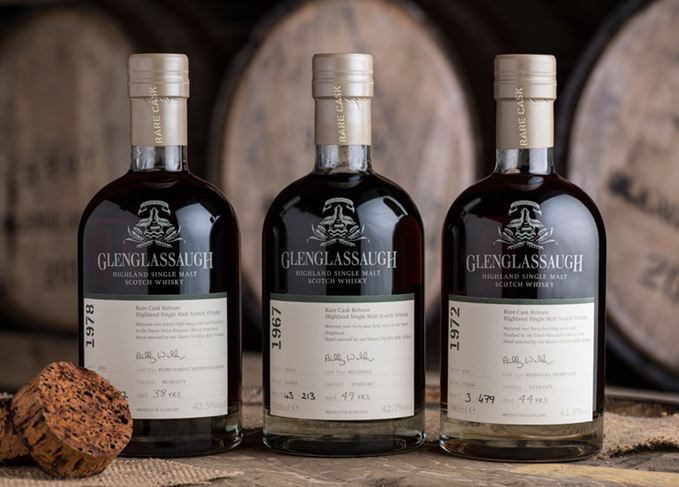 The third batch in the distillery's rare cask series features eight expressions, all distilled between 1965 and 1986, before Glenglassaugh was mothballed.
The 50-year-old malt was matured in a refill hogshead, bottled at 40.1% abv, and is described as having notes of 'caramelised autumn fruits, hints of peach and mellow citrus'.
The range also includes a 47-year-old Glenglassaugh matured in a Pedro Ximénez puncheon for £3,300 per bottle, described as having notes of 'dates and blackcurrants, dark chocolate fondant and fresh black peppercorns'.
Also available is a 30-year-old bottling from 1986, matured in a PX puncheon, for £310.
The eight bottles in the series are worth a collective £19,410.
Rachel Barrie, Glenglassaugh master blender, said: 'The eight casks bottled as Glenglassaugh's rare casks Batch 3 are perfect illustrations of the distillery prior to mothballing in 1986.
'Aged in oak for between 30 and 50 years, each cask in the series has a unique profile shaped by decades of maturation in our coastal warehouses.'
The eight single cask bottlings are:
Glenglassaugh 1965, 50 Years Old, Cask #3510 (hogshead), 40.1% abv, £4,500
Glenglassaugh 1967, 49 Years Old, Cask #1114-1 (hogshead), 42.7% abv, £4,050
Glenglassaugh 1968, 47 Years Old, Cask #2230 (Pedro Ximénez Sherry puncheon), 46.1% abv, £3,300
Glenglassaugh 1972, 44 Years Old, Cask #1721 (Massandra Sherry), 42.4% abv, £2,400
Glenglassaugh 1973, 42 Years Old, Cask #5638, Bourbon barrel, 40.6% abv, £1,950
Glenglassaugh 1975, 41 Years Old, Cask #1277-1 (Sauternes hogshead), 50.5% abv, £1,750
Glenglassaugh 1978, 38 Years Old, Cask #2343 (Pedro Ximénez Sherry puncheon), 42.5% abv, £1,150
Glenglassaugh 1986, 30 Years Old, Cask #1393 (Pedro Ximénez Sherry puncheon), 42.6% abv, £310
All eight bottlings are available from specialist retailers globally.
During the mid-20th century, the distillery, situated near Portsoy, produced a style of single malt whisky that blenders found awkward to work with.
When a period of oversupply forced the closure of many distilleries during the 1980s, Glenglassaugh fell victim and was mothballed. However, it was reopened in 2008 by a Russian-financed firm and is now operated by Jack Daniel's owner Brown-Forman.