Written off on numerous occasions, Campbeltown's whisky heritage is still alive and increasingly vibrant. And this fascinating and distinctive area has much more to offer, as Gavin D Smith discovers.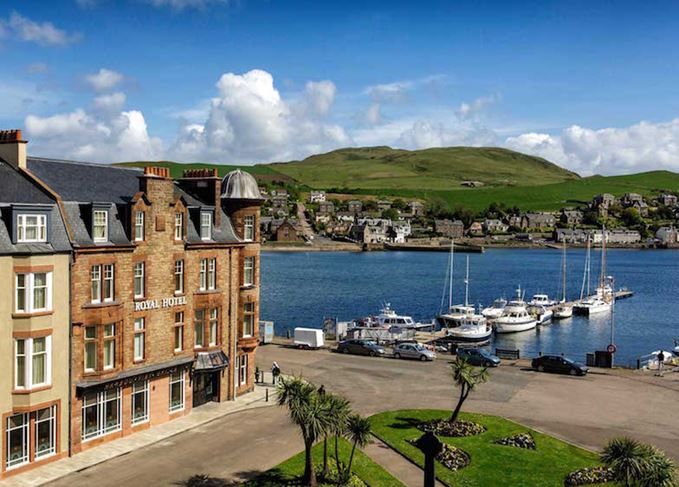 'Oh, Campbeltown Loch, I wish you were whisky,
Campbeltown Loch, och aye!
Oh, Campbeltown Loch, I wish you were whisky,
I would drink you dry.'
(Scottish folk song)
Campbeltown is the Scotch whisky region that refused to die. The 'crash' team has been on standby with defibrillator at the ready from time to time, and premature obituaries have been penned, but Scotland's smallest malt whisky-producing area is well and truly alive – and even thriving.
But first things first. Where exactly is Campbeltown and how did it come to have its own whisky designation in the first place? It's been described as situated at the end of the longest cul-de-sac in Scotland, and you don't pass through the port on the way to anywhere but the Mull of Kintyre.
One of the largest towns in Argyll & Bute, it's a three-hour drive along unforgiving roads from Glasgow. The A83 snakes down the Kintyre peninsula, with the Isle of Arran to the east and Islay to the west. Popular with golfers, and The Machrihanish Golf Club boasts one of the finest links courses in Scotland.
Campbeltown was reputedly the seat of the Scottish Parliament set up by King Fergus in 503, and the town, originally known as Kinlochkilkerran, was renamed in the 1600s by the Earl of Argyll.
Fishing became a major source of prosperity, and when the 19th century herring bonanza was at its height, as many as 600 boats worked out of the harbour, and the port boasted its own shipyard until 1980.
Illicit distillation was rife on the remote peninsula during the 18th and early 19th centuries, with more than 50 working stills. Many were provided by the Armour family of Campbeltown, with Robert Armour establishing his coppersmithing business in 1811.
The 1823 Excise Act encouraged legal distillation, and the Duke of Argyll saw that licensed whisky-making could provide employment for Campbeltown. Accordingly, he transformed Crosshill Loch into a reservoir, supplying fresh water for distilling.
A steamship service to Glasgow was another attraction for distillers, as was local coal – from the Drumlemble mine – along with peat and barley.
Between 1823 and 1844, 29 distilleries were established in Campbeltown, and although only three operate today, whisky-making has taken place on 35 sites in the borough.
When the journalist Alfred Barnard stayed in Campbeltown during 1885, researching his epic tome Whisky Distilleries of the United Kingdom, he toured no fewer than 21 distilleries, and proclaimed Campbeltown 'Whisky city'. Among those he inspected were Springbank, established in 1828, and Glen Scotia, founded four years later.
But boom was followed by bust and, by 1935, just Glen Scotia and Springbank were operational, with both having previously been silent for a time.

Afloat: Campbeltown is as buoyant as it has been for some time (Photo: Gavin D Smith)

Campbeltown may be seen as the author of its own misfortunes, thanks to some unscrupulous distillers and inferior spirit. Its distinctive, peaty whiskies began to gain an undesirable reputation, referred to in some quarters as 'stinking fish'. US Prohibition was another serious blow, as Campbeltown enjoyed a thriving trade with North America.
Another factor was the closure of the Drumlemble coal mine in 1923, while many blenders came to prefer the typically more elegant and less intense Speyside malts. Herring and whisky had long paid wages in Campbeltown, and the rapid decline of both heralded hard times.
The Scottish Agricultural College's Rural Scotland in Focus 2012 report recorded the town as 'most vulnerable' out of 90 communities surveyed. The population is around 6,000, a figure which has fallen during the past decade due to a lack of employment opportunities, especially for young people.
'There's always been an isolated feel to the place,' says Glen Scotia distillery manager Iain McAlister, a native of Kintyre. 'It's like an island in many ways, and it will always struggle economically because of that isolation.
'There are probably no more than a dozen boats fishing out of the harbour now, but that's the story all over Scotland. However, the town's as buoyant as it's been for a long time.
'A new pontoon has been installed at the harbour this year, and it can take up to about 40 yachts, which should help the local economy, and the Royal Hotel on the waterfront has been renovated and re-opened. They've made a really good job of taking it a bit upmarket.'
One recent casualty, however, is the White Hart Hotel, established in 1850 and the place where Alfred Barnard rested his head between distillery visits.
But the town's ever-popular Ardshiel Hotel, built in the 19th century by a prominent local distiller, has positioned itself as the place in Campbeltown in which to drink whisky. Winner of the Scottish Field Whisky Bar of the Year award in 2013 and 2014, the Ardshiel offers more than 700 whiskies, and no fewer than 70 from Campbeltown itself.
The renewable energy industry has provided Campbeltown with an economic lifeline, and Frank McHardy, now an independent whisky consultant but formerly manager and director of production at Springbank, notes that about 200 people work at the wind turbine factory, close to Campbeltown Airport.
Campbeltown Townscape Heritage Initiative (THI) is in the process of restoring a number of historic buildings, including the Town Hall, while The Picture House, established in 1913 and the oldest continuously run, purpose-built cinema in Scotland, is also undergoing major renovations.
Campbeltown increased its quota of distilleries by one-third with the re-opening of Glengyle in 2004 after almost eight decades of silence, when it became the area's first 'new' distillery for over 125 years. Like Springbank, it is owned by J & A Mitchell & Co, also proprietor of the Cadenhead's Whisky Shop outlets.
'I first came here in 1977 to Springbank distillery, and it was very run-down, with limited production, no working maltings and just four members of staff,' recalls McHardy.
'I left in 1986 to go to Bushmills in Ireland, and when I came back again a decade later, the bottling hall was employing more people, the maltings had been revived, and we redeveloped Glengyle. Overall, Mitchell's employs around 50 people in the town.'

On the up: Springbank's production has risen, says Gavin McLachlan (Photo: Gavin D Smith)

Springbank's current manager, Gavin McLachlan, takes up the story. 'We've gradually stepped production up again after being silent in 2008/9. We're making around 120,000 litres of spirit a year at Springbank and 48,000 litres at Glengyle. The split here is 80% Springbank, and 10% each Hazelburn (triple-distilled) and Longrow (heavily-peated).
'We've just released our latest annual Kilkerran Work in Progress, and that's the last one. From next year it will be a regular bottling at 12 years of age.'
Across town at Glen Scotia, a private equity company acquired the distillery (with Loch Lomond at Alexandria) last year. After decades of neglect, work had started to improve Glen Scotia before acquisition, as manager Iain McAlister explains.
'We'd already increased annual production from 100,000 litres a year to 350,000 litres and installed new washbacks before the new owners came along. Since the change in ownership, we've also been improving the overall image of the place, and we opened a distillery shop this spring, with pre-booked distillery tours now available.'
The single pair of stills has been cleaned and lacquered, and shine for the first time in living memory, while a three-section warehouse has been developed, allowing single malt stock to be matured on site.
'We've just launched a revised Glen Scotia line-up of three new expressions – a 15-year-old, a Double Cask, and Victoriana – which are being promoted globally, and there's a real sense that the distillery and the whisky have got their confidence back,' says McAlister.

Shining example: Glen Scotia has had a clean-up under new ownership (Photo: Gavin D Smith)

For the second year running, Campbeltown has staged a whisky festival, featuring all three distilleries. 'It's really beneficial for the whole community,' says McAlister. 'We hope it will evolve in the future, and certainly there's a great deal of interest, with tastings and other events fully booked up in advance.'
McHardy agrees. 'The festival helps get the word around about Campbeltown's whiskies and emphasises that it is still a whisky region with lots of positive things happening. It's staged the week before the Islay Festival, so people can take part in it and then catch the ferry from Kennacraig up the coast over to Islay.'
McHardy is also central to another initiative, the Springbank Whisky School, where he is cast in the role of headmaster. He explains: 'It's made up of seven one-week sessions during May and June. There are a maximum of six people per week, staying in a local B&B.
'They start work on Monday at 8am and do a bit of everything in the distillery for four days – totally hands-on. The school is over-subscribed and we're already taking bookings for next year. People have been known to come back and do it two and three times.'
Meanwhile, Cadenhead's Whisky Shop is back in its original home on Union Street, close to Springbank distillery, after a period of exile in a less prominent location.
It has been extended and refurbished, with a tasting room area, and a line-up of in-store single malt casks from which customers can fill bottles.
With Glen Scotia's revitalised range of whiskies, Springbank's ongoing release programme, plus the eagerly awaited launch of Kilkerran 12 Year Old, there is more to be positive about on the Campbeltown whisky front than there has been for a very long time.
Clearly, some of that positivity is shared by the old port in general. Campbeltown may not be on the way to anywhere, but it's definitely not down and out. The obituary writers may have a long wait.
For more information on the area, see Explore Campbeltown.