The town formerly known as 'Whiskyopolis' stills draws in the crowds for its annual whisky fair, and the 10th anniversary of Campbeltown Malts Festival was no exception. Becky Paskin and Nicola Young report.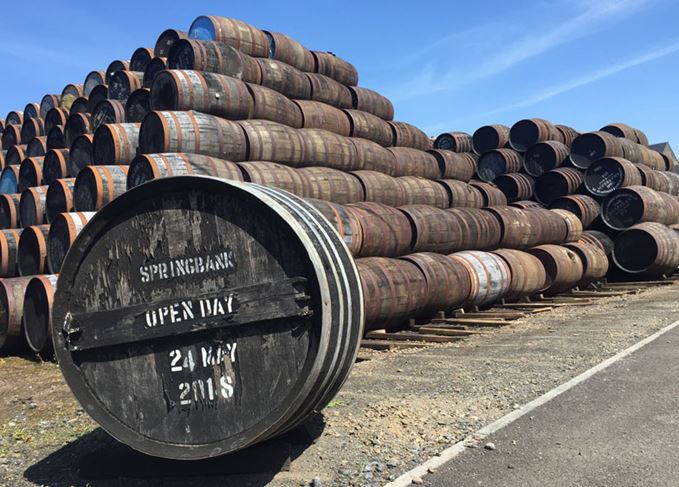 It's hard to imagine that Campbeltown was once the world's capital of whisky. At its height in the late 1800s, the small fishing port was dubbed 'Whiskyopolis' by Glasgow journalists, because of the 30-plus distilleries that populated the town. Today, the odd converted still house or maltings, enduring as bus garages, business parks and shops, are some of the last monuments to Campbeltown's whisky heritage. Sadly, only three distilleries remain operational today – Glengyle, Glen Scotia and Springbank.
Sitting on the Kintyre peninsula on Scotland's west coast, Campbeltown's peaceful remoteness and proximity to perfect golfing, walking and fishing spots attract its share of tourists. Yet ironically the town's main attraction remains its whisky, with thousands of visitors piling in for the 10th annual Campbeltown Malts Festival (22-25 May). The town's hotels, bed-and-breakfasts and backpacker hostel can barely cope with the demand for beds, with rooms booked out months in advance.
Although a relatively small event compared to its Islay and Speyside counterparts, the festival has grown in size each year, as interest in whisky – and gin – has exploded. This year saw the involvement of local gin distillery Beinn An Tuirc, situated roughly 13 miles north of Campbeltown, which kicked off the festival with its own open day on 22 May. Thoughtfully timed to coincide with the local bus from Campbeltown to Carridale, the event offered tours and tastings from a pop-up gin bar, as well as intimate classes with the team.
Those in town specifically for the whisky, however, started their festival fun at Glen Scotia's Whisky Dinner, held at the Ardshiel Hotel the same evening. Offering three courses paired with different drams, the evening was hosted by distillery manager Iain McAlister and whisky writer Charles MacLean, and included an exclusive bottling for everyone present, an eight-year-old, medium-peated single cask single malt, bottled at a cask strength of 58.9% abv. Playing host to the largest whisky selection in town, naturally the dinner spilled over into Ardshiel's bar and into the evening.

Dunnage tasting: One of Glen Scotia's most popular open-day masterclasses, hosted by Iain McAlister and Charles MacLean

The second day of the festival is generally reserved for Glen Scotia's open day, a lively affair that rings out through Campbeltown's sleepy streets. Live music from the Kinloch Ceilidh Band and the Kintyre Schools Pipe Band filled the distillery yard and kept visitors entertained. Cocktails were dished out in wee taster cups – full sizes were also available from the filling store which had been converted into a bar for the occasion.
Drams included Glen Scotia's full range, as well as its two festival bottlings – Glen Scotia 2000 Single Cask Festival Edition No 3 (55.7% abv; £150), and Glen Scotia Campbeltown Malts Festival 2008 Ruby Port Finish Peated (57.8% abv; £45). Out in the yard, locals and tourists alike browsed the local craft stalls, balancing drams, whisky ice cream and burgers in their hands, while others piled into distillery tours and dunnage warehouse tastings.
Campbeltown in May is not always hotter than the Mediterranean, but as the crowds gathered it was obvious this year's festivities would be blanketed with a warm, sunny, tropical vibe. The sunshine continued into Springbank's open day – where over the last few years it has been customary, or rather necessary, to gather in the distillery's courtyard to queue for the limited edition festival bottlings – plural as Springbank also produces Hazelburn and Longrow.
These three bottles go on sale on a first come, first served basis at 10.30am, prompting keen whisky fans and collectors to begin queuing as early as 7.30am. To date, these bottlings have been single cask releases, making numbers limited.
However, this year, to ensure that as many of the dedicated travellers have a shot at getting their hands on the exclusive bottles as possible, Springbank decided to vat several casks together, making more bottles available in line with demand.
This year's bottlings included Springbank 21-year-old, comprising a Sherry hogshead and a Madeira hogshead married in a first-fill Madeira butt for 10 years (£250; 46% abv); Longrow 13-year-old from refill Port casks (£60; 58.7% abv); and Hazelburn 10-year-old from refill Marsala hogsheads (£60; 59.6% abv).
By noon the day was well under way, with many tasting events, distillery tours and masterclasses in full flow, and the local brass and pipe bands waiting in the wings to give the day its own soundtrack.
The most in-demand tastings were hosted throughout the distillery, malt barns and warehouses, racking up an impressive 12 sold-out opportunities to taste some of the best whiskies Springbank, Hazelburn and Longrow have to offer.
Tasting themes included single cask exports, warehouse 'straight from the cask' experiences, new releases and a 'how's it made?' masterclass. The now famous Open Day Bar had raised its shutters, boasting 64 whiskies of various origins, all on offer for only £1 a dram.

Festival bottlings: Springbank created more bottles of its three limited editions to satisfy increasing demand (Photo: Springbank)

Many local craft and food stalls enjoyed the bustle of the cloudless day, as the expansive Springbank courtyard and car park was transformed into a market square, with cheese, candles, hand-carved gifts and many food choices on offer. As the sun set, the malt barns were transformed into a lively ceilidh with dancing and yet more whisky.
The following day was the turn of Glengyle, situated a few yards away from Springbank, and its owner, whisky retailer and independent bottler Wm Cadenhead. In comparison to Springbank's efforts, Friday was a much more relaxed affair, with cocktails and games, including the 'wee toon warriors' challenge, where various distillery tasks were mimicked by festival-goers.
Tasting sessions were also available, including the very popular Cadenhead warehouse tastings, glass blowing demonstrations with drams and a Kilkerran masterclass (the name of the single malt whisky produced at Glengyle). The urgency to queue for the open day bottle was absent, but the eight-year-old from a recharred Sherry cask still attracted interest.
To round off the four-day festival, and for those who had relentless stamina, a closing dinner was held at the newly refurbished Campbeltown Town Hall.
Away from the distilleries, a fantastic in-depth story of whisky's role in Campbeltown's history could be found at the Heritage Centre, just off Main Street. Launched in time for the festival but running throughout the summer, Whiskyopolis is a visual exhibition funded by Springbank and Glen Scotia, featuring fascinating Victorian photographs of the area, including maps showing the town's lost distilleries.