From Stormtroopers to sushi, these are the instadram accounts to make your news feed next level. By Matt Evans.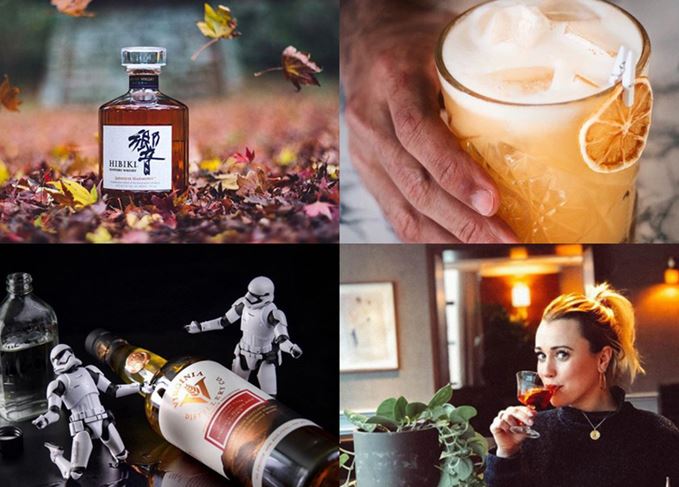 From the sweeping Highland surroundings of Scotch whisky's distilleries to the liquid's golden colour, whisky is an inherently good-looking spirit by default. Small wonder, then, the rise of Instagram has generated a vibrant community of whisky photographers, reviewers and personalities.
Where does the newcomer to Instagram's whisky tribe jump in? What separates one bottle photographer from another? Presented here are 10 of Instagram's best whisky accounts from across the world, with both big names and undiscovered gems getting an equal share in the spotlight. Like, regram, follow.
Axis of Whisky

Whisky lifestyle: From beach campfires to horror parodies, get inspired by this Instagram duo (Photo: Axis of Whisky)


Who: instagram.com/axisofwhisky
Follow for: Insightful reviews, tips and colourful snapshots from the US
With one account holder based in Chicago and another based in LA, the Axis of Whisky spans the entire United States. A popular account with over 46,000 followers, the Axis bring everything from Pennywise the clown from IT sipping Scotch on Halloween, to hints for getting the most bang for your buck when it comes to whisky purchases in the States. Want a slice of whisky life from all across the land of the free? You need the Axis in your feed.
Whisky Tanuki

Asian flair: Combining whisky porn with Japanese cuisine, like this Red Dragon Ramen (Photo: Whisky Tanuki)


Who: instagram.com/whiskytanuki
Follow for: Sumptuous sushi pics alongside wine and whisky recommendations.
Based in both Toronto and Hong Kong, the account owner known only as Vincent specialises in Asian food such as sushi and exquisite-looking ramen bowls. Wine, beer and coffee are all present, but play second fiddle to Vincent's whisky recommendations. Perfect for the renaissance whisky fan, a drinker who is curious and experimental by nature, as well as foodies looking for Asian-fusion inspiration.
Whisky Lifestyle

Whisky tourism: Noortje's feed combines picturesque distillery portraits with candid bottle shots (Photo: WhiskyLifestyle)


Who: instagram.com/whiskylifestyle
Follow for: Aspirational whisky tourism and travel shots
The Instagram account of whisky travel blogger Noortje, the candid distillery shots paired with tasting notes for individual bottles make this feed a highlight reel for whisky tourism, a great way to add distilleries to your bucket list and grab recommendations for bottles to pick up while you're there. Let @WhiskyLifestyle guide you on your next great adventure.
Scotch Trooper

Jedi journey: Join Scotch Trooper and his Stormtroopers on a global whisky adventure (Photo: Scotch Trooper)


Who: instagram.com/scotch_trooper
Follow for: Cleverly posed images for Star Wars and whisky fans alike
Stormtrooper action figures and bottle photography collide with this unique account. Innovative still-life photos depict the Scotch Trooper's (aka Brett's) action figure collection getting into Toy Story-esque mischief by sampling their owner's whisky collection. Bottles are reviewed and tastings are recounted, meaning fans coming for the whimsy can stay for the content. It's no wonder Stormtroopers famously can't shoot straight.
Whisky Nation

Crowd-sourced drams: Landscapes to seascapes, Whisky Nation compiles the best whisky pics of Instagram (Photo: @peat.and.more)


Who: instagram.com/whiskynation
Follow for: The best of community-submitted photography
As the Instagram juggernaut has grown, some great amateur photographers have stepped up to share their bottle shots over the years. Whisky Nation collects the best of the community's photography, creating a hub of gold-tinted, candid shots celebrating the best this list has to offer. In the process, the Nation has created a following among 'instadram' enthusiasts, sporting over 60,000 followers.
OurWhisky

Challenging perceptions: Meet the global face of the modern whisky drinker through OurWhisky (Photo: OurWhisky)


Who: instagram.com/ourwhisky
Follow for: A reflection of the modern day whisky drinker
Created by Bacardi ambassador Georgie Bell and Scotchwhisky.com editor Becky Paskin, OurWhisky challenges global misconceptions of who enjoys whisky by presenting a stark reflection of the modern day whisky drinker. In an effort to demonstrate whisky is not just a 'man's drink', the account invites men and women across the world to use the #OurWhisky hashtag when posting pics of themselves and their friends enjoying a dram. Challenging prejudices and transforming the way the industry looks at whisky drinkers, OurWhisky is a movement gathering steam. Follow, submit your own photo, and #jointhemovement.
Welcome To My Bar

Cocktail goals: Follow Fede for regular drinks inspiration, like this Smoky Whisky Sour (Photo: Welcome To My Bar)


Who: instagram.com/welcometomybar
Follow for: Incredible off-the-wall cocktails peppered with geek chic credentials
Fede, otherwise known on Insta as @welcometomybar, is a global marketer for Diageo by day, and a mixologist on a mission by night. Although his whisky cocktails range from the classic Old Fashioned to more outlandish creations such as Matcha Highballs, he also works with a full range of spirits to broaden your home-bar horizons, notably his outstanding-looking Tiki creations. If you're going to learn to mix a few drinks, you may as well learn from the best.
Whisky Anorach

Whisky couture: Marvel at Linh Do's dressmaking, artistry, photography and whisky smarts (Photo: Whisky Anorach)


Who: instagram.com/whiskyanorach
Follow for: Handcrafted fashion and whisky-inspired art
Linh Do, an artist and dressmaker from Southern California, uses whisky as a muse for her creative endeavours. Posting her designs both on this account and @whisky_anorach_designs, Do takes the essence of a brand and pours it into artwork, whether sketching distilleries or seaming her latest creation.
Suntory Whisky

Whisky zen: Follow for calming, enigmatic photography of Japanese whisky landscapes (Photo: Suntory Whisky)


Who: instagram.com/suntorywhisky
Follow for: Bottles and drams with backgrounds of sumptuous landscapes
The only whisky brand on the list, Suntory have taken the concept of terroir – whisky becoming infused with a sense of the place where it was made – and, in true Spinal Tap fashion, ramped it up to 11. Peer around the bottle shots to see the best Japan has to offer, whether cherry blossoms in spring or snow-capped mountain peaks. Sublime.
Whisky with a View

Flying high: Breathtaking scenery and exquisite drams make this Instagrammer worth following (Photo: Whisky with a View)


Account: instagram.com/whiskywithaview
Why follow: Bottles and drams with backgrounds of sumptuous landscapes.
From wind-whipped precipices to serene lakeside coves, Whisky with a View is an account based on two principles: great-looking bottles and drams in the foreground, with incredible scenery as a backdrop. A few vertigo-inducing behind-the-scenes videos highlight the lengths some people go for the perfect regrammable shot, making this account a must-follow for hikers and daredevils with a penchant for a good dram.