Whisky has always been a social drink, so it is no surprise an active community of whisky enthusiasts has emerged on Instagram. For anyone considering building their own account, Felipe Schrieberg shares tips and tricks from Instagram's whisky influencers.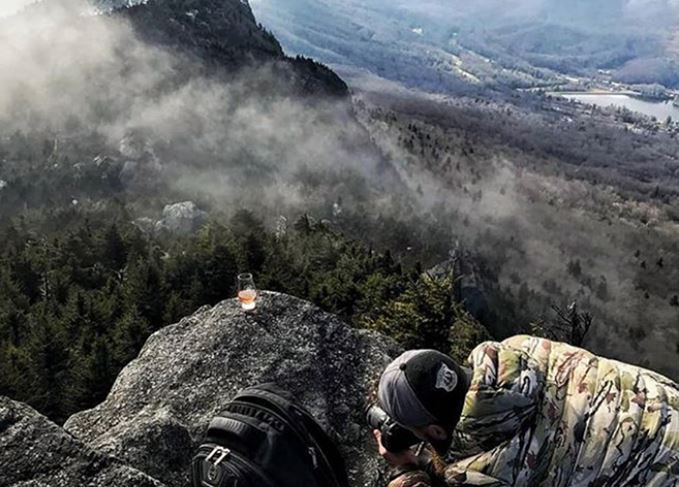 A dynamic community has been thriving on Instagram, united by all things #whisky. It's a place to trade reviews, show off bottles and create connections with others while celebrating a common passion: the water of life.
Yet the whisky world on IG, like the platform itself, has rapidly evolved. There are more accounts posting pictures than ever before, more hashtags to track, and IG's Stories and Highlights add new dimensions to creating photo content.
It's not enough to post the odd picture anymore; successful accounts now require serious commitment. However, if you make the effort to create unique whisky content and engage with the wider community, you'll eventually land followers, 'likes' and other whisky opportunities.
Don't go into this for the money though. All the Instagrammers interviewed stressed that, unlike professional IG influencers working in other industries, this is still a hobby for them. None receive anything close to an income for their social media work. However, some Instagrammers have managed to leverage further professional opportunities (such as photographers being hired for a job), free whisky and the opportunity meet people working in the industry.
So whether you just want to reach the widest audience possible or connect with the whisky industry itself, here's advice from the community's top whisky Instagrammers.
Find your voice
It's a cliché, but it's true. Find a unique approach with your account and don't be afraid to get creative.
Nathan Woodruff, the man behind the @whiskywithaview account (73.5k followers) boasting beautiful vistas of nature and whisky bottles, initially found success by combining his passions. 'On a whim I packed a bottle with me, placed it on a rock in the middle of a river and posted the resulting photo with a review,' he says. 'People loved the concept so I just ran with it (or I suppose, hiked with it) in order to showcase my work as well as others in the community who also began taking bottles to scenic locations.'

Whisky and travel: Successful Instagrammers use common themes in each post (Photo: @whiskynomad)

Stick to one subject
With regular Instagram posts, it's best to stick to your 'thing' (Woodruff's outdoors whisky posts are a good example). If you have figured out that your 'thing' is to take pictures of whisky bottles featuring your adorable corgi, then don't stray too far from that theme.
Wally Dyer, who takes professional-grade whisky pictures at @scotchnsniff (16.8k followers), has a warning for anyone that might deviate from their chosen theme: 'A mistake I've seen is mixing certain passions with whisky. For instance, if you love welding and whisky and you never show a picture of your welder, then all of the sudden you have a picture that's related to welding, people will get confused and wonder why they're following you.'
For Dutch whisky Instagrammer Noortje Baselmans (@whiskylifestyle, 22.2k followers), varying your content and even touching on non-whisky subjects can go in other parts of Instagram. 'What I tried to do a few times is to post a picture that wasn't whisky related,' she says. 'It didn't work. At least not for my account. Use "Stories" to show things about you instead. It doesn't have to be whisky related all the time.'
Vary your approach
It's one thing to be unique and consistent with your theme, but another to create content that varies in style. To use a painting analogy, your Instagram account should be the equivalent of regularly painting bowls of fruit (your consistent theme or unique angle) in different ways.
George Koutsakis, who writes about whisky and runs @whiskyislander (28k followers), advises changing up approaches to your chosen subject. He says: 'Mix up colours, content and backgrounds. Some Instagrammers choose a colour scheme or filter. It depends on the look you're going for.'
Even the big whisky accounts are always looking for new approaches. Sarah, who posts stylish pictures of her travels with whisky bottles in tow at @whiskynomad (32.1k followers), is looking forward to trying some new kinds of shots soon. 'Our newest toy is a Mavic Pro 2 drone, and we've been tinkering with videos and high angle shots.'

Master the basics: Keep followers interested in your Instagram content by varying the approach to your page's theme (Photos: @whiskyleaks)

Know your tools
Some Instagrammers have extensive photography experience and equipment. Some just need their phone. Erik McRitchie, a professional photographer and one of the four friends behind @frombarreltobottle (11.7k followers), believes it's not about the gear you use, but how you use it.
'Learn to use your camera,' he says. 'If it's a mobile device, make sure you know how to use the various settings. If it's a DSLR or something similar take time to learn how to use it. Check out YouTube, ask others for help, practice shooting and ask someone with more experience to critique your images. You will get better results.'
Photo editing can also play a powerful role, on both your phone and computer. These whisky Instagrammers were almost unanimous in their choice of editing programmes. Snapseed was the favourite for phones, while Lightroom was the preferred photo editor for computers. Woodruff advises you shouldn't go overboard with these programmes, however. 'Take your time. Compose your shots; prioritise quality over quantity. Do not over-edit, and keep it natural.'
Engage, Engage, Engage
Put the 'social' in 'social media'. Comment and engage with other accounts you like, and answer the comments you get on your page. Post regularly. Tag brands and relevant brand ambassadors if you write about a particular bottle.
Dyer encourages meaningful engagement using picture captions. 'Asking a question every day and always answering comments seems to be the real way to find like-minded folks who are looking for more than just a picture to double click. It's a way to find others who are willing to share their passion and knowledge.'
Considered use of hashtags also matters. Mix popular hashtags (such as #whisky), less popular ones, and don't repeat them all the time. Some Instagrammers also expressed frustration with hashtags that have no connection with the photo as this clogs up their feed; avoid this trap as well.
Collaborations can also provide interesting opportunities and lead to unique content. It can be as simple as running guest posts, re-posting each other's pictures (with permission), or doing shoots together.

Sincerety in socialising: Interaction on Instagram is essential to organically gain followers (Photo: @frombarreltobottle)

No faking
Jonas Vallat, one of France's most successful whisky Instagrammers with @whiskyleaks (20.1k followers), advises against behaviour that manipulates Instagram's algorithm. 'No follow/unfollows, mass follows, automation and no pods [paying for fake engagement on your page to appear in real feeds],' he advises. 'It works well at first but it will eventually bite you. Be real and stay true to yourself. Your followers will recognise it and appreciate it.'
McRitchie warns that the community quickly finds the fakers. 'It's not hard to tell who is using bots, fake followers and purchasing engagement. People talk. We all know who's doing it, they generally don't go too far in the community.'
Honesty is also important when free whisky or money is involved. Did you get a bottle from a brand to review? Are you being paid to post a picture of a product? Are you taking pictures during an all-expenses-paid press trip? Denote this by using hashtags such as #advertisement or #sponsorship, making the nature of the post clear. It's become enough of an issue for the Federal Trade Commission in the US to issue warnings about truth-in-advertising standards on Instagram, while some of the world's top influencers have now agreed to be more transparent about their commercial posts.