Introducing The Whisky Virgin, our naïve and innocent newcomer to the arcane world of Scotch. This mysterious ingénu(e) begins their whisky journey with a formative experience on the isle of Islay…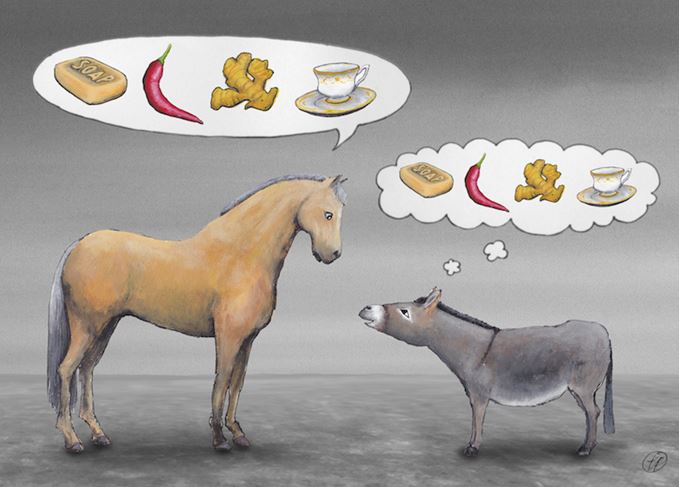 I am a world expert on the non-experience. Actual doing is not what I do, which is why, when I do do, things end up much as they did the day I experienced my first official whisky tasting, at Ardbeg Distillery, in the company of a Dr Bill Lumsden, biochemist and distiller.
Let's proceed directly to the distillery's tasting room, scene of my mock defrocking. It is a simple affair, a cube containing a long table set against a wall, holding a cabinet of backlit whiskies.
Five whisky bottles line the table, each surrounded by a clutch of tulip-shaped glasses. The whisky has already been poured, and the different colours glint in the low light. The room smells ripe and like a doctor's surgery. Someone's just put out a bonfire.
We are not alone. As well as Dr Lumsden, who stands to the left, facing me, I am here with three others: X, fellow virgin and proprietor of a stable of luxury magazines; Sam, PR; and Stephen, well-known whisky writer.
Sam and Stephen have been here before. X is my partner in crime. Both of us have spent the day getting high on the other's ineptitude, he on my earnest and mind-boggingly pointless questions, me on the fact that he has clearly not taken a prior moment to acquaint himself with why he is here.
We revel in each other's hopelessness.
In this shared and heightened state, the tasting room, at least to me, takes on the shape and meaning of a shrine. Dr Lumsden is the high priest, here to interpret the five liquids before us.
They glimmer loudly. He lists them: Ardbeg 10, Uigeadail, Corryvreckan, Alligator and Cask 4714.
I see that Stephen is excited about the last offering. Sam is yet to taste the Alligator. X and I are unable to pronounce whiskies two and three. I am overjoyed to see that X doesn't know what to do with his hands. There is a perennial lack of being about us.
Indeed, as Dr Lumsden speaks, and the tasting takes on a recognisable pattern, and we intermittently spin the whisky in our glasses, nose and sip, it becomes increasingly clear that X and I have lost the ability to identify a single original flavour.
Unable to smell or taste, it's not so much that we sense nothing in the experience, but rather that we are now completely in Dr Lumsden's power. What he tastes, we taste.
'I'm getting... I'm getting.' And we get it, instantly. We are blind and he is our guide, stripping back the layers of smoke and carbolic soap to reveal a hoard of sensory exotica – spices, fruits, you name it.
Giggling, lost, useless, we are the blank pages upon which Dr Lumsden shares the liquids' secrets. We are the high priest's unsuspecting sensual acolytes.
I say we, but I can't help but notice that X is slowly and definitely getting his shit together.
He has stopped standing like he's about to be taken away and beaten for walking on the grass. His left hand has somehow angled its way into a trouser pocket. His right holds the glass as if it's done this before, away and at a slight angle. He has the wherewithal to mention the powers of auto-suggestion, things about which I know minus nothing.
Upon nosing the Alligator, he notes, if only in a mumble, but certainly ahead of Dr Lumsden, its creamy sweetness. I am losing my companion in inexperience. He is learning. I am not.
And so, not to waste another moment of your time, will go the rest of the tasting: Dr Lumsden will unveil, a poet-king dancing through his favourite forest. Sam and Stephen will add, question, share. X will grow, change before my eyes. He will know finally why it was he agreed to catch a taxi and two planes to be here.
I, on the other hand, will leave this room, a glass of the Cask 4714 in hand, grinning like an idiot, ravenous, the experience instantly blotted out by the smell of lunch.
Some of the names in this article have been changed to protect them from the Virgin's in-excesses.