Usquaebach Profile
Blended Scotch Whisky
Having been established in Victorian Inverness, the Usquaebach blend became an obsession for an American entrepreneur who eventually became its owner after years of pursuing his dream.
Still in American ownership, Usquaebach has traditionally had a high malt-to-grain ratio, with over 40 single malts going into the brand's flagship Old Rare variant. Today the expression contains just 15% grain whisky.
Usquaebach is also available as a 15-year-old blended malt, a Reserve blend containing 50% malt whiskies aged for 16-18 years, and the non-chill-filtered, cask strength Usquaebach An Ard Ri (meaning 'the high king') – a blended malt containing 20 single malts aged between 10 and 21 years.
Usquaebach Old Rare continues to be bottled in stone flagons, a concept introduced by William Grigor & Sons during the early 20th century.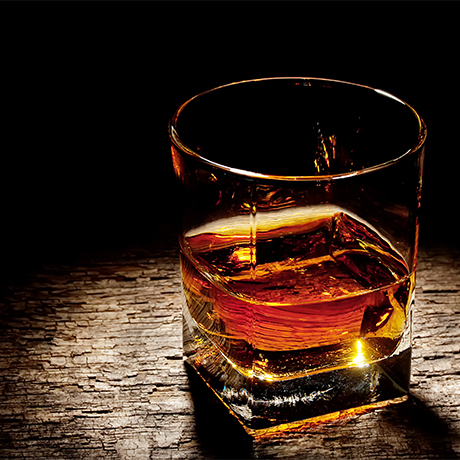 Production type

Blended malt
Blended Scotch
Usquaebach History
Whisky merchant and blender Ross & Cameron was established in Inverness in 1800, although it wasn't until 1877 that the firm registered the trademark for Usquaebach blended Scotch.
After the turn of the century the business remained in family ownership, but in 1926, following the death of Donald Cameron, the Usquaebach trademark passed to William Grigor & Sons, also of Inverness. The firm, which went on to acquire Bowmore distillery on Islay in 1950, began bottling Usquaebach in stone flagons.
A Pittsburgh entrepreneur of Polish descent, Stanley Stankiwicz, pursued William Grigor & Sons from 1969; he was determined to purchase the brand for himself and finally succeeded in 1973 (the distillery had already been sold on to blender Stanley P. Morrison). The Grigor family generously agreed to accept payment in the form of royalties on sales. Douglas Laing & Co. became the brand's blender and Stanciwicz, after surmounting numerous hurdles with legislation and refusing to supply large retail chains, registered the brand in the US in 1974.
In the early 1990s demand for Usquaebach had grown rapidly, so to cope with the increase Stanciwicz switched the blending contract from Douglas Laing & Co to Whyte & Mackay. However when Stanciwicz passed away in 2001 the brand was picked up by its new blender, which mothballed Usquaebach over fears it competed with its well-established blends.
In 2005 Cobalt Brands, owned by New Jersey's Sean Perry, acquired the Usquaebach recipe and trademark from Whyte & Mackay, restored the blending contract with Douglas Laing & Co. and eventually relaunched it in 2009.
Today the blend sells throughout the United States and the rest of the world.
Timeline
1800

Whisky merchant Ross & Cameron is established in Inverness

1877

Ross & Cameron registers the Usquaebach brand

1926

The Usquaebach brand is sold to William Grigor & Sons

1968-73

Stanley Stanciwicz negotiates the purchase of the brand from the Grigor family

1974

Stanciwicz relaunches Usquaebach in the US

1990s

The blending contract for Usquaebach is passed over to Whyte & Mackay

2001

Stanciwicz passes away and Whyte & Mackay acquires and folds the Usquaebach brand

2005

Cobalt Brands of New Jersey takes over the ownership of Usquaebach

2009

The brand is relaunched in the US

2016

Usquaebach An Ard Ri is launched
Owners
Current owner
Cobalt Brands

2005 - present
Previous owners
Whyte and Mackay Group

2001 - 2005

Stanley Stanciwicz

1973 - 2001

William Grigor & Sons

1926 - 1973

Ross & Cameron

1877 - 1926
Contact
Address

Usquaebach Scotch Whisky




Cobalt Brands


71 East Palisades Ave


Englewood




New Jersey




07631




United States

Phone

+1 800 818 5850

Visitor Opening Hours

Not open to the public