The Scotch Whisky Experience Profile
The Scotch Whisky Experience is a five-star rated visitor attraction located at the top of Edinburgh's Royal Mile. The facility offers guided tours designed to educate visitors about Scotch whisky, from production to geography and appreciation of Scotland's native spirit. It is also home to the world's largest collection of Scotch whisky.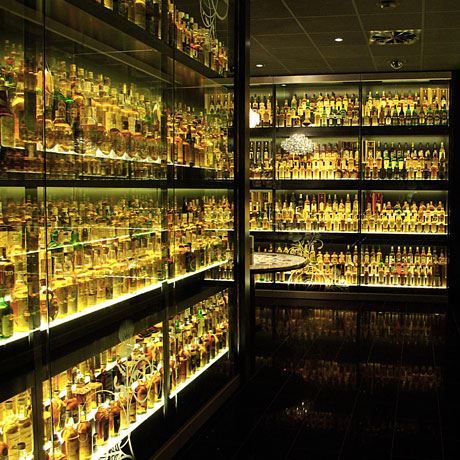 The Scotch Whisky Experience History
The founding of the Scotch Whisky Experience was only possible thanks to a collective contribution of £2 million from 19 individual Scotch whisky companies. Opened in 1988 at the top of Edinburgh's Royal Mile, the facility was initially called The Scotch Whisky Heritage Centre and had been designed as a means of showcasing the whisky industry to visitors from around the world. A 12-year-old blend was launched to celebrate the opening.
It wasn't until 2006 ahead of a major tour refurbishment (which took place 2008-09) that the company was rebranded as the Scotch Whisky Experience.
In 2004, Brazilian collector Claive Vidiz approached the centre to see if it would purchase his collection of 3,384 Scotch whisky bottles, acquired over a 35-year period. Diageo agreed to put forward the funds to purchase the collection, which arrived at the Scotch Whisky Experience in 2009.
That same year, the experience underwent a £3 million upgrade, which included building a marble and glass vault to display the Diageo Claive Vidiz Whisky Collection. Furthermore, to mark its 21st anniversary in 2009, the Scotch Whisky Experience created its own blended 21-year-old Scotch whisky which was sold in its shop.
Four years later in 2013, the experience bottled another blend – a 25-year-old – to mark 25 years since its opening.
Today, the Scotch Whisky Experience offers guided tours in 15 different languages, including French, German, Gaelic, Japanese, Russian, Mandarin, Hindi and Czech, while touch screens offer 20 languages with the addition of Greek, Korean, Arabic, Hungarian and Brazilian Portuguese. The lower-ground floor features restaurant and whisky bar Amber, which was founded in 2001 and offers Scottish dishes and more than 420 single malts, blends and liqueurs.
Contact
Address

354 Castlehill




The Royal Mile




Edinburgh




EH1 2NE




United Kingdom

Phone

+44 131 220 0441