Bulloch Lade & Company Profile
From small beginnings in Dumbartonshire in 1817 Bulloch Lade & Co Ltd. grew into a major producer and exporter of Scotch whisky until its voluntary bankruptcy in 1920. During its existence the company bought or built four distilleries in different regions of Scotland and developed brands of blended Scotch whisky such as Bulloch Lade (B&L) Gold Label and Roderich Dhu, as well as a vatted (blended) malt whisky based on Caol Ila malt – called Glen Ila – which was mainly exported to Italy.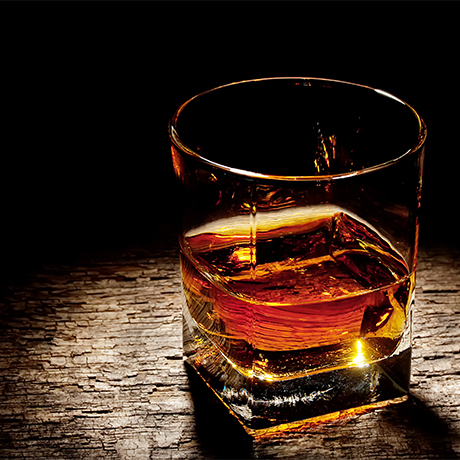 Bulloch Lade & Company History
In 1817, the then 68-year-old John Bulloch, a corn dealer, opened the Dunochter distillery in Dunbartonshire (the forerunner to today's Auchentoshan distillery).
Unfortunately, the distillery was sequestrated in 1822 and his son Archibald took over with little more success than his father. In 1826 the distillery was repossessed again.
Undeterred, father and son came together once more to form Bulloch & Co. in 1830, and records show they may have operated the Dunochter distillery again for a short time.
In 1852 the company, now run by John's grandchildren Archibald and Mathew, purchased the Lowland distillery of Camlachie (later re-named Loch Katrine) and in 1855 merged with D. Lade & Co., in which Archibald had been a partner since 1853 and who had adjoining offices in Glasgow. The new company was named Bulloch Lade & Co.
One of the reasons for this partnership was the loss felt by D. Lade & Co. when William Robertson left the company to found Robertson & Baxter Ltd. in the same year.
In 1863 the company bought the Islay distillery of Caol Ila following the sequestration of Norman Buchanan. This purchase was followed by another Islay distillery, Lossit, in 1867 and the building of a Campbeltown distillery, Benmore in the following year.
Benmore distillery was visited by Alfred Barnard sometime between 1885 and 1887 and he describes the outside appearance as resembling '…a public building, rather than a manufactury of "Barley Bree"'. He also comments that the water used in the distillery comes from a spring located inside the works rather than the specially constructed Crosshill Loch above the town.
In 1896 the company was part of a consortium of distilleries which established the Tamdhu distillery with William Grant.
Bulloch Lade & Co. was one of many Scotch whisky companies that did not survive for long following the First World War. A combination of the rising costs of coal and barley and the introduction of Prohibition in the US meant that in 1920 the company was declared bankrupt, and purchased by a consortium of producers, led by DCL, which divided the assets of the company between themselves.
By 1927 DCL had taken control of all the former Bulloch Lade & Co. assets, finally purchasing the Caol Ila distillery from Robertson & Baxter and relicensing it back under Bulloch Lade & Co.
Bulloch Lade & Co. was finally dissolved in 2007.
Distilleries & Brands
Fifty First

Blended Scotch Whisky

Glen Ila

Blended Malt Scotch Whisky
Contact
Address

Bulloch Lade & Company Limited




Edinburgh Park


5 Lochside Way


Edinburgh




EH12 9DT




United Kingdom