Arthur Bell & Sons Profile
Arthur Bell and Sons grew steadily through the 19th and 20th centuries, concentrating mainly on its home market. So successful was this strategy that by the late 1970s it was commanding a staggering 35% of the UK blended Scotch whisky market. Much of this success is due to the work in the late 1960s of then chief executive, Raymond Miquel, a hardnosed Scottish businessman who slashed costs and improved productivity, and in the process made Bell's Scotch whisky a household name.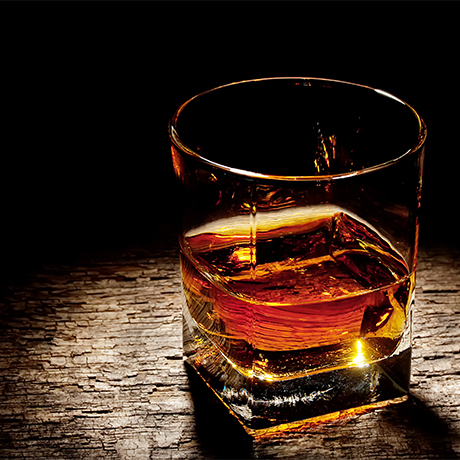 Arthur Bell & Sons History
The young Arthur Bell joined Perth-based wine and spirit merchant Thomas Sandeman in 1840. In 1851 the owner, James Roy, offered Arthur a partnership in the newly named Roy & Bell company. This partnership continued until James Roy's retirement in 1862. By this time Arthur Bell had appointed what is believed to be the first full-time whisky agent in London, selling two different blends.
A short partnership with his nephew, T. R. Sandeman, ended on a sour note in 1865 after it was discovered that he was acting as a whisky agent in his own right. The bank loan that Arthur took out to pay off his nephew is the only time that the company had to call upon the service of a loan.
In 1889 Arthur invited his eldest son, Arthur Kinmont to join as a partner. Seven years later his second son, Robert Duff Bell, joined the board of what was now known as Arthur Bell & Sons.
During this time Arthur campaigned for industry standard bottle sizes across the UK and expanded the company's reach into Australia, New Zealand and the Indian sub-continent.
Because of Arthur's unwillingness to use brand names or advertise, growth at this time was steady but not spectacular. This all changed in 1900 when, on his death, Arthur's two sons inherited the company. In 1904 the company name first appeared on the label and early brands such as Scotch Fir appeared on the shelves.
Business ran steadily until 1919, when a disastrous fire in the company's Canal Street bonded warehouse saw the destruction of the buildings and the loss of nearly all the stock. Undeterred, Arthur Bell's two sons continued forward, incorporating Arthur Bell & Sons as limited company in 1921, and purchasing the No. 1 Excise Bond in Leith, Edinburgh in 1924, which became Bell's main bottling facility until 1967.
Alhough steady expansion continued, it was not until 1932 that Arthur Bell & Sons became recognised as a 'serious player' in the Scotch whisky industry with the purchase, for £56,000, of P. Mackenzie & Co. (Distillers) of Edinburgh and its two distilleries of Dufftown and Blair Athol, the latter of which had long been a constituent of Bell's whisky blends.
In 1936 the company purchased Inchgower distillery from the town council of Buckie on the Moray Firth. The Town Council seem to have displayed their business 'smarts' in this transaction selling the distillery for a rumoured £4,000, having purchased it shortly before for only £1,000.
During the Second World War, and just over 100 years since Arthur Bell joined Sandeman's business, the family's links with the company came to an end with the deaths of the Bell brothers. Control passed onto W. G. Farquharson, who remained as managing director until 1968 and chairman until his death in 1973.
Under his leadership the company continued to grow and this period saw substantial investment in the distillery operations – Blair Athol, for instance, was completely remodelled and expanded from two to four stills.
Farquharson's replacement as MD and then chairman was Raymond Miquel. Under his stewardship the company grew rapidly, slashing costs and improving productivity. This was partly achieved by opening Pittyvaich distillery in 1974 and purchasing the Lowland distillery of Bladnoch in 1983.
By this time Bell's controlled 35% of the UK market and produced the No. 1 selling blended whisky in Scotland, Bell's Extra Special.
In 1985, whilst Miquel was in Chicago attempting to purchase an American hotel chain, Irish brewer Guinness launched a hostile takeover bid which eventually, after a hotly contested campaign, succeeded. The following year Guinness moved on Distillers Company Ltd, an acquisition that led to the eventual creation of drinks giant Diageo.
Arthur Bell & Sons continues as a subsidiary company within Diageo's Scotch whisky portfolio.
Distilleries & Brands
Spalding's

Blended Scotch Whisky
Contact
Address

Arthur Bell & Sons Limited




Edinburgh Park, 5 Lochside Way




Edinburgh




EH12 9DT




United Kingdom