Old Perth Profile
Blended Malt Scotch Whisky
Old Perth was historically a blend of Speyside, Highland and Islay malts along with North British grain, aged up to 12 years. The blender Peter Thomson had a strong relationship with Macallan distillery, so the Speyside's malt was included as well. In latter years the proportions and ages of each constituent were decided by David Thomson, Peter's son, and then blended at the company's premises in Perth. All the company directors approved the blend before release, its core market mainly hotels and bars in Scotland.
Today the brand is owned by independent bottler Morrison & Mackay, with the core bottling now a blended malt – Old Perth Original (Release No 4) – built around ex-Bourbon matured Aultmore. All the constituents are aged between four to six years to create an approachable, sweet and 'moreish' dram. Other expressions available include Old Perth Sherry Cask and Old Perth Peaty, all of which are bottled at 43% abv.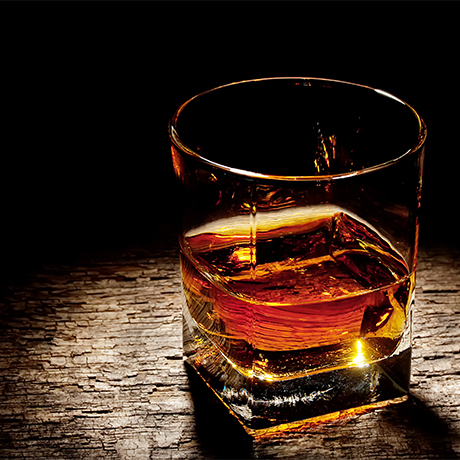 Production type

Blended malt
Old Perth History
Peter Thomson started out in the grocery, wine and spirits business in Perth in 1908 and very soon established his own whisky blends. One of these was Old Perth, which proved popular in the on-trade throughout its existence. As the company evolved into a wholesale agency and wine and spirits distributor, Old Perth was somewhat sidelined by its stablemate Beneagles, so Thomson's travellers incentivised deals with customers by including a bottle of Old Perth with every case of Beneagles.
By 1969 sales of Old Perth were stagnant, although it was recorded that due to the high malt content (and inclusion of the Macallan), it was regarded as one of the best blends available.
In 1973 the retail side of the business was wound up to concentrate solely on wholesale and distribution. Old Perth was eventually replaced in Peter Thomson's portfolio by Beneagles Deluxe due to the latter's growing success.
In 1983 the company was sold to the Stakis organisation which then sold Peter Thomson (Perth) Ltd on in 1985 to Leith-based Charles Mackinlay & Co., the sister company of Waverley Vintners Limited, owned by Scottish & Newcastle Breweries plc. Later that year Mackinlay was acquired by Invergordon Distillers which itself later became part of Whyte & Mackay.
In 2014 Morrison & Mackay expanded into Scotch blending with the acquisition of the Old Perth brand, which it re-launched as an ex-Sherry cask matured blended malt.
Timeline
1908

Peter Thomson creates his own blend of Scotch for sale in his Perth grocery store

1983

Peter Thomson (Perth) Limited is acquired by the Stakis organisation

1985

Stakis sells Peter Thomson (Perth) Ltd to Charles Mackinlay & Co., which is itself taken over by Invergordon Distillers

1993

Whyte & Mackay acquires the Old Perth brand with the takeover of Invergordon Distillers

2014

Morrison & Mackay purchases the Old Perth brand from Whyte & Mackay
Owners Current owner
Previous owner