The second day of Spirit of Speyside 2018 featured a remarkably diverse programme of events, from the unveiling of a forgotten model of Tormore, lively film and whisky quiz and toasting Talisker-infused marshmallows on Craigellachie Beach. Becky Paskin was there.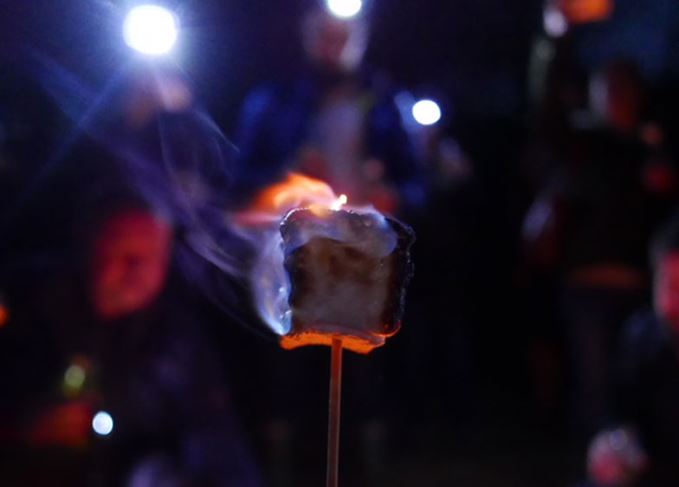 The usually serene streets of Dufftown, Craigellachie and Aberlour are buzzing with visitors this week, as whisky enthusiasts from across the world pour into Moray for the annual Spirit of Speyside Whisky Festival (3-7 May).
As the festival stepped into its second day, Speyside's villages appeared to become busier, and more diverse as visitors from Canada, Germany and even Taiwan attended tastings, classes, tours and raucous pub quizzes.
Below is just a taste of some of the highlights of the day. If you're at the festival, tag #dram18 and you could see your photos appear here too.
Photo gallery

Behind bars: The new Macallan distillery is still off limits to festival goers, even those touring the former Macallan site next door, which is now silent.


Blue skies: The Speyside weather behaved, giving festival goers a chance to experience the glorious landscape on top form (Photo: @celawler)


House proud: Stewart Buchanan, global ambassador for BenRiach, shows off the distillery's stills, which are run slow through a boiling boil to allow for a fruitier style of spirit.


Sneak peek: Whisky writer Charlie Maclean gets familiar with fermenting wash at BenRiach distillery. The ferments at the site are long – up to 96 hours – to allow for a fruiter, green apple profile to develop.


Washed down: Buchanan can't help but take a taste of BenRiach's wash straight from the pail, which is fruity, appley and slightly malty.


Access all areas: Many distilleries that are normally closed to the public open their doors during the festival. Tormore has been one of them, giving visitors the rare chance to glimpse the 1950s building from the inside.


Model distillery: Before Tormore was built, Schenley Industries had a model commissioned, on a size and scale of which had never been seen before. Upon being activated, the walls of the distillery roll down, revealing workers rolling barrels, making the spirit cut and checking the lines. The model had been lost for decades, and has only just been recovered and restored to its former glory. The remarkable model is currently on display at the distillery itself.


Blending sesh: Copper Dog master blender Stuart Morrison reveals how blending lies at the heart of Speyside and Scotch, through a hands-on session where visitors made their own blended malt... and loved it.


Generation game: Glen Moray distillery manager Graham Coull and former distillery manager Ed Dodson gave visitors historical insight into the changes at the Moray distillery over the years (Photo: Sean Murphy)


Time travel: For the first time in its history, Chivas Brothers opened up its archive at Strathisla distillery to the public, especially for the festival. Artefacts housed within the archive include historical bottlings, designs, papers and even outfits, including a bottle of Glenlivet distilled in 1894.


Missing piece: Chivas archivist Chris Brousseau laments the absence of just one Aberlour A'bunadh expression from his collection, Batch 21. Released in small batches, A'bunadh has become a cult favourite with Sherried whisky fans.


Historical artefacts: Brousseau looks after hundreds of items from Chivas Brothers' long history, including this original 1894 sketch of Longmorn distillery's pagodas. Labelled as 'kiln heads', the pagodas were designed by renowned Scotch distillery architect Charles Doig.


No cheating: Whisky writers Charlie Maclean and Dave Broom hosted an immensely popular film and whisky quiz at the Craigellachie Hotel. Full of anecdotes, jokes and slip-ups, the laughter could be heard throughout the hotel's corridors.


Beachlife: Plenty of surprises awaited guests attending Blair Bowman and #LoveScotch's Whisky Under the Stars walk, including aluminium bottles containing Singleton of Dufftown 12 Year Old and Lilt, which had been submerged in the cool flowing waters of the Spey River.


Whisky warmer: Underneath Craigellachie Bridge Bowman and #LoveScotch ambassador Stephen Martin poured glasses of Hot Buttered Whisky, made using Cragganmore Port Wood Finish and chocolate ice cream for happy guests.


Whisky toast: The Whisky Under the Stars walk concluded with toasted Talisker marshmallows and a dram of Talisker 18 Year Old on Craigellachie Beach. The fun-filled event was designed to demonstrate different and interesting ways of enjoying Scotch whisky (Photo: Ervin Trykowski).