Visitors appeared to adopt a more relaxed pace for the penultimate day of Spirit of Speyside 2018 (3-7 May), as highlights ranged from barbecues and village fairs to the unmissable Closing Ceilidh. Becky Paskin reports.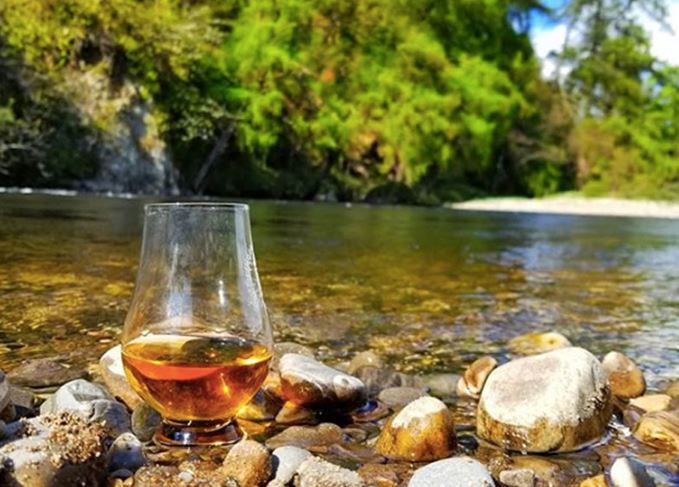 The final days of Spirit of Speyside are always taken at a relaxed pace, owing to the energetic frivolities of the preceding days, and nights, fuelled by whisky. This year's closing was no exception.
Still, there was plenty to see and do throughout the region, whether dropping into the Craigellachie or Dufftown Whisky Fairs, taking a last minute distillery tour or enjoying a well-earned barbeque.
The highlight of the fair's penultimate day is always the Closing Ceilidh, where the winners of the festival's whisky awards are announced.
Below are the highlights from the final day of Spirit of Speyside 2018.

New entry: New independent bottler Spirit Still unveiled its first whiskies at Craigellachie Village Hall during Spirit of Speyside. While the bottles are simply designed they are quirkily named – where Spirit Still cannot give away the distillery source, expressions are given anagrams, such as Like A Villain or Give 'n' Tell. Other bottlings include blended malts The Quartet and Burnside, and a 52-year-old Carsebridge single grain.


Village vibes: Over at Dufftown's Mortlach Memorial Hall the daily whisky show hit its peak of visitor interest, as crowds piled into the venue to sample whiskies from the likes of Murray McDavid, Adelphi, Tomintoul, BenRiach and more.


International presence: Polish independent bottler Stilnovisti was also in attendance to show off its new range of whiskies, including blended malts and single casks.


Bargain hunt: Also on show at Dufftown's Whisky Fair was an eclectic collection of vintage hipflasks, some of which dated as far back as 1898.


Exclusive tour: Tomintoul production manager Graeme Bowie led visitors on a tour of the distillery, which is usually closed to the public, followed by a sneaky dram or two.


Scenic trek: Guided 'Wildlife and Whisky' walks took festival visitors around some of the most picturesque scenery in Speyside, including this beautiful vista of The Glenlivet distillery (Photo: @sgianbrew)


Last call: This year's closing ceilidh was hosted by The Craigellachie, whose car park had been transformed into a music venue lit by a thousand starry lights. While entertainment was provided by live bands Footerin' Aboot (pictured) and ManRan, the highlight of the evening came when the festival awards were announced… (Photo: Sean Murphy).


Award winners: First the revelation of Best New Event, which went to Chivas Brothers' Off the Beaten Track tour of four of its lesser known distilleries. Next the annual Speyside Whisky Awards, which this year had been blind judged by volunteers all across the world, as well as in Speyside. The overall winner this year went to Cragganmore 25 Year Old. Pictured above are (left to right): Kevin Innes, Cragganmore; Mark Thompson, Glenfiddich; Ed Dodson, Glen Moray, James Campbell, chairman of Spirit of Speyside Whisky Festival; Richard Forsyth of award sponsors Forsyths, Caroline Mitchell, Strathisla; and Graham Coull, Glen Moray.