It may not be the first name you think of when it comes to the whisky event circuit, but New Zealand's DramFest is carving out an impressive reputation for impeccable organisation and impressive drams. Dave Broom was there.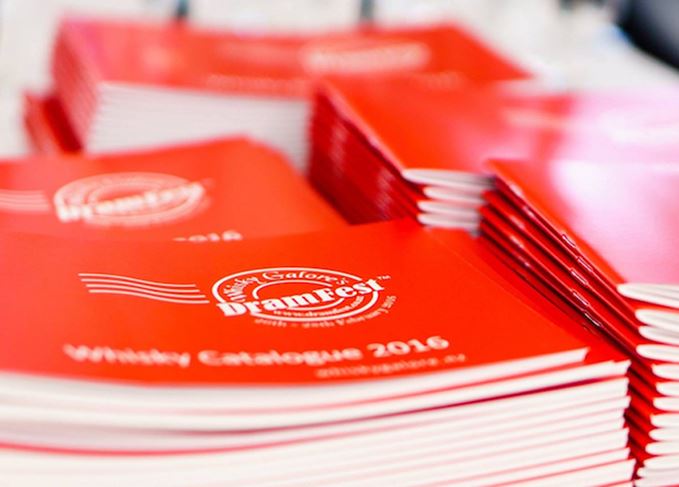 It's not often that Cirque du Soleil is the support act for a whisky festival, but there aren't many like DramFest in Christchurch. As the show is only held every two years, it deserved a big build-up.
The event's popularity was shown by the hefty Australian contingent who had come over (there was also one Bolivian whose presence was never explained fully), underlining the fact that, when it comes to choice of whiskies, especially independent bottlings, the Land of the Long White Cloud beats its nearest (but still distant) neighbour hands down. It's clearly better than Bolivia's as well.
And so, the night after the circus had packed its gear away, the pipes sounded, Whisky Galore began to loop and flicker on the screen, the doors to the Horncastle Arena arena opened, and the fifth DramFest was under way.
The festival is the brainchild of expat Scot Michael Fraser Milne, New Zealand's Mr Whisky: wit, raconteur, wordsmith, lad o'pairts, owner of the appropriately named Whisky Galore shop (hence the film), importer and distributor for a host of brands, and most recently owner of the city's best (and indeed only) whisky bar, The Last Word.
There are strong links between Scotland and New Zealand in terms of weather and family ties, but there are also differences aplenty. This was the first time that your correspondent had been shaken out of bed by an earthquake.
The locals didn't seem too worried about the tremor; Christchurch is, one local reassured me, 'the safest city in the world' thanks to the rebuilding still under way after the city was badly damaged by the big quake in 2011.

Party atmosphere: Parts of DramFest 2016 resembled a disco rather than a whisky festival

That event put paid to that year's DramFest (though, true to the spirit of the place, it was up and running the year after). This year, close on 2,000 people drambled their way around 50 stands, sampling in excess of 300 whiskies from Scotland, Ireland, Wales, Japan, India, USA, Australia and – most excitingly for this writer – New Zealand, which was represented by two (very) recently opened distilleries: Cardrona and Thomson.
Both showed excellent works in progress: the sweet, fruity and balanced Cardrona new make, and a Manuka smoked whisky from Thomson which will, on this showing, help establish an identifiably Kiwi style. Names to watch.
Within Scotch, Longrow Red was a hot ticket, conceivably not just because of its inherent quality but because the 'red' element in this bottling came from a year spent in New Zealand Pinot Noir casks.
Wolfburn, whose first release is imminent, was on show, while there were previews of BenRiach Cask Strength (a world first) and the new permanent addition to the Kilchoman range, Sanaig.
All of this was expanded upon in a series of hour-long 'sessions' and half-hour 'mini' versions, while within a space which, thanks to Cirque du Soleil, looked more like a disco than a whisky club were two 'Top Shelf' classes, each featuring four drams from Whisky Galore's Liquid Library: a 1978 Signatory Port Ellen, Glenfarclas 1966, Glenglassaugh 41-year-old 'Massandra', Adelphi's 43-year-old Invergordon, Ardbeg Kildalton, two Rare Malts (Coleburn and Glen Mhor), and a cheeky wee 1982 Brora from G&M.
New Zealand might not be top-of-mind when you think of the major whisky circuit, but the presence of 14 distillers/brand ambassadors shows its growing importance.
The overseas contingent this year included David Allen (Springbank), Melanie Stanger (Kilkerran), Stewart Buchanan (BenRiach), Murray Campbell (Bruichladdich), Dorothy Duffy (Inver House), David White (Glenmorangie) and the indefatigable Ashok Chokalingam (Amrut).
Their numbers were led by Alex Bruce of Ardnamurchan/Adelphi and Kilchoman's Anthony Wills, who have attended each show. The fact that Alex was hit on the arse by a falling brick while sheltering under a table during the 2011 'quake clearly hasn't dented his enthusiasm for the event (unlike his rear end).
This was the first year that the show had been run over two days and this, plus the larger venue, helped to give it an even more relaxed atmosphere.
While the good humour and politeness of the Kiwis helped, even their patience would have been tested if the stalls had been too tightly packed together. If a stand is four-deep, people start whisky rubbernecking and add to the crush, and then get frustrated because they can't get a dram.
More space – and a control on numbers – appears to spread the crowd evenly, which in turn gives the folk manning the stands time to talk, rather than being little more than dram dispensers. It certainly worked here.
If you're a person who believes in forward planning, I'd make a mental note: Christchurch, last weekend of February, 2018. You won't regret it.
DAVE'S DRAMS OF THE SHOW
BenRiach Cask Strength
Kilchoman Sanaig
Longrow Red
Port Ellen 1978
Thomson Manuka Wood Smoked
Adelphi Invergordon 43-year-old
Whisky Galore Highland Park 15-year-old