What is it that makes a whisky show one of the best in the world? A vast selection of drams and world-class venue certainly help, but the best, like Christchurch's biennial festival DramFest, welcome their visitors as friends. Dave Broom reports.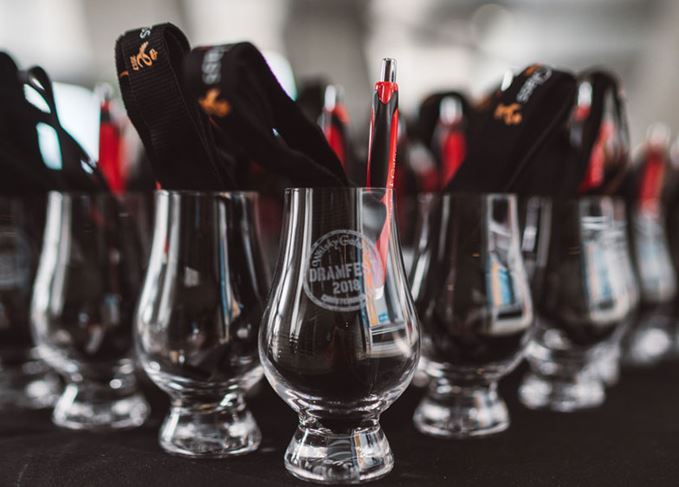 '…and if there's an earthquake…' It's not the line you normally expect to hear at the opening ceremony of a whisky show, but this is Christchurch and therefore it does make a lot of sense. After all, the city is still rebuilding after the big quake of 2011. Not that this has affected DramFest, the biannual whisky event organised by New Zealand's premier whisky retailer/importer/educator Whisky Galore.
'The year after the big quake we held the event in a marquee in the carpark,' recalls the firm's co-owner Stella Fraser Milne. 'It was raining and the water was flowing through the tent as people sat watching Whisky Galore. It was fun.' That pretty much sums up the Christchurchian approach to life – never let the bad things in life get in the way of enjoying yourself, and always help your community.
It's hard to put your finger on what makes a whisky festival a success. After all, the concept is pretty straightforward. Some tables, whisky, and people pouring drams. Why then do some events work better than others?
Maybe it is size. The numbers are deliberately kept low – 1,300 per day, 'otherwise,' says Michael Fraser Milne, 'we end up with a scrum and there's no chance for people to talk and ask questions.' Indeed, one of his pieces of advice to the attendees at the start of each of the two days is, 'don't hog the stallholders, other people want to speak to them as well, and don't try everything on one stand. Move around. Enjoy yourselves.'

Room to breathe: Christchurch's Horncastle Arena left plenty of room for visitors and exhibitors to talk and taste

While restricting numbers certainly helps, a show's success is also generated by the atmosphere created by the organisers. The ones which work the best for me: DramFest, Whisky Fringe, Spirits in the Sky, Victoria Whisky Festival for example, all keep it simple and concentrate on the most important aspect of whisky: sharing drams and putting people at their ease, something which is harder to achieve than it may seem.
You can easily have bells and whistles and flashy stands, but if you as the organiser don't come from the starting point of 'we love whisky and we think you should too,' then the event will simply be a bunch of people in a large room drinking while the organiser counts the receipts. That, in turn, comes back to this sense of community. 'It's not a whisky show,' says one attendee. 'It's like a huge, warm hug.'
Maybe that's it. The event is the culmination of an annual events programme which sees the Whisky Galore team run over 100 events and tastings across the country. One day they could be in Parliament with Jacinda Ardern (the country's whisky-appreciating new prime minister), the next in a village hall. Each will be given the same care and attention. There's no elitism at work here – no special rooms for the select few, no treats reserved for those who have more money. New Zealand's tall poppy syndrome wouldn't allow that.
Accordingly, there's no eye candy. Each exhibitor has the same size of table, and the arrangement of stands sees distillers and independent bottlers next to Bourbon, Irish and New Zealand whisky producers, encouraging browsing.
For the first time this year, rum was also featured with Diplomatico, El Dorado, Mount Gay, Kill Devil, Plantation, and Berry Bros. all represented. There were two areas for hour-long masterclasses, and a smaller space for 20 minute 'A dram with…' sessions in which a distiller would chat and share a couple of glasses.

Equal opportunity: Every stand at DramFest is exactly the same shape and size

This year, there was also an area where a series of forums were held in which distillers debated topics such as rarity, the growing New Zealand whisky industry, and the future of Islay.
At the end of each day came an event featuring three words which you would never have expected to hear in the same sentence: Glenfarclas, cocktail, and competition, in which some of the country's top bartenders threw, shook, and blazed innovative mixed drinks to become the distiller's New Zealand on-trade ambassador.
For the first time, the event spilled out into the streets of Christchurch with a rum and whisky trail linking the city's top bars – The Last Word and the opium den-themed Red Light District my top picks.
'This is the way that whisky is meant to be enjoyed,' says Kilchoman's Anthony Wills who has attended each Dram Fest. 'Why do people fly around the world to come here? Because we love Michael and Stella and the team and the feeling of being part of an extended family.' Perhaps Whisky Galore's Jim Cassels sums it up best. 'We don't have customers,' he says to me at the end of the show, 'We have friends.' That's what makes this, for me, one of the top three whisky shows in the world.