It's no secret that Americans love their whisky, which is why the States are home to some of the best whisky bars in the world. From luxurious libraries to comprehensively well-stocked dive bars, these are just some of the very best. Jake Emen reports.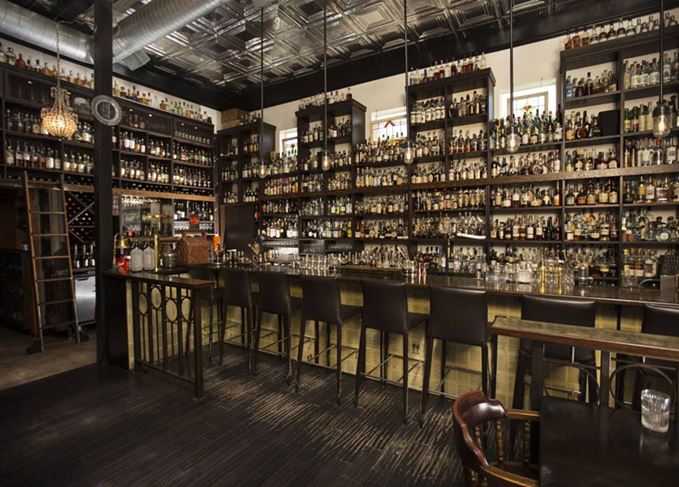 There's good news for would-be travellers to the States – America's love affair with all things whisky has spurred on a coast-to-coast bar boom. Whether you're visiting New York on business, touring Bourbon country in Louisville, or basking in sunshine on the west coast, here are the absolute best, can't miss whisky bars across the United States.
Best Bar for the Ultimate Selection

Life's work: It would take seven years to work through Jack Rose's whisky selection (Photo: Greg Powers)

Jack Rose Dining Saloon
2007 18 St NW, Washington, DC 20009; jackrosediningsaloon.com
If you went to Washington DC's Jack Rose to try a new whisky every single day – and that sounds like a mighty fine undertaking – it would take you more than seven years to work your way through the approximately 2,700-strong line-up.
The stock is constantly being replenished, and when rare bottles are gone, new, different ones take their place. That means you could theoretically continue your mission in perpetuity without ever trying the same dram twice.
Walk in, marvel at the wonders of those jam-packed whisky walls, and get ready to have some fun. Plenty of knowledgeable staff members are on hand to help guide you through the mammoth collection, and the food is a sleeper attraction of its own.
Best Bar for Live Music

Musical interlude: The Flatiron Room is a Manhattan oasis for whisky and music lovers

The Flatiron Room
37 W 26th St, New York, NY 10010; theflatironroom.com
There's no shortage of places to find a good dram in New York, and The Flatiron Room should be at the top of your personal to-do list. Peruse the 1,000 bottles in the collection, stowed away into little caged nooks along the walls, while basking in the sultry environs and listening to wonderful live jazz. You might not always be this classy, but The Flatiron Room will at least help you pull it off for a night.
If you're feeling studious, consider enrolling in one of its Whiskey School classes, and if you wisely plan on making a few repeat visits, consider installing a special stash of your own via the bottle keep programme. As a bonus, consider hitting sister bar Fine & Rare before you leave town, for more great drinks and live tunes, along with a broader spirits collection across different categories.
Best Bar in Bourbon County

Louisville lounge: Over 120 Kentucky Bourbons are stocked at the quirky Proof on Main

Proof on Main
702 W Main St, Louisville, KY 40202; proofonmain.com
After a tough day spent visiting Bourbon distilleries in and around Louisville, there's only one proper way to relax – with more Bourbon, of course. It's a good thing then that at Proof, located in the trendy 21c Museum Hotel, you'll find more than 120 Kentucky Bourbons on the shelves, spearheaded by rare releases and private barrels.
Don't worry, there's Scotch and world whisky too, along with an impressive line-up of American rye whiskies. Its creative whiskey flights are all great value, and high-end fare from the kitchen will ensure you're well-fed, and ready to hit the ground running the next morning for a few more distilleries.
Best Bar for Exclusivity

Stocked shelves: Multnomah Whiskey Library's 1,800 spirits don't fail to impress (Photo: Dina Avila Photography)

Multnomah Whiskey Library
1124 SW Alder St, Portland, OR 97205; MWLPDX.com
You have a really important meeting with a potential investor. Or you have a date you can't believe you actually lined up, or you need to say thanks to your best buddy. Either way, you need to impress, and a night spent in the exclusive, elegant Multnomah Whiskey Library is your ticket.
Oh, but we do mean that literally – to guarantee a reservation, you need to purchase a ticket, or 'hall pass', otherwise you'll have to wait. Fear not, waiting simply entails hanging out in the more casual Green Room, where you'll still find plenty of whisky, along with cocktails and light bites.
Once in the library proper, you'll find more than 1,800 spirits in total, including about 1,200 whiskies, with bartenders accessing rare finds via ladders rigged to slide along the bar shelves. The rest of the night is up to you, but the setting will do its part.
Best Dive Bar West Coast

Dive in: Aero Club serves an enviable selection of whiskies in a relaxed environment

Aero Club
3365 India St, San Diego, CA 92103; facebook.com/aeroclubbarsd
Some nights call for whisky libraries, other nights, not so much. Sometimes you just want a fun, no frills environment where you can kick back with an excellent whisky, poured at an excellent price.
That's what you'll get at San Diego's Aero Club, a dive bar which happens to house some 1,100-plus whiskies on its back bar – and under the bar, in crates next to the bar, wherever they can fit the stuff. Whether enjoying a few rounds with a few friends, or sidling up to the bar on a mission to try something new without breaking the bank, you're in luck.
Best Dive Bar Midwest

Chicago dream: Delilah's is known for its chilled atmosphere, friendly service and vast whisky selection

Delilah's
2771 N Lincoln Ave, Chicago, IL 60614; delilahschicago.com
The west coast isn't the only place you can find an epic whisky line-up housed in the guise of a dive bar. Chicago's Wrigley Field may get the tagline, but the truest 'friendly confines' in the Windy City are at Delilah's.
You could come to drink beer and shoot pool and listen to loud, live DJs without paying any attention to its whisky collection. But that would be silly, wouldn't it? The portfolio boasts more than 800 offerings, representing 15 countries, not to mention more than 70 Scotch distilleries. Delilah's is known for its excellent private barrel releases, so that's where you'll want to explore to begin with, but keep an eye out for the nightly whisky specials as well.
Best Bar for Creative Drinking

Rare drams: Canon's menu includes rare and exclusive releases in its 'hardcore porn' section

Canon: Whiskey & Bitters Emporium
928 12th Ave, Seattle, WA 98122; canonseattle.com
Seattle's Canon touts a collection of more than 4,000 spirits across all categories. The bar's 176-page 'captain's list' is where you'll do your research, and if you're coming with an expense account, flip to the 'hardcore porn' section, where you'll find the rarest offerings, including numerous pre-Prohibition bottles and exclusive releases from the following decades.
Some of the best drinking at Canon, though, is with its loaded, creative cocktail line-up, including large-format drinks, entire pages of Manhattan and Mule riffs, fun flights and inventive boilermakers.