Too many whisky bars – old and new – are clinging to tired old clichés of tartan and haggis, perpetuating the myth that Scotch is an 'old man's drink'. It's time they caught up with the rest of the whisky industry, argues Alex Mennie.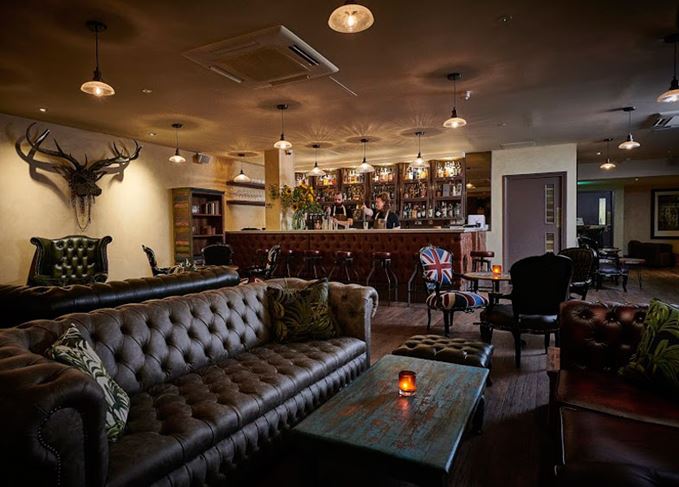 If I say 'whisky bar' to you, what do you see? A generic librarial space with shelves filled to bursting with a selection of exciting and rare bottles? Perhaps a specific bar springs to mind? The open fire of the Quaich Bar at Speyside's Craigellachie Hotel? The painted ceiling of the SMWS members' room at The Vaults in Leith? If you ask most people you'll end up with a stereotype: wing-backed chairs, probably leather and lots of dark wood.
Why is it that the view of whisky in the place where drinkers have the most contact with it, and are most free to experiment with it, appears to stay resolutely in the land of quirky 'auld Scotland'? A place where everyone with an interest in whisky is portrayed as mean, miserly or drunk for the benefit of a cheap laugh, and where tartan, Irn Bru and haggis snacks still thrive?
Why does the whisky bar remain one of the last examples of the school of whisky clichés when the rest of the industry has taken significant steps to move past a reliance on heather, stags and pipers?
To me, the four Boisdale whisky bars spread across London are the epitome of cliché. The tired red and mahogany walls, the tartan chairs and boys' club atmosphere, and the limited attempts at classic cocktails may appeal to its ageing city worker clientele, but demonstrate exactly the sort of look and feel that puts new entrants to the world of whisky off. If Boisdale was your first experience of a whisky bar you'd leave with your preconceptions validated, and little inclination to look for another.

Seeing red: Mennie believes the décor for Boisdale's four London whisky bars is outdated and offputting for beginners

Cliché can wear a modern guise as well. What about ironwork stags and large images of Maggie Thatcher? The best you can say about the prints of Thatcher, Churchill and Queen Elizabeth II, as well as the Union Jack chairs that were on display at the opening of Iron Stag, a new 'punk Scotch' bar beneath The Frog restaurant in London's Hoxton Square, is that they probably weren't playing to many Scottish clichés at least.
Of course, plenty of bars can pull off the dark wood or basement vibe, as long as they steer clear of other affectations. Who can fail to be impressed by the 360 degrees of wooden shelving in Canon, Seattle? What a difference a high-ceilinged room can make. The same can be said of the Merchant House of Fleet Street in London, which balances its imposing back bar shelving with bright lighting, skylights and a marble bar top. You can take some points off though for the large painting of a kilted man atop a misty rock.
Even in a basement, Black Rock shows that a limited space needn't resign itself to a staid format. It's certainly a dark venue, but distinguishes itself by surrounding its guests with whisky. There's no fixed bar – you're actively encouraged to interact with the bottles in the glass-fronted cabinets around the room, and of course, there's the large oak centrepiece with two streams of whisky flowing through the table. How's that for an innovative take on serving a dram?

Bright and breezy: Merchant House of Fleet Street is a whisky bar with a refreshingly light, unpretentious space

Black Rock avoids cliché in another way as well – by breaking the standard approach to presentation. Long after Diageo introduced the Classic Malts tasting map, most bars are still presenting their collection alphabetically (which helps the bar staff, but not the consumer), or by region, which in the words of author and bar owner Tristan Stephenson leaves the average consumer 'lost without a roadmap'.
Why not follow a more logical approach, Stephenson argues, and arrange the bottles according to six flavour categories: sweet, spicy, smoky, fruity, fragrant and balanced? This provides a starting point for everyone, and further education along the way. If you arrive with an idea that you like Macallan 12 but think that means you only like Speyside whiskies, you might be pleasantly surprised to try the Laphroaig Quarter Cask kept one shelf below, which serves as a slightly heavier example of the balanced single malt. It is interesting to see this approach catch on elsewhere as well, with new Leith pub Nauticus sporting a selection divided into light, bold, finish, smoky, other. It makes particular sense at specialist bars such as these, where there is often a focus on independent bottlings, which so often champion atypical expressions from a distillery.
So, what about the cocktail menu? Every Islay whisky fan knows someone who's been put off peated whisky for life by one bad experience. But how many of these souls might be saved by the taste of a Lagavulin Highball? Any whisky bar that is stuck in the mindset that you cannot or should not mix with single malts is limiting the choice of routes into the category for the growing number of drinkers that now want lighter, more complex and often lower abv serves. They do not deserve your custom.
There's an extra tier to this problem, because a bar does not deserve a reputation as a whisky-focused cocktail bar if all they can rustle up is a passable Rob Roy made with blended Scotch, or a Whisky Sour with a float of an Islay malt for a touch of smoke. It's widely believed that bartenders don't like mixing with single malt whiskies – either because they are worried about being labelled as heretics, or because they see it as too difficult to get the complex character of a single malt to play well with other ingredients. But isn't this exactly the sort of challenge that any serious bartender would want to tackle? That's how Mike Aikman of Bramble, Edinburgh created the Dramble, which shows that Craigellachie 13 can work just as well as gin in a single malt twist on the Bramble, or how Luke Leiper at Mac & Wild decided its Ginger Laddie needed a combination of Port Charlotte and the Classic Laddie.

Modern menu: Whiskies are arranged according to flavour profile rather than region at London's Black Rock

This is where I had high hopes for Iron Stag. Backed by two bartenders with a history of experimentation, it should be ideally positioned to test Scotch whisky's ability to mix in cocktails. Granted it is barely three months old, but why did their launch menu use whisky in just five drinks: four types of Highball (three with Monkey Shoulder and one with Glenfiddich 12) and only one cocktail featuring a single malt?
If bars are happy to accept the press coverage for their 'new ideas' for Scotch cocktails, but still end up perpetuating the same old myths and lack of variety, they will continue to act as a damaging influence on the nascent Scotch consumer. If the same clichés that the wider industry moved away from 20 years ago are allowed to infect bar design and cocktail menus, then the bars themselves end up undoing the work of many brands and industry commentators who have worked to promote whisky as a drink for any occasion and every drinker.
As consumers we visit specialist whisky bars because we are curious and want to be educated about a product that is rich in great stories, tradition and innovation. We deserve more than a peated Whisky Sour and a battered Mars bar sundae. Keep the haggis bon bons coming though.