Whatever its origins – Rudolph Valentino films, the drink's colour, matadors – Blood and Sand is one of the world's great whisky cocktails. Why does it work so brilliantly? Ryan Chetiyawardana has the answers.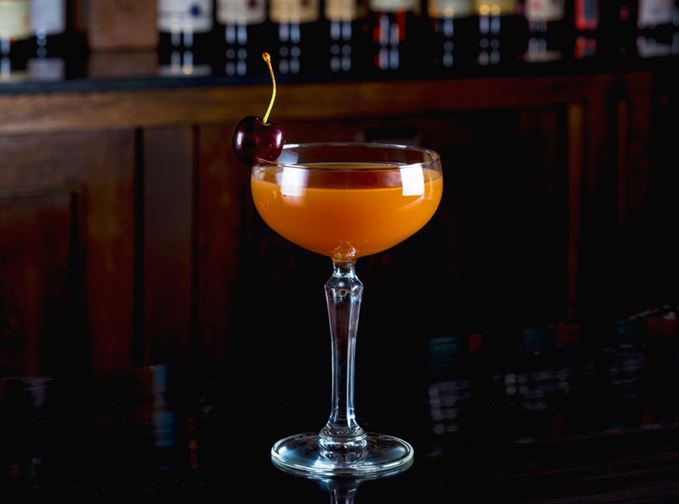 Sometimes I think this drink came about very differently to what history records. Supposedly, it was created for the opening of the Rudolph Valentino film of the same name, but it all seems a little too perfect. I know cocktail etymology and legend are contestable most of the time, but this drink has a well-documented story that just fits so neatly together.
The drink takes on the (strangely) alluring hue of blood that's seeped into sand – it's both dull and bright at the same time. You'd easily believe the drink was created to merely replicate this appearance.
Secondly, the name, and really the drink in its totality, conjure an image of a romantic yet tragic tale of blood striking sand. I've not seen the film (and actually it's probably in a long line of films I'll never see), but even without knowing the details, the drink is already harking to somewhere exotic, all tangled in something a little dangerous, but no doubt exciting.
The matador image slots neatly into the drink. Although in danger of sounding poetic about a drink (yawn), it is a wonderful reflection of this image; an elegant serve with a bit of a sting in its tail.
However, the real clincher is the recipe. As previously mentioned, you could easily figure that the ingredients were chosen to blend into the shade that conjures up the title of the film. In fact, on paper, you'd expect the drink to taste muddy like the colour of the drink.
Not true. Not only do you taste the individual components – Scotch, orange juice, cherry brandy and sweet vermouth – but Blood and Sand fulfills the cocktail requisite of tasting greater than the sum of its parts.
The drink is complex and layered, and you can have a lot of fun switching and substituting the ingredients. Unlike in something like a Whisky Sour, where you can change the actual sweetener or souring agent, in a Blood and Sand there's much fun to be had by simply switching up brands.
Thankfully, there's a host of new products that have entered the market – new vermouths (well, actually, often they're old ones, you can just get hold of them more easily), different styles and weights of cherry brandies, different varieties of oranges and – it goes without saying – different whiskies.
Take Bowmore Darkest and combine with Cocchi di Torino, Grant's Morello cherry brandy and some sweet orange – and you have a devilishly rich and smoky number that is miles away from a lighter, brighter pairing of Bailie Nicol Jarvie, Martini Rosso, Cherry Marnier and blood orange.
The beautiful simplicity of this recipe is that all the ingredients are in equal parts. Easy to remember and easy to assemble. This is also a handy drink as it helps ensure you're going through your vermouths at a steady rate; a good thing for making sure they're staying super-fresh.
That said, you can play around a bit with this too – bump the orange or the Scotch up a notch, or tone down the cherry and nudge the vermouth up – the drink just seems to work.
Of course, you want to maintain balance, so throwing in an extra shot of whisky may not fly. But, if you fancy a sweeter drink, or if your whisky is on the dry side, try increasing the orange or cherry a touch, and if you want a bit of extra spice, add a splash more vermouth or whisky.
This is also a drink that benefits from a little extra dilution too. If properly shaken, the drink settles with an attractive froth adorning the surface; if it's limply jostled with some ice, it appears as if… well, it doesn't appear nearly as attractive.
As it's quite a rich, almost meaty-style drink, a Blood and Sand sits quite well alongside food too. As described, it can vary in style, so ideal matches are hard to choose, but it has a big body and isn't too sour, so savoury dishes are a great coupling. I was recently sipping a Blood and Sand with some charcuterie and the match was magic.
Below is a great fall-back recipe, but as mentioned, try switching up the brands, and don't be afraid of throwing in one of your favourite malts. All the elements will shine through and the extra body will lend a great weight to the drink. I have stepped away from the equal parts recipe (give that a go, though) as this is the one I make at home, but find the ratio that works best for you.

BLOOD AND SAND
30ml Johnnie Walker Black Label
30ml fresh orange juice
25ml Cocchi di Torino
25ml Grant's Morello Cherry
Shake very hard over cubed ice, double strain into a chilled coupette and garnish with a cherry.