Acclaimed Scottish photographer Lindsay Robertson was surrounded by whisky from childhood, but hated it. Then came a Damascene moment on the isle of Islay… Richard Woodard reports.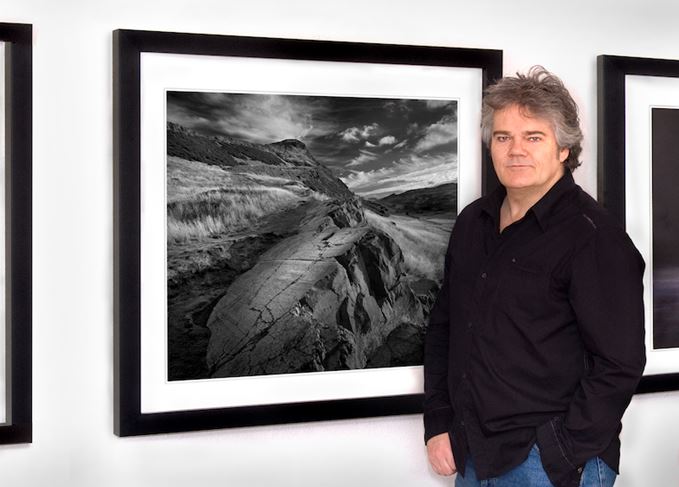 Lagavulin, Islay; roughly 25 years ago. It's nine o'clock in the morning, and the distillery manager has just asked photographer Lindsay Robertson the question he's been dreading since boarding the plane in Glasgow.
'You'll have one?'
'No, not for me. I don't like it.'
Pause. 'You should try it.'
'No, really.'
Robertson takes up the tale: 'Anyway, he poured himself one and put a block of ice in it. I'd always been told you shouldn't do this, so I mentioned that. He said: "It doesn't matter – take it the way you enjoy it."
'That really struck a chord with me. So I said: "Ok, I'll try it." And I thought: "God, this is bloody nectar!" I just loved it… I wouldn't say it was a spiritual experience, but not far off it.'
Robertson is an internationally renowned photographer of landscapes and animals – the first to be offered a residency at the Hermitage artist retreat in Florida, and the only one to see his work exhibited alongside that of legendary American landscape photographer Ansel Adams. And whisky? He spent half his life doing everything he could to avoid the stuff.
'Probably from the age of about nine or 10 I was aware of whisky, but hadn't a clue of what it was,' Robertson recalls. 'My dad had a job designing and printing the boxes for Johnnie Walker. I used to go to the factory and I loved the process of watching him putting the whole thing together.'

Creamy quality: Robertson's Sandwood Bay photo adorns the 21-year-old Perspective label

This was the mid-1960s, when cutting-edge packaging ideas included adorning the cartons with military badges – or one million red pom-poms ('Dad spent weeks up and down the country trying to find a pom-pom maker'). But, at the Robertson house, the liquid was strictly reserved for visiting guests, or as an analgesic for children with toothache.
'There was always copious amounts of whisky around the house, but dad never drank it and I always associated it with having the toothache,' says Robertson. 'So I absolutely hated the taste of it.'
The whisky fates, however, are not so easily dismayed. Robertson took up a career in photography, landing a job with an advertising agency that had its own photographic department. One of its key accounts was Bell's.
'After all, if you're a photographer in Scotland, you're always going to be working with whisky at some point,' acknowledges Robertson ruefully. 'I ended up doing a bit of everything – the actual bottle, packaging images, advertising.'
This was a pre-digital, pre-Photoshop era that was disarmingly low-tech in its approach. 'You'd put a special cut-out bit of card behind the bottle to bring out the colour and vibrancy of the whisky. Depending on the angle of the card, the whisky would get darker or lighter. But a lot of the time we used cold tea because we couldn't get the colour right.

Bold image: A photograph of Cuillin reflects the style of the 25-year-old Perspective blend

'Now, with digital and computers, it'd be five seconds and "how about that?". In those days, you'd spend all day doing it just with the camera. That was very much the craft of photography back then.'
By the 1990s, Robertson was, in his words, 'just muddling through my career', doing advertising and corporate work. Then one regular client, the Scottish Development Agency, asked him to accompany a German drinks writer on a tour of a dozen or so distilleries.
The trip began in Inverness, moving through the Spey valley. 'I'd been around many of the distilleries before, so I knew what the hospitality was like: try this; have a taste of that; take this with you. That went on pretty much all week and I'd be walking away empty-handed on every occasion.'
Then Islay. Then Lagavulin. Then everything changed. 'I thought: "God, what have I been missing?" I went home and got a set of those Classic Malts miniatures. These are no' bad, I can taste a bit of difference between them. And this was something I'd hated with a passion all my life.'
A good friend and a good pub did the rest. 'We would always buy each other a whisky, but get something different every time and test each other to see if we could tell what it was. You can get to be quite precise in terms of picking out flavours and where they're from.'

Visual hug: Robertson's view of Rannoch Moor, used for the 35-year-old Perspective blend

That said, Robertson feels his chosen career has taken its toll on his nosing abilities. 'My sense of smell is shot from breathing in photographic chemicals all my life. I struggle to get all those nuances that other people seem able to describe.'
Maybe that helps explain Lagavulin as a first love – 'one of the most pungent of whiskies, right on the mountain top in flavour terms' – and its continued presence among his favourites, alongside Laphroaig and Highland Park.
The timing of Robertson's whisky conversion in the 1990s meant that, initially at least, it was all single malt. Blends? He'd thought the odd Johnnie Walker – Double Black especially – 'not actually that bad', but that was about it.
Then Berry Bros & Rudd asked if he'd like to be involved in a new range of aged blends called The Perspective Series, created by master blender Doug McIvor. Four whiskies, from 21 to 40 years old, matched to four of Robertson's dramatic, haunting, black-and-white Scottish landscapes.
'My eyes were completely opened when I started doing this project and I met Doug,' says Robertson. That meeting happened at a Perspective event in Edinburgh, when Robertson and McIvor formed a double act to launch the new whiskies.
'I was astonished when Doug stood up and started going through the process of how he makes up blends. He was using the same kind of words – textures, elements. You're thinking: "God, it's exactly the same vocabulary that I'm using when I'm talking about photography." There's such an art in what he does.'

Looming majesty: Buachaille Etive Mòr adorns the 40-year-old Perspective blend

Listen to Robertson describing the painstaking process of landscape photography – the planning, the patience, the capturing of one perfect moment when all the elements of light, shade and composition conspire, the processing or 'releasing the latent art in it' – and the parallels become clearer still.
Robertson used McIvor's tasting notes to select an image to go with each of the Perspective blends – a process which he initially thought 'a bit daunting', but which turned out to be relatively straightforward. 'It just fell into place,' he says. 'Pretty much every image came to me very easily.'
So we have the dream-like beach scene at Sandwood Bay – 'the creaminess of the waves, the grain of the sand' – for the 21-year-old; a 'bold' Cuillin image for the 25; the 'big, visual hug' of Rannoch Moor around the cottage for the 35; and the looming majesty of Buachaille Etive Mòr for the 40-year-old.
All four of the photographs date back about 30 years, to a time when photography, and whisky, were very different to today. And they were taken by a man who, at the time, couldn't stand his own national drink.
'It's one of those weird circle of life things that comes around,' says Robertson, with more than a trace of amusement. 'Whisky can mature and keep in the bottle for years and years, and so can these images. It's captured, it's there – it's a moment in time. There's quite a symbiotic relationship between the two.'