Coming down from the high that was the World's 50 Best Bars Awards, Becky Paskin asks what qualities we have come to expect from the global elite?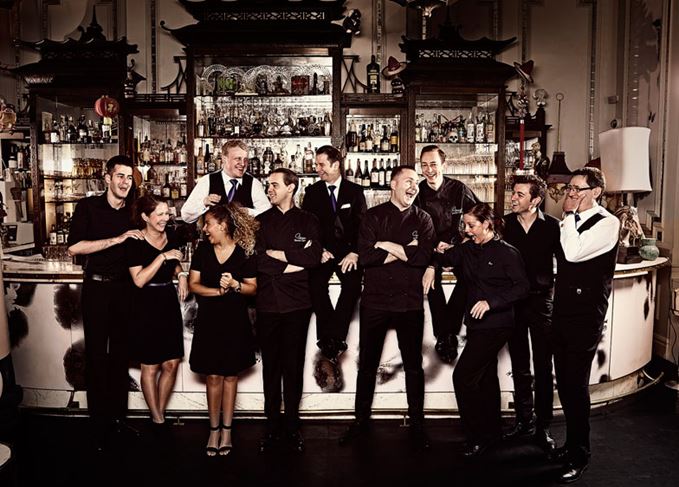 When you fork out for a meal in a high-end, Michelin-starred restaurant you don't expect to be served a dish you could just as easily make at home, if not better.
There is an expectation to have our senses blown away by the aesthetic and organoleptic considerations of a talented chef who has evidently spent years honing their craft, and who has a considered approach to ingredients.
In the same breath we expect a level of service that puts us first – we work hard, and when it comes to treating ourselves to a special meal, is there anyone who doesn't want to relax and be taken care of?
For the best restaurants in the world these two fundamental services, blended with a fitting atmosphere, are what underpin their popularity and appeal. Ultimately, it's the experience we are attracted to – these are destination restaurants after all and not an everyday indulgence, at least not for the majority.
The same can be said for the world's leading bars. Just like executive chefs the creative minds behind the stick pour thousands of hours into developing inventive serves, the front-of-house team deliver the same impeccable hospitality we've come to expect from restaurants, and, ultimately, guests are afforded that desirably unique experience that no other bar anywhere in the world can deliver.
If Michelin stars were bestowed upon bars then those on The World's 50 Best Bars list would have undoubtedly earned their fair share, particularly those gracing the line-up time and again.
London's Artesian at the Langham Hotel was once again crowned the Best Bar in the World for a fourth year running (it placed third in 2011) at the 2015 awards announced by Drinks International recently. New York's Dead Rabbit Grocery & Grog came in second while Nightjar, also in London, took third place. Fourth position went to New York stalwart Employees Only, while London – hailed by many as the cocktail capital of the world – made a third appearance in the form of the American Bar at The Savoy in fifth position.
While at Dead Rabbit you'll find a beautifully illustrated cocktail menu and enviable selection of Irish whiskey served in the familiar surroundings of a Dublin dive, the American Bar and Artesian deliver the sophisticated sanctuary afforded by a five-star hotel bar. All five are indeed world-class destination bars, but what do an Irish pub, two speakeasies and a couple of hotel bars have in common?
'The bars that make up the upper echelons of the World's 50 Best Bars share two common qualities: impeccable hospitality and great drinks,' says Hamish Smith, editor of The World's 50 Best Bars.
'There are high-level craft cocktails to be found at many bars, but at the world's best they offer something different and advance the industry into new areas.'
There was a time when a friendly demeanour and killer Old Fashioned or Whisky Sour would be enough to earn a bar a global reputation, but as interest in cocktails and spirits has spread, bartenders have driven their creativity, skill and understanding of mixology further to capture the admiration of consumers.
Smith adds that while a handful of the world's best make use of statement ingredients to attain new heights of flavour innovation, all focus on exact execution, regardless of the complexity or simplicity of the drink.
'It's one thing to use exotic ingredients, but another to use them to harmonious effect in a glass,' he says. 'The likes of Artesian and Nightjar perform this rare trick – elaborate, complex drinks, yet everything is done for a reason.
'There is no room for gimmick drinks at the world's best bars; ingredients are fresh, infusions and syrups homemade, vessels are often bespoke and the spirits are of the highest quality.'
It's bars like these that are pushing the boundaries of conventional cocktails to new heights, allowing us, the humble guests, a unique and memorable experience with every visit.
Scotch whisky enthusiasts are spoiled for choice if looking for an inventive serve for their favourite dram. Below are signature Scotch serves from the world's five best bars, although it's worth remembering that while these are exclusively situated in New York and London, there are 45 more global bars on the 2015 list where you can discover a world-class Scotch cocktail.
Fast Money Comes at a Dangerous Price
Artesian, London

A blend of Johnnie Walker Gold, chamomile, vetiver, sandalwood and kombucha is served in a bespoke gold bar filled with cool stones and topped with parmesan crisps. Part of Artesian's new menu focused on appealing to its guests emotions, it's no wonder this drink falls under the category '#FeelingSurprised'.

Drawing Board
The Dead Rabbit, New York

Photo Credit: Andrew Kist
This take on an Old Fashioned by Dead Rabbit's Jillian Vose combines three different Scotch whiskies – Cutty Sark Prohibition, Drambuie and a Laphroaig rinse – for a subtly smoky drink with a hint of Benedictine.

Forest Floor
Nightjar, London

Nightjar's sultry underground demeanor and speakeasy vibe make the idea of a sharing cocktail extremely inviting. This mix of Glenfiddich 12, Hennessy FDC, Holy Syrup, birch and mushroom soda, apple ice wine, clementine and mastiha make for a wonderfully indulgent and satisfying drink.

Common Sense
Employees Only, New York

Sometimes simplicity and skill are the key to a perfect serve. The vanilla and ginger notes in Macallan 12-year-old, the feature spirit in Employees Only's Common Sense are complimented by the simple addition of Dolin Blanc, Averna Amaro and chocolate bitters, resulting in a rich and perfectly balanced indulgence.

Born of Barley
American Bar at The Savoy, London

Another simple serve comprised of blended Scotch whisky, angelica syrup, Cocchi Barolo and Peychauds bitters from the American Bar is stirred down over cubed ice for a wonderfully refreshing and balanced serve.