New York's The Dead Rabbit Grocery and Grog may possess all the personality, charm and Irish whiskey of a traditional Irish pub, but this is a bar like no other. Becky Paskin explores what makes it the World's Best Bar, and what its Scotch whisky offer looks like.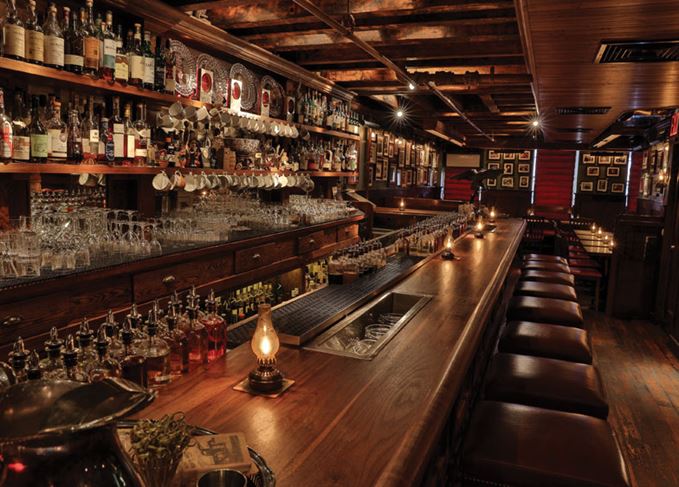 6 October, New York. It's late afternoon, and a small group of bartenders are huddled around a laptop on the wooden bar, craning their necks to see the screen, hushing one another to hear the words that would crush or delight them.
At the same time, 3,500 miles away in London's Christ Church Spitalfields, hundreds of bartenders from around the world are packed shoulder-to-shoulder, also eager to discover which will be named World's Best Bar 2016, as defined by the annual list compiled by Drinks International magazine.
Last year's winner, and the chart-topper for four consecutive years, was London's Artesian, but with its head bartenders and cocktail visionaries Alex Kratena and Simone Caporale both now working on other projects, the number one spot was left wide open.
Many expected the title to go to one of last year's top five bars, all of which pride themselves on offering their customers a unique experience. As the winning bar was called, screams of elation rang out from both Christ Church Spitalfields and The Dead Rabbit Grocery and Grog in New York's Financial District. Finally, this was The Dead Rabbit's year at the top.
'I was in London to receive the awards with some of the team,' recalls The Dead Rabbit bar manager Jillian Vose. 'As soon as they called the bar at number two, you kind of know it's you, and you don't want to take away from the glory of the number two winner, but I almost blacked out. I just thought: "Holy crap, we did it."'
The result confirmed the expectations of many. The Dead Rabbit had occupied the number two spot for the last couple of years, and had already been named World's Best Bar in previous years by other industry awards.

Moment of joy: The Dead Rabbit team are ecstatic upon hearing the news of their win

Irishmen Jack McGarry and Sean Muldoon, who count Belfast's Merchant House and London's Milk & Honey on their CVs, launched the three-storey bar on Water Street in 2013. The duo had a dream of reimagining the traditional Irish pub in New York, their bar's name inspired by the city's infamous Irish gangs of the 19th century that frequented the area.
On paper, an Irish pub doesn't sound like the kind of bar to attract global accolades; Hamish Smith, editor of The World's 50 Best Bars, claims it's a concept 'done to death' already. However, Smith reckons McGarry and Muldoon's attention to detail in The Dead Rabbit's drinks, service and atmosphere has created an unrivalled bar experience that caters for all tastes.
'If guests want a Guinness and a shot of whisky in a busy pub atmosphere, it has the Taproom,' Smith says. 'If they want an elevated experience, they climb the stairs to the Parlor for some of the best cocktails in New York. In time, The Dead Rabbit will be seen as one of the seminal bars of its era.'
Just about every city in every country has an Irish pub, but none are quite like The Dead Rabbit. On a weekday lunchtime you could settle down in the home-from-home Taproom with a pint and a shepherd's pie, perhaps even sharing a Usquaebach Punch with friends; come the evening, you could be enjoying some of the most carefully crafted cocktails in the world in the decadent Parlor. Homesick patrons can even purchase their quintessential British groceries from the bar, including Marmite and HP Sauce.
An Irish pub, however modern, wouldn't be complete without a decent selection of Irish whiskey, and The Dead Rabbit's devotion to the spirit is obvious in upon entering the Taproom. More than 50 bottles, from standard blends through to single malts and single pot still whiskeys, line the back bar, many of which feature prominently in the Parlor's strikingly-designed cocktail menu.
While The Dead Rabbit is an Irish bar at heart – of course Guinness is available on draught – world whisky features prominently, with roughly 30 bottles of Scotch and 20 American whiskeys also available.
'We encompass whisky as a category,' explains Vose. 'Not just with Irish whiskey, but also with blended and single malt Scotch.' The variety, she claims, not only provides choice for the bar's clientele, but enables the team to experiment with creative new cocktail flavours too. 'We try different bottlings with each menu because Scotches from various regions bring different flavours to the table.
'Typically there's always a need or want from our guests for that smoky Scotch, but we also have guests who aren't Scotch drinkers, who prefer fun, fruitier drinks, so we make sure to incorporate blends and non-Islay malts into the menu as well.'

Daisy, Daisy: The Dead Rabbit thrives on innovative twists on traditional drinks, like Thirty Seconds 'Til Takeoff

The Dead Rabbit currently offers three Scotch-based cocktails: Top Ten Hit which, despite featuring a crowd-pleasing smoky Scotch in the form of Black Grouse, is an exotic, fruity number with pineapple juice, fennel syrup and Barbadian rum that delivers a smoky undercurrent, for a flavour not dissimilar to grilled pineapple.
Bengali Menace is a stirred cocktail based on a White Negroni, featuring Glenfiddich 12-year-old, apple liqueur, suze bitters, Cocchi Americano and a dash of absinthe to draw out the single malt's characteristic apple notes.
Lastly, Thirty Seconds 'Til Takeoff is a Scotch and applejack Daisy featuring coriander-infused Glenmorangie Original, banana syrup and Bourbon, topped with a Belgian ale instead of soda, and garnished with nutmeg.
'With our cocktail menus we try to do something unique that's not been done before, by us or any other bar,' says Vose. 'We are presenting single malt especially in a way that other bars don't think to use them, like using a White Negroni template and turning it into a Scotch cocktail, or taking the Rusty Nail and making a simple drink very complex by adding other ingredients.'
While innovation and individuality are at the heart of the bar's cocktail ethos, a respect for their patrons' wide-ranging tastes plays a pivotal role in cocktail creation at Dead Rabbit.
'We try to offer something for everyone,' Vose continues. 'If you're that Scotch drinker who maybe isn't too into cocktails, you can transition into that stirred, classic drink like the Bengali Menace or, if you love cocktails but aren't much of a Scotch drinker, we have refreshing drinks like Thirty Seconds 'Til Takeoff.'
Dead Rabbit may be the best bar in the world, but it's not the only haunt in New York where you'll track down a decent Scotch whisky cocktail. 'People here are over the blasphemy of using single malts or Cognacs in cocktails,' Vose says of her city. 'There are so many Scotches out there, people aren't afraid of using them as more than a sipping spirit. It's an exciting time for Scotch; people are definitely more adventurous in their drinking and they are becoming more educated in what they like.'
New York is also not short of whisky-specific bars. From the decadence of Flatiron Room and laid-back vibe of Maysville, to the well-stocked shelves of Copper & Oak and Brandy Library, whisky enthusiasts are spoilt for choice. So why should they pay a visit to The Dead Rabbit, rather than any other bar, next time they're in town?
'We are the world's best because of many aspects – warmth, drinks, décor, and of course the craic,' Vose says. 'All those things together make a great bar and we don't tread lightly on anything. It's our attention to detail and the team coming together on a daily basis and constantly evolving and doing the best we can to make it a great guest experience all around.'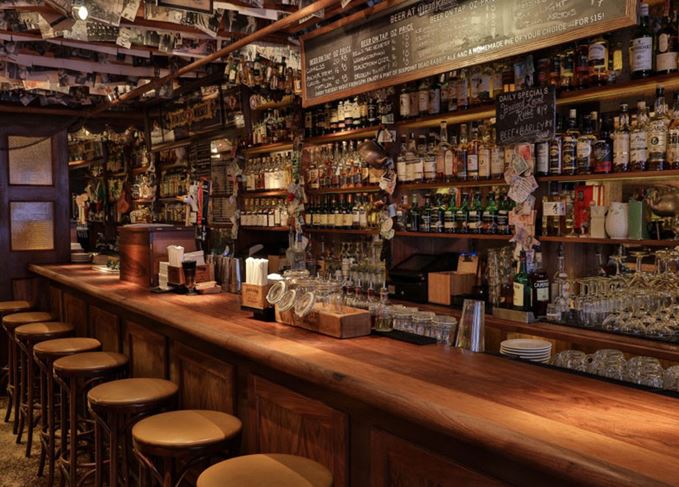 Irish charm: The Taproom stocks more than 100 whiskies alongside bottled cocktails and beers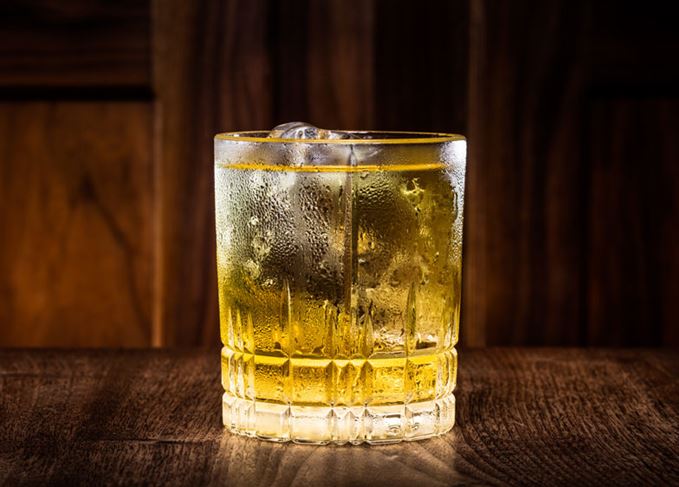 Bengali Menace: A twist on a White Negroni with Glenmorangie Original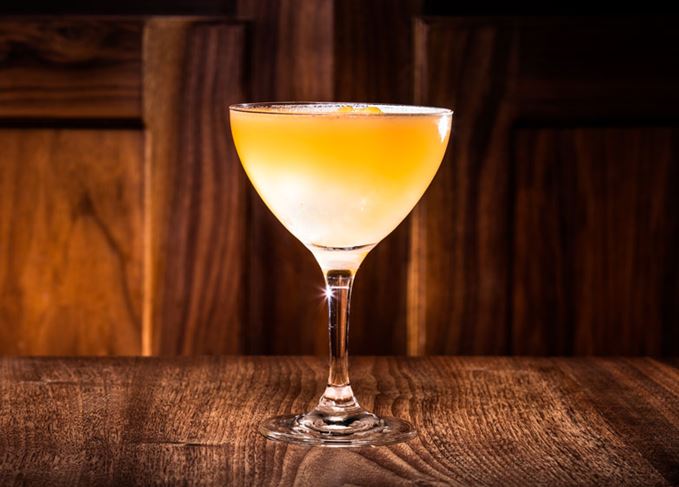 Top Ten Hit: Exotic fruits combine with peated Scotch in this crowd-pleaser