Counterfeit Scotch is big business, from the cash-and-carrys of the UK to the bars of Shanghai, keeping a team of Scotch Whisky Association lawyers constantly on their toes. Tom Bruce-Gardyne plunders their drinks cabinet in search of fakes.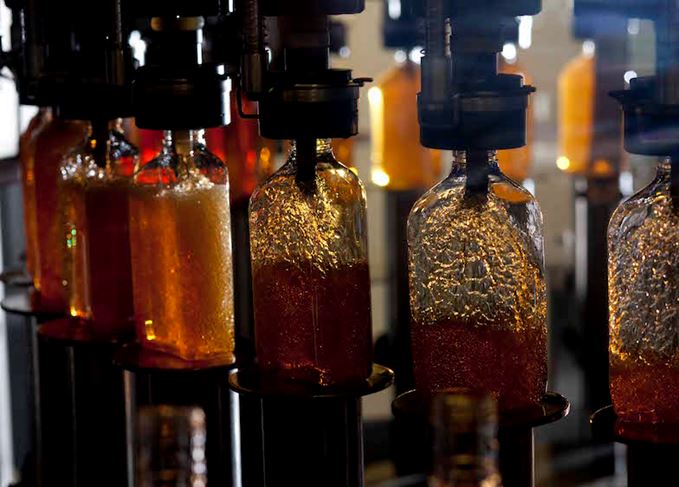 Imitation, they say, is the sincerest form of flattery. Well, don't try telling that to the Scotch Whisky Association (SWA), and Lindesay Low, one of a team of five lawyers and a paralegal tasked with draining the world of fake Scotch, one bottle at a time.
'We don't really see it that way,' says Low. 'Scotch has worked so hard to build its reputation as a high-quality natural product, and when people are buying something in the mistaken belief it is Scotch, it's very bad for the industry.'
With its bulging drinks cupboard, Low's office wouldn't look out of place on the set of Mad Men. However, on closer inspection, the bottles appear to have sprung instead from Brigadoon, the cheesy musical shot in a Hollywood studio because its producer claimed there was nowhere sufficiently 'Scottish' in Scotland. The counterfeit labels offer the same pastiche of misty lochs, castles and tartan whimsy.
As for the contents? 'The easiest way to make fake whisky is to buy a little bit of the real thing and stretch it with whatever's cheap, like neutral grain spirit,' says Low. 'It's not going to kill you, but it's certainly very inferior.'
With around 70 court cases ongoing at any one time, the SWA's lawyers focus on bringing civil actions against generic fakes, whether they claim to be genuine Scotch whisky or merely suggest it.
Meanwhile, those who prefer to rip off Johnnie Walker, for example, risk criminal proceedings from the legal eagles at Diageo instead.

GRANTS REGAL DELUXE
Unlike the infamous cans of 'Rich Prosecco' promoted by Paris Hilton wearing nothing but a layer of gold spray paint, canned Scotch is technically legit, as indeed are sachets of Scotch and bag-in-box Scotch.
But this one failed for being essentially neutral spirit that had never seen the inside of a cask. Following a tip-off from a German businessman in Iran, 'it was tracked down to a company in Austria who were canning millions of units', says Low.
'From there it moved to Turkey to be distributed into all the neighbouring countries, where alcohol is not traditionally allowed.'
In 2007, Grants Regal Deluxe appeared in a Channel 4 report on smuggling across the Kurdistan border into Iran. As one smuggler gleefully declared: 'Everyone drinks it. The mullahs are first.'

CLAN SPIRIT APERITIF/CLAN WHISKEY
As a 'spirit aperitif', this one 'was slightly more challenging because they do say on the label "Produced & bottled in South Africa"', says Low. The case against the distiller therefore had to be built around the word 'Clan' and the Scottish figure with his feathered bonnet, swaying kilt and Claymore.
For all its unsubtle imagery it seemed the target audience were not getting the hint, so the perpetrators did Low and his team a big favour. 'Just before we filed, they relabelled it as "Clan Whiskey", which made it a lot easier for us,' he says.

SCOTTISH SWORDSMAN
Lest anyone think this was a brand of Caribbean rum or Polish vodka, the distiller decided to stamp the words 'blended whisky' on the label.
'It was being brought in for large cash-and-carrys here,' says Low. 'We assume that lorries were stopping in a layby and the goods were being offloaded, so we followed the trail back to a guy in Italy.'
That was in 2001, a month before Low joined the SWA, and it seemed a fairly open-and-shut case. The judge agreed and ordered the defendant to pay €200,000 in damages with interest.
Fourteen years on, the case has just gone to the country's Supreme Court on appeal – making Scottish Swordsman the toast of the Italian legal system.

GLEN HIGHLAND GREEN BLENDED WHISKY
This wannabe whisky came from Fujian province in south-east China and is packaged in a smart presentation box.
While it neglects to mention the word 'Scotch' on the front label, it does call itself 'a fine single pure Highland malt whisky' – which is close enough.
Meanwhile, the back of the box is a mine of useful information for the drinker: 'A Whisky is usually taken on the rock or with soda water, ice water and ginger ale,' it declares, before spelling out the likely effects of a dram: 'Scottish Whisky will penetrate your blood vessel, all the way to the capillary, makes you in total comfort, this is what we call the Purity.'
Absolutely…
If you've spotted a suspicious-looking bottle – or, indeed, a can – contact: [email protected]