Diageo has submitted plans to develop a seven-storey Johnnie Walker attraction on Princes Street in Edinburgh, featuring rooftop bars and a retail space alongside a 'multi-sensory, immersive' visitor experience.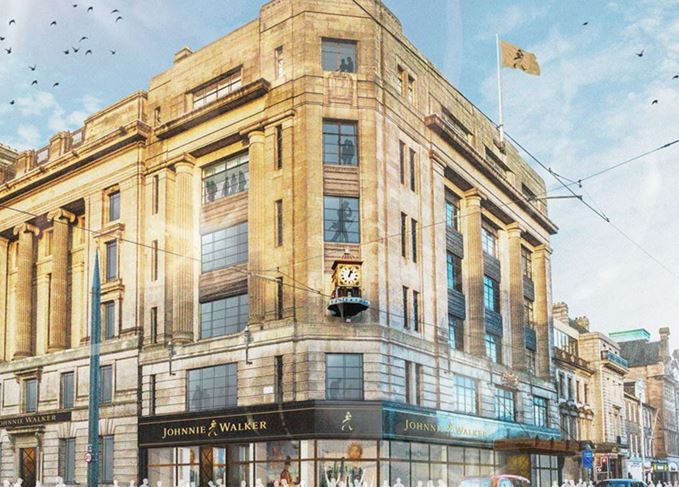 The proposal devotes three of the former House of Fraser store's seven floors to the Johnnie Walker visitor experience, designed to guide attendees through the brand's 200-year history and cover the science of whisky making.
The experience also aims to 'take [visitors] on a journey through the flavours of Scotland' via interactive exhibits and rooms allowing visitors to touch, taste and smell aspects of production.
The plans for the Princes Street site, lodged with Edinburgh City Council with the support of the building's owner Parabola, also include a street-level retail space inspired by the flagship Johnnie Walker store in Madrid, which opened in November 2018, and a 'flexible events space' for staging music, theatre, arts and community events.
The seven-storey complex is also set to include a 'bar academy' to create training and employment opportunities in the hospitality industry for unemployed people.
Cristina Diezhandino, Diageo global Scotch whisky director, said: 'Our ambition is to create a visitor experience that will rank not only as one of the greatest whisky attractions of the world, but one of the greatest brand attractions in any industry, putting Scotland at the forefront of the global boom in experiential travel.
'We believe our plans will create a flagship attraction that will bring people to Scotland from the four corners of the world.'
The proposals for the attraction form part of Diageo's ongoing £150m investment into Scotch whisky tourism, as the spirits giant plans to renovate existing visitor centres at 12 of its distilleries, including Caol Ila and Glenkinchie.
Diageo is spending a further £35m to renovate and reopen cult distilleries Port Ellen and Brora.