In France, Rhuaridh Buchanan would be known as an affineur – a maturer of fine cheeses. From his Bayswater lair, the Scot supplies some of the best restaurants in London, as well as customers who just happen to drop by. Fiona Beckett reports.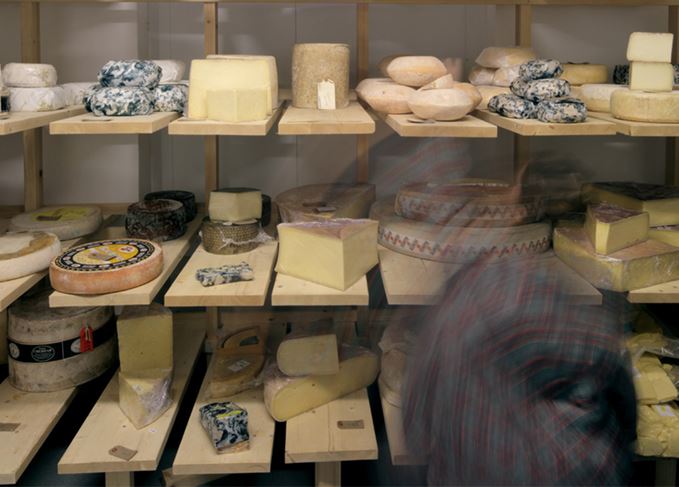 If you haven't heard of Buchanans you won't be alone, but if you've dined in some of London's best restaurants you may well have eaten the company's cheeses.
This tiny affineur, as the French more elegantly call someone who matures cheese, tucked away in the back streets of Bayswater, does 95% of its business with Michelin-starred establishments such as The Ledbury, The Square and The Ritz – yet those in the know can turn up at the door and buy exactly the same cheese.
Rhuaridh Buchanan, after whom the shop is named, has an impeccable pedigree, having worked for top cheesemongers such as Iain Mellis and Paxton & Whitfield.
He opened his own business in April 2014, having spotted a gap in the market. 'I'm passionate about cheese and wanted to get back to maturing cheese and delivering the best product in the best condition,' he says. 'I also enjoy the business side of it all and wanted to take the skills I had learned over the years and do it for myself.'
The shop, however, wasn't originally part of the plan. 'I was looking for 1,000sq ft of space where we could store cheese, and actually found it was cheaper to set up shop here than rent an industrial unit south of the river in Vauxhall!'
He deliberately keeps the selection small: 'Only 25 cheeses at a time, sourced directly from the producer wherever possible, rather than the 150 or so we had at Paxton's.
'People tended to find that quite intimidating. I try to change them all the time so that when our regulars come in they find something new and, as we get to know them, we find out what they enjoy.'
Although he has his own idea of how a particular cheese should develop, Buchanan is nonetheless still willing to respond to customers' preferences. 'We'll age them as we think they should be aged, but if they want them younger we'll do it that way for them,' he says.

Rhuaridh Buchanan will mature his cheeses to the bespoke specification of his customers.​

He shows me what he's got in stock in his two maturing rooms downstairs: a cooler one for soft and semi-soft cheeses, and a slightly warmer one for the hard cheeses.
He points to a Chabichou goat cheese from Paul Georgelet, the edges of cheese creamily breaking down under the rind. 'We've kept that for two-and-a-half weeks, which is to the English taste. The French like them firmer and more brittle.'
Next a perfectly matured Brie: 'We rewrap it in paper when it arrives, then let it develop long and slow. It shouldn't be strong, but buttery and even-textured.'
And here's some Raclette. 'It's normally a cooking cheese, but I wondered what would happen if we dried it out and aged it a bit.' (The answer, by the way, is that it's spectacularly intense – almost fruity.)
Finally, we compare three remarkable blues – a creamy Cornish Blue, a sharp, salty Bleu des Basques and a mellow, mushroomy Cropwell Bishop Stilton aged for about 14 weeks. 'Stilton suffers a lot if it's sold too young,' says Buchanan severely. 'It should be lovely and buttery, not white and crumbly. There's a maximum two-week window when it's at its best.'
Affinage for Buchanan is more an art than a science. 'I tend to work from experience, but you do have to keep the balance of moisture right,' he explains. 'With washed rind cheeses, you're adding an extra source of nutrients to the B Linens bacteria which give the rind that distinctive orange colour.'
He rattles away. 'It's a question of understanding the rind – or lack of it. Pont-l'Évêque and Camembert are essentially the same recipe, but for the fact that one is kept damp while the other is left dry and allowed to grow a bloomy white rind.
'Because I've worked in restaurants myself, I know what makes top chefs tick. They need to rely on someone to make sure what they're offering is consistent. It has to be the same from week to week.
'I'm continually having conversations with my suppliers. It's not like in a supermarket where it's all about price. It's about getting the perfect cheese.'

A selection of cheeses are available from the wine bar, although Buchanan admits whisky is also a great match.​

As well as buying cheese from Buchanans you can treat it as a wine bar – they have a selection of wines open for anyone who pops in for a cheese plate or a toastie.
As a Scot, Buchanan shamefacedly admits that he's more into wine than whisky, though he still thinks it's a great match with cheese. 'The ones it definitely works best for are punchier, washed rind and Alpine cheeses like Comté and Beaufort, full-flavoured cheddars like Montgomery's and blue cheese.
'I like a Speyside with the softer, washed rind cheeses like Epoisses and Celtic Promise, a malt like Highland Park is great with a Cheddar, and Islay whiskies go really well with rindless blue cheeses that are kept in foil like Cashel Blue, Highland Blue and Roquefort.'
Buchanan's painstaking care with his cheeses has paid dividends: last year the shop was named Best Cheese Counter of the Year at the World Cheese Awards.
But you don't have to take their – or indeed my – word for it. Drop by and taste some of the best cheese in London.
You'll find Buchanans at 5A Porchester Place, London, W2 2BS; Tel +44 20 3441 8010. It's open Tuesday to Saturday, 11am-5pm, and holds regular monthly tastings.