It's a vital part of malt whisky and is a versatile food ingredient with deep roots in global culture. And yet barley is 'unsexy' and often plays second fiddle to the likes of quinoa or rye. Time to resurrect this great grain, says Signe Johansen.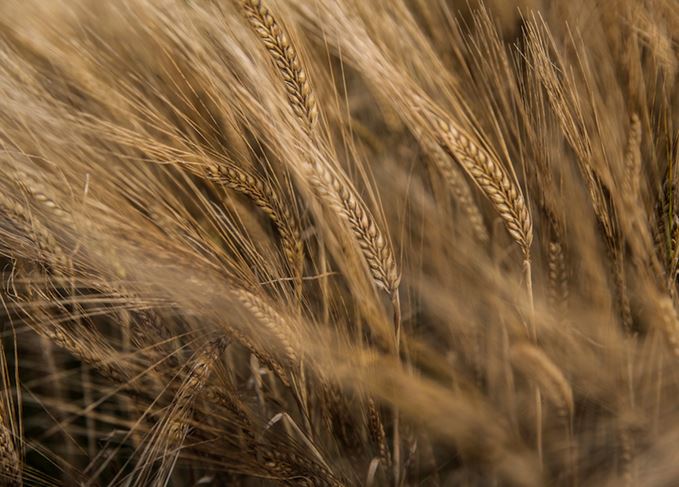 Sometimes the most benign question can throw you off balance. Recently I was asked what's the most underused ingredient? 'Gosh, I really don't know,' I replied, somewhat flummoxed. 'Brussels sprouts? Salad cream? Quark?
'Every ingredient seems to come into fashion at some point, the key is just to find which ones you like and mix them up a little. I reckon liquorice is underused, but then I'm a liquorice fiend…' Every ingredient or dish does seem to have undergone a revival at some point.
Take that wartime staple the Jerusalem artichoke, Queen Victoria's beloved bone marrow, or the now ubiquitous kale – chefs and food writers love to hector us about forgotten ingredients. Cheaper cuts of meat are now so in demand that butchers often can't keep up the supply of beef cheeks, assorted offal, or scrag end of lamb.
It took a visit to Mission, now renamed Sager + Wilde Restaurant in east London, and a taste of their delicious, chewy barley porridge bread to remind me how underused barley is in modern British cooking.
Barley is well-known to those who appreciate Scotch whisky – so I write this fully expecting some readers may roll their eyes, but bear with me. As a food culture we really don't appreciate barley. More's the pity, as it's nutritious, delicious and an extremely versatile ingredient.
The joy of researching a feature like this is that you begin to wander down all sorts of unexpected paths. I had assumed that barley was a cold-climate grain with a northern European heritage, and I would therefore uncover any number of gutsy, Viking-era potages that cited barley grain at their core.
This grain's origin, however, lies in sunnier climes: 'Remains of barley (Hordeum vulgare) grains found at archaeological sites in the Fertile Crescent indicate that about 10,000 years ago the crop was domesticated there from its wild relative Hordeum spontaneum.'
DNA research uncovered the Israel/Jordan area as the site of barley's origin, but the grain's migration reached as far east as India and the Himalayas, as well as its now familiar westward journey towards Europe and beyond.

Grain of truth: Barley's origins lie in the Middle East (Photo: Michael Johnson)

According to Sally Fallon in Nourishing Traditions, barley was the main food source of the ancient Greeks, who 'valued barley's ability to give physical strength and mental alertness'.
Meanwhile, Harold McGee in his trusted tome On Food and Cooking informs us that, as well as being the primary cereal in ancient Babylon, Sumeria, Egypt and the Mediterranean, barley was also grown in the Indus Valley long before rice became a staple.
Barley is commonly used in Japanese miso production, and is crucial to Moroccan, North African and West Asian soups, porridges and flatbreads.
As a grain, barley's health benefits echo those of other rivals such as wheat, rye and oats: according to Healing Foods from Neal's Yard Remedies, barley feeds the healthy bacteria in our gut, lowers cholesterol and balances blood sugar levels.
Pot barley is considered a better nutritional choice than pearl or pearled barley on account of the pot grain retaining its husk during processing, thereby preserving more essential nutrients. The downside is that pot barley requires soaking overnight before cooking.
'Black barley' refers to the homebrewing base for stout or porter beer, but confusingly is also an heirloom variety of the grain with origins in Russia. Hallmarks of this Russian 'black barley' include a mahogany colour, and a nuttier taste than western barley.
Scotch whisky enthusiasts may already be familiar with the 10-year-long collaboration between Bruichladdich and the Agronomy Institute of Orkney College (part of the University of the Highlands and Islands) on Bere – an ancient Scottish variety of barley with Viking origins that was the mainstay of distilling until about the 1850s.
Bere develops and matures quickly, but compared to conventional varieties doesn't have a stellar conversion rate (litres of alcohol per tonne of grain). The research project yielded both a viable financial success for the distillery and a valuable scientific insight into genetic diversity and the challenges of reviving a forgotten variety of barley. It forms the base of Bruichladdich's Classic Laddie, Islay Barley and The Organic expressions.
So what can you do with barley at home, other than dabble in homebrewing or distilling? A plethora of dishes should inspire even the most novice cooks: in a nod to barley's role in Greek cooking, Maria Elia's simple recipe for octopus, fennel and barley salad in her book Smashing Plates is a burst of salty and aniseed flavours to offset barley's nuttiness.

Proustian touch: Whisky madeleines from Signe's book Scandilicious Baking (Saltyard) (Photo: Tara Fischer)

I came across suggestions for 'barlotto' – a slightly awkward-sounding hybrid of barley and risotto – with mushrooms, chestnut, celeriac, parsley, white wine: robust flavours to warm and soothe on a chilly autumn or winter's evening.
In a recent issue of Noble Rot magazine, the recipe is given for Hackney pub The Marksman's beef and barley buns – a riff on a Chinese choi, or steamed bun, stuffed with beef mince, pickled walnuts, onions, barley, stout and assorted herbs and spices. If these bold, assertive flavours don't make you salivate over a pint of stout, or indeed a dram of Scotch, then I don't know what will.
Bavarian barley stew with its sausage, barley and shredded cabbage has a comforting, mitteleuropäische ring to it, and I'm determined to make a big pot of it before spring sets in.
In fact after reading so much about barley, I decided to rustle up a late winter pearl barley, Stilton, blood orange, white bean, parsley, dried sour cherry, walnut and fig preserve salad which was not only satisfyingly easy to assemble, but also immensely satisfying to eat.
Further afield and akin to a Middle Eastern tabbouleh, this parsley salad with barley, dill and hazelnuts bursts with aromatic greenness and would be ideal for a summer picnic. Indeed, this inventory of barley recipes on the New York Times website is a treasure trove for any cook in need of ideas on how to cook the grain.
Meanwhile, The Guardian proffers a list of its 10 best barley recipes, which includes soup, salad, a loaf, pilaf, pudding and The Sunday Times cook Florence Knight's delicate barley ice cream – an injection of malt into dessert that I wish we'd see more of.

Feast for the eyes: Signe Johansen's late winter salad (Photo: Instagram, @SigneSJohansen)

While the joys of cooking with barley grain should by now be clear, it's easy to forget what a boost barley malt can bring to your baking and cooking repertoire. I've used both the grain in a barley bread recipe and the malt in a whisky madeleine recipe from the same baking book.
Frances Quinn, winner of The Great British Bake-Off and author of Quinntessential Baking, told me she loves barley, especially barley malt and is 'using [it] so much in my baking and two of the most popular recipes in my book feature it. Both the malted milk and cookie tiffin and Bourbon brick brownies use it in place of golden syrup to add a nutty, malty depth. The brownies also use malt whisky too, to play up the barley and Bourbon'.
Given barley's versatility, nutritional benefits and delicious flavour, why does the Huffington Post still describe it as 'unsexy'? There is something resolutely old-fashioned about the notion of cooking with barley.
Camilla Barnard, co-founder of cereal brand Rude Health, puts it bluntly: 'Barley for some reason isn't cool, like quinoa and amaranth, and it doesn't come with the health creds of oats. And of course it isn't gluten-free, which is more or less the kiss of death in some circles.
'Rye suffers from the same issues, but is so huge in other parts of the world that it keeps its end up, in bread particularly. Perhaps barley could be the next big thing, or at least become more appreciated in its own right rather than as barley malt, which is what provides the comforting sweetness in a lot of cereals and malted drinks. It needs a revival.'
Amen to that.