Born in Edinburgh, Susan Morrison took her first tentative steps into the Scotch whisky industry with a part-time job at the Scotch Whisky Experience. Now, with 28 years' experience racked up on her CV, she has progressed to become the director and general manager of the five-star visitor attraction. She spoke to Martine Nouet about how she stumbled, rather than fell, in love with whisky, and how she has maintained her passion for the industry after all these years.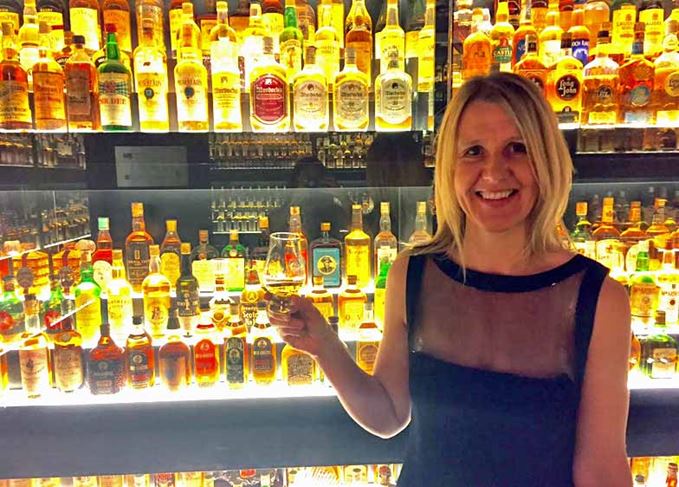 'I have been working for the Scotch Whisky Experience for 28 years. I started when it opened in 1988. I was about to go to university to study German and Russian. I was looking for a weekend job and this was a great place for an 18-year-old student – but I knew absolutely nothing about whisky.
'When I finished university, I took a summer job as a guide, not sure about what to do after my studies. I was always thinking: "Now I must go and get a proper job." I got promoted to the job of whisky buyer and that was it.
'In 2000 I became general manager of the Scotch Whisky Heritage. It was rebranded back in 2006 as the Scotch Whisky Experience in advance of the big tour refurbishment which happened over 2008/9. In 2005, I was invited to join the board of managers. I was (and still am) the only female on the board.
'All these years have always been a challenge. In 2008 we refurbished the entire tour. At that time, I also had just had a baby. We had nearly 20 years of whisky education experience behind us with the idea of converting people to change their perception of whisky. That big project exceeded our expectations. Keep in mind that 80% of our visitors have never tasted whisky.
'Claive Vidiz Collection is a fantastic addition to the Scotch Whisky Experience. In 2004 Brazilian collector Claive Vidiz approached us to see if we would buy his collection. Diageo stepped in and bought it for us. It arrived here in 2009. It is a real treasure and a major attraction: 3,384 bottles of whisky collected over a period of 35 years.

Time-honoured tradition: Susan Morrison is one of only a handful of female Masters of the Quaich

'We have done quite well. We have managed to raise £500,000 for self-funding. We have a new project every year. In 2012, we revamped the shop, then we created the Castlehill Room upstairs with this impressive chandelier made of cask staves sent by distilleries. This room welcomes private or corporate guests for whisky dinners, up to 80 people.
'We want to work more on the tour to make the presentation area more immersive. We will have a big screen and we will also put the emphasis on blending. We are going to have an old blender's room and explain the process from tea to whisky. Also, we want to make the entrance of the collection more dramatic with a "wall door" opening. But we keep the car ride, even if some Americans find it "cheesy". Apart from those critics, they all love the Collection and the guiding staff. All these changes will come into place before Christmas.
'The whole building was a school for 100 years. It definitively closed in 1951. That fits our goal, which is educating visitors. The janitor's house, next to us, was not our property. It is a three-storey town house. We have just acquired it. We don't know what we will do with it yet. But we already have a few ideas.
'I have learned so much along these years, not only on whisky but on people too. A lot of my senior employees have a similar story to mine. They came for a summer job and they stayed in the place.
'I was made a Master of the Quaich in 2010. It is a great honour. I still cannot believe there are so few women Masters of the Quaich – apparently not more than five out of a total of 150.

Castlehill Room: The Scotch Whisky Experience offers 'Tattoo dinners' for Scotch fans

'My professional life is highly important; it's like a hobby too. I suppose I can say I take my job home. My partner is a joiner by trade and he has built "a whisky wall" for me with glass shelves. All my friends like whisky – I must confess, I have bombarded them with whisky samples.
'We recently launched the "Tattoo dinners" during the season. People have a whisky dinner in the Castlehill Room, then we take them up to the Tattoo [show]. A lot tell us: "We thought the Tattoo would be the special part of the evening, but this is just as great."
'What do I want to do in the near future? I can't see anything not connected with whisky. My son is learning a bit of French and Spanish at school. I would like to learn Spanish. Learning languages has always been a passion. Next year we will have audio guides in American sign language and in English sign language, as they are different.
'Do I have a dream? Not really. My only dream is to have a happy and peaceful existence, which is the case. I am driven by my passion for whisky, combined with my love of people.'