For nearly four decades, Claive Vidiz was dedicated to collecting as many Scotch whisky bottlings as humanly possible, from the ultra-rare to the everyday dram. Now owned by drinks giant Diageo and on display for all to see at Edinburgh's Scotch Whisky Experience, the collection has become famous among whisky lovers worldwide. Vidiz met Angus MacRaild to discuss how he accumulated such a staggering array of Scotch.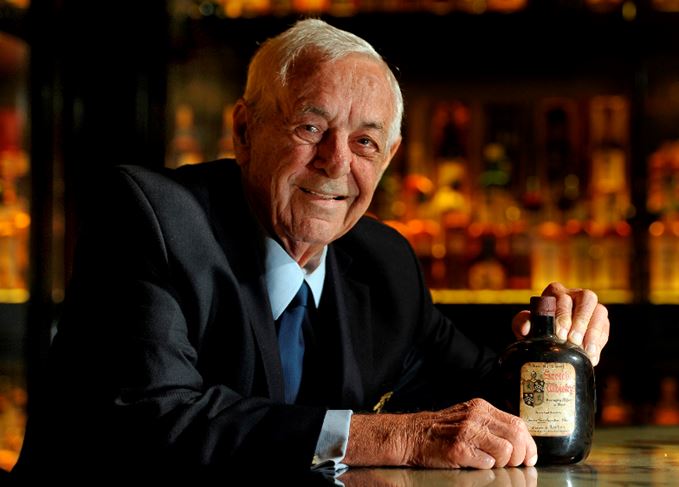 For a long time, Claive Vidiz's Scotch whisky collection was touted in publicity, inaccurately, as the largest in the world. This did his collection something of a disservice, though, for there are a number of notably large collections of whisky in the world. Once you get above a few thousand bottles, they are all somewhat overwhelming to behold when displayed.
Vidiz's collection, though, is unique in that it covers such a broad canvas of brands, blends, vattings and single malts over a vast stretch of decades. It is really an impression of the whisky industry from the early 1970s to the turn of the millennium. To see it is to get lost in its fascinating diversity.
The man himself was in Scotland last week, visiting the collection of 3,384 bottles he painstakingly put together over four decades of his life. The collection was sold to Diageo in 2006 and eventually found its home at the Scotch Whisky Experience in Edinburgh, where it has been since 2009.
When I first viewed the collection it was displayed in a somewhat disparate fashion. You would glance around the shelves and get caught out by random rarities shining out amid the more common blends. Since then, a bit more care has been taken to arrange malts by distillery, and brands by name and company, in a way that makes the whole thing more useful and cohesive. It's a particularly special, and rare, collection that enables you to feast your eyes on a spring cap 1950s Lagavulin one minute and be perusing a historical selection of Whyte & Mackay blends the next.
Vidiz arrives by taxi. He is in his 80s now but thoughtful, precise in his answers and smartly turned out. His manner, humour and appearance are reminiscent of a latter-day Leonard Cohen. Upon being asked what it is like to see the collection again, he pauses to consider his answer.
'Emotional,' he eventually says. 'But also happy. To know it is here for people from all over the world to see and enjoy gives me great happiness.' It's a theme he returns to time and again throughout the course of our conversation, the idea of the collection representing Scotch whisky and being a tool for education. 'Whisky is not just a drink,' Vidiz says, 'I don't think the public know enough about this great product.'

A sight to behold: The Claive Vidiz Diageo Whisky Collection features 3,384 bottles​ of Scotch

Vidiz is from São Paulo, Brazil, and worked for several decades in pharmaceuticals, which took him on trips to the UK and the US. He often enjoyed drinking whisky and would bring bottles home from his trips abroad. But it wasn't until a visit from a Scottish colleague with six bottles of Islay malt whiskies in the 1970s that Vidiz became fascinated with Scotch, and the diversity of its flavours and brands.
'They had such funny brand names: Laphroaig, Lagavulin. "What is that?" I thought. But it made me begin to think properly about Scotch whisky.'
It's quite a remarkable thing that such a collection was put together over so many years in Brazil of all places, not a country that was considered to be a typical, or particularly diverse, Scotch market in the 1970s. This was a time long before even the European collecting scene was particularly active.
However, according to Vidiz, Brazil in the early 1970s was not as basic in whisky terms as you might think. 'We had all the big brands at the time: Ballantine's, Johnnie Walker, Haig and so on – you just needed to look around. I would bring some bottles back from abroad. If I heard about a small collection, or a single bottle for sale somewhere, I would do everything I could to get it. Any crazy thing you can think of, I did it, and I never stopped looking for bottles.'
Vidiz wasn't the only collector in Brazil in those years either. Over time, he developed a network of friends and contacts throughout the country. This, in turn, led him to establish the Brazilian Association of Whisky Collectors – a group that would meet on occasion in São Paulo or Rio for conferences, discussions and to exchange drams, and bottles. They even had their own magazine, Double Dose, which would report on news and new products in the Scotch whisky world.
With members of this society, Vidiz organised a trip to Scotland in 1991 to tour the country and visit distilleries. 'I've visited 44 distilleries all over Scotland and when I say "visited", I mean with the manager and in great detail, looking at every part of the distillery and the process, and understanding it completely.'
Vidiz wears his experience like a badge of pride. Rather than thinking so much in terms of one distillery or one brand, he thinks of Scotch whisky as a fascinating and remarkable product. Although, when asked if he has a favourite style of whisky for drinking his answer is, typically, to the point: 'Well, let's tell the truth here – Islay. I just love these whiskies.' But he also admits that he is not a fussy whisky drinker and, apart from grain whisky and American whiskeys, he is happy to drink most blends and malts.

Happy reunion: Vidiz visits the Scotch whisky collection he spent nearly four decades building

Looking at the collection today, the split is about 70% blends, 30% malts. Vidiz admits that in the beginning he was collecting everything he could get his hands on. Over time, however, he slowed down and focused more on special and rare bottles that would enhance the collection. 'When I started to become known as a collector it became much easier to get bottles, people would contact me and I would hear about collections for sale,' he says.
I ask him what the collection – and Scotch whisky in general – has meant to him? 'Scotch has been part of my life,' he explains. 'I can't believe how many people I've met and friends I've made through the collection. People at distilleries, other collectors, people from embassies and consulates. You know, I've had visits from 24 UK Members of Parliament to my home to see the collection. It's amazing.'
In the early 2000s, Vidiz began to speak to people at the Scotch Whisky Association (SWA) about what he should do with the collection. 'I said to myself: "What are you going to do with these bottles? You aren't going to live forever and can't take it with you." I have three sons and I didn't want the collection split; I wanted it to remain together and to be open to the world for people to learn from. I'm so happy it is here.'
As our interview draws to an all-too-rapid close, I feel I'm only scratching the surface to an extent – there is evidently an abundance of stories to this collection; ones that no doubt match the wealth of its former owner's character.
'We have a saying in Brazil,' says Vidiz with a perceptible quiver of emotion, '"The good son returns home." I feel that my whisky has come home here; I'm very happy to see it here for all to enjoy.'

Toast to success: General manager Susan Morrison and Vidiz share a dram at the Scotch Whisky Experience

A brief selection from the Diageo Claive Vidiz Whisky Collection

Lagavulin 12 Years Old
Proprietary bottling. Spring cap. Bottled circa 1960. This is one of the very few remaining bottles of official Lagavulin with a spring cap still known to exist. An extremely rare and historic bottling that sends chills down any serious whisky lover's spine.

Highland Park 12 Years Old
Proprietary 'St Magnus' label bottling from the 1940s. Another extremely rare, early official Highland Park bottling. Again, there are exceptionally few of these still known to exist. One was opened on Orkney last year and proved to contain a remarkably peaty and historic style of Highland Park.

Laphroaig 10 Years Old
Proprietary bottling for UK market. Short cap, bottled 1960s. Everyone raves about the Bonfanti and Filippi Fausto Laphroaigs for Italy, or the Elsbach imports for the US from around this time. However, even rarer are the official examples bottled for the domestic market. For Laphroaig lovers this is serious, 'hen's teeth' stuff.

Glen Grant 1950 22 Years Old
For the US. One of a number of extremely scarce early Glen Grant bottlings for overseas markets. This was produced by a long-closed Glasgow company using the same famous 'Highland Glen' label that appears on so many Glen Grants. A great example of why for years Glen Grant was the distillery in the eyes of serious whisky enthusiasts around the world.

Bruichladdich NAS
Proprietary bottling. Bottled 1960s. A beautiful and exceptionally rare early official bottling of Bruichladdich without an age statement. Again, only a smattering of these are known to exist. A bottling that likely contains whisky produced before the distillery ceased peating its malt in 1960.