Penderyn blender Aista Jukneviciute joined the Welsh whisky distillery while searching for a laboratory job. Here the Lithuanian native shares with Felipe Schrieberg the importance of experimenting with flavour while maintaining consistency, the influence of Dr Jim Swan on her work, and Penderyn's future plans.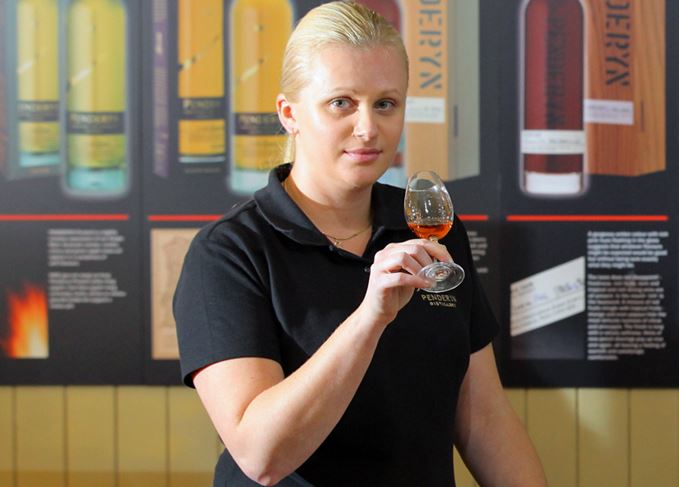 'When Lithuania joined the EU in 2004, loads of us immediately went abroad to travel and to work, and I also decided to do so. I arrived in the UK in 2004 and worked in catering and then a research lab. But it was while searching for another lab job that I ended up working at Penderyn in 2012.
'Although distillery manager Laura Davies is looking after the spirit in the distillery and what is going to the warehouse, I'm looking after all the casks and selecting the samples that will determine what will be bottled as Penderyn whisky.
'I also have to make sure that in addition to the Madeira casks used for our core range, our whisky can also be matured in something different, such as tawny Port, red wine, Moscatel or something else that goes beyond our basic range. It helps that we have a good relationship with our coopers who help rebuild our casks and are also happy to work with something different if we need them to.
'I've gotten to travel to Madeira and to Portugal, and I did go to a Speyside cooperage to see what they've got. Sometimes I go to see what they can offer. Sometimes they're coming to us and they're also bringing the sample of the wine or Port that the cask used to hold, and we can make the decision whether it's right for Penderyn or not.

Perfect partnership: Jukneviciute trained alongside Dr Jim Swan [centre], and continues to work with distillery manager Laura Davies [right]

'When I started working at the distillery I got to work next to Dr Jim Swan and in the months that he used to work there I would go through samples with him and put the batches of Penderyn together. I slowly learned to do the job after testing myself and giving the samples to Dr Swan to see if I was picking things correctly. But now, after Dr Swan passed away, I'm left on my own. Working with him, the knowledge I gained, I really learned from him.
'It's great to win awards for our whisky. I feel that I am doing a great job (and so is the whole Penderyn team) and it's not just whisky drinkers but also industry professionals recognising that Penderyn is a good whisky. I think I am proudest of one of our Icons of Wales releases, celebrating singer Bryn Terfel. It was the first batch that I put together that was quite different from the usual range. It's an ex-Bourbon maturation and it won the European Whisky of the Year in the 2018 Jim Murray Whisky Bible.
'However, it's our new make spirit that makes Penderyn really stand out from Scotch whisky. Penderyn's advantage is that our spirit is very clean and fruity, which means it matures quickly in the cask. If you taste all our whiskies you'll get that fruitiness along with a bit of toffee and custard. The challenge is that due to its high strength (92%, the highest in the whisky industry), it can be tricky to keep consistency between batches during distillation. That's why we still sample every single cask and select them individually before preparing them for the batches.

Cask selection: Jukneviciute selects the whiskies that will be blended and bottled as Penderyn single malt

'It seems the standard practice is to be able to make Bourbon, Sherry and peated whisky everywhere. So quite a few distilleries are starting to experiment and release something new. I do think we'll see more wine and Cognac casks in the future, providing a different option. It's like with gin. It used to be "normal" and now it's "how many flavours have we got". At the moment we've got some nice Portuguese wine casks filled that may be ready for next year so I'm looking forward to seeing how that will turn out.
'We're also looking to release more aged whisky, and we're seeing what our stock will allow us to do. We're keeping back a percentage of our casks for older stock, and when the distillery reaches its 20th or 25th anniversary we'll release something really special at that age.
'Penderyn's plan is to build a new distillery in Swansea in 2021, as well as a new visitor centre and shop in Llandudno in 2020, but at this stage it's too early to tell how my job might change with the expansion. There's a thought that I might be doing more around creating peated spirit and whisky. It's too early to say what it's going to be though as it's still three or four years before plans are ready and whether we will know exactly what we're going to do.'