During a 26-year career in whisky, master blender Rachel Barrie has honed her skills at Glenmorangie, Ardbeg and Bowmore. Earlier this year, she moved to The BenRiach Distillery Company, with the task of bringing three 'underdog' distilleries – BenRiach, Glenglassaugh and Glendronach – to wider acclaim. She spoke to Giles Milton about the influences of science and nature on her whisky-making.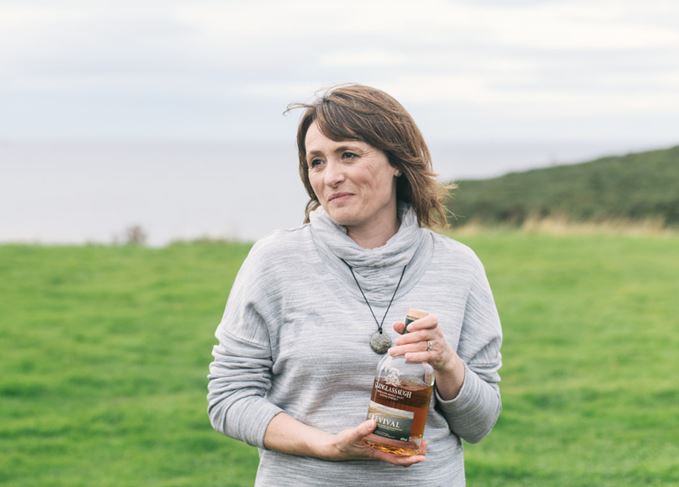 'To start with, my relationship with whisky was about learning. My first distillery job was in 1995 with a big brand in Glenmorangie and that was about refining my knowledge. When I started working with Ardbeg in 1997, it was the start of something else. It gave me a taste of an underdog distillery and how you could bring it to life. That was really exciting and what most tuned me into what I'm doing now.
'After studying chemistry at university, I got my start in whisky at the Scotch Whisky Research Institute, where I was given the job by Dr Jim Swan. Jim sadly passed away earlier this year, but I have such fond memories of him. When we first met, he was this eccentric boffin who knew everything about wood. I was just in awe of him. He had a great sense of intuition and an extraordinary mind. I describe him as the Einstein of whisky. Albert Einstein was renowned for his ability to look deep into nature and understand everything better. Jim was the instigator and brought that out in me.
'With Jim, I learned about how things work but also learned to work with nature – to think it and feel it. His ability to see the future was special and he had great vision. He could be like a bird flying in the sky, taking a view of the bigger picture – to see it, feel it, breathe it in… and then dive deep down into the detail and really unlock every little element. He had it all. Entrepreneurial spirit, great imagination and scientific knowhow.
'I would say my work is more art than science these days. Science is understanding nature; science is the theory. It is the start of your education, where you try to understand what's happening. I've tasted 150,000 casks, and once you have that understanding and that programming in your brain, it becomes intuitive.
'It is like learning music. You learn the rudiments first and then you are able to express yourself. Once you've learned everything, you know what's going to work. A master blender is like a conductor; working with different casks, playing different tunes, different top notes, bass notes and working out how to bring them together. Some are playing their own tune in a single cask and some work better being brought together in an expression.
'Now I want to apply that as whisky maker for BenRiach, Glenglassaugh and Glendronach. They are revered by some, but many people haven't heard of them. To be able to have an influence, bring these distilleries to life and share them with the world is a wonderful opportunity and challenge.

BenRiach distillery: Jack Daniel's owner Brown-Forman bought the Speyside site in 2016

'My first six months have all been about nosing, tasting, appreciating and looking at everything from new make spirit to 50-year-old whiskies. I try to sense how things change in different casks and what different tunes they are playing. For example, what's amazed me about Glenglassaugh is that it is playing a beautiful tone off the still – so mellow, like a woodwind section. It's got top notes like the flute and oily bass notes that carry it through.
'Glenglassaugh has the best design of warehouse because the air doesn't change very often. It is quite a temperate environment and best for a mellow maturation. With the taller warehouses, you can find the casks at the top can get a bit spicy because they get more extremes in temperature. There are no extreme forces at Glenglassaugh; just slow and steady, mellow maturation. This is how you want to spend your life. A nice even pace.
'In your first distillery, you learn as you go along. Like having your first child, you don't have a clue what you're doing. Some of what you learn you apply to the second child, and more you apply to the third. I've had three children and by the time you're on your third, you've pretty much mastered it. You know when to tighten the reins and when to let go, when a cask needs extra nurturing and when to leave it alone and let it do its own thing.
'As you get older it is about being yourself, getting to know everyone at a distillery and staying true to yourself. It is about sharing your knowledge and awareness, and enabling other people to see things from a different perspective that maybe they haven't done before. Working at Brown-Forman [the Kentucky-based owner of The BenRiach Distillery Co] is a great environment. I knew that as soon as I walked through the door.

Glenglassaugh revival: Barrie describes the Portsoy distillery's whisky as a 'woodwind section'

'Traditionally, it has been an industry where you keep your knowledge to yourself and protect your job – but it is not like that here. You need to be collaborative, so even if you have an idea, you have to remember to take everyone else along with you. It is about getting everyone to buy into what you are doing and have a passion for it. Everyone needs to be heard, listened to and motivated.
'The aim is to take a distillery and make it the pinnacle, revered around the world. Master blenders and master distillers, we are all guardians of quality, continuing the legacy and tradition and protecting whisky for the future.
'While there is the human element to whisky, what we make today is down to Mother Nature. Nature is much bigger than all of us. A whisky is like a person. You are affected by where you live, where you come from, the cultures you pick up, the environment, the nature of anything. Whisky is the same. How it ends up is down to its environment and how it adapts.
'Scotch has stood the test of time. It is considered one of the finest spirits in the world and that is down to the Scottish environment. You cannot transport that to America, Sweden or anywhere else. The temperature, the water and barley quality, everything that has come to be. It is unique to Scotland.'