The Scotch Malt Whisky Society (SMWS) has released the Jazz Trio, three 22-year-old whiskies from the same Sherry cask which have been separated and finished in different casks to 'showcase the influence of additional maturation'.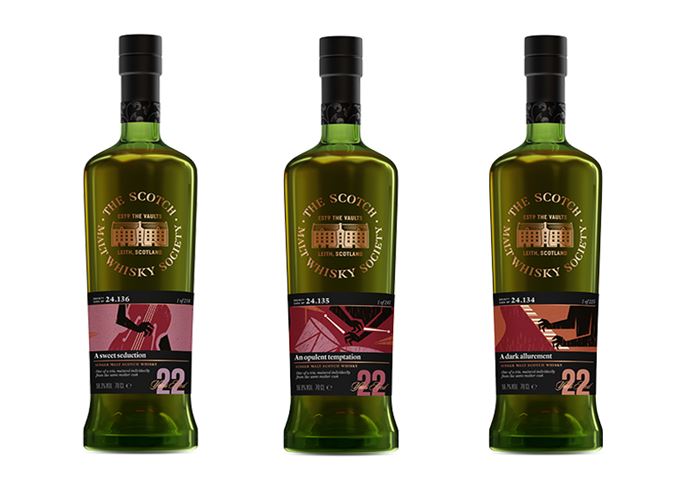 The whiskies, originally from Macallan, were matured for 20 years in the same oloroso Sherry puncheon before being separated for a secondary maturation period of around 18 months.
The Jazz Trio bottling labelled 24.134 A Dark Allurement, has been finished in a first-fill oloroso hogshead and described as 'dense with a hugely syrupy texture full of salted almonds'.
Bottled at a cask strength of 56.7% abv, only 225 bottles of A Dark Allurement have been produced.
The second, labelled 24.135 An Opulent Temptation, has been finished in a first-fill Pedro Ximinez hogshead and is said to contain notes of 'raspberry jam, dark chocolate-covered prunes and black pepper'.
An Opulent Temptation is bottled at cask strength of 56.9% abv with only 241 bottles currently in existence.
Finally, 24.136 A Sweet Seduction has been transferred from the oloroso puncheon to a second-fill ex-Bourbon barrel, and is said to be 'thrilling' with elements of 'muscovado sugar sweetness' on the palate.
Only 218 bottles of A Sweet Seduction are available, bottled at a cask strength of 58.3% abv.
SMWS spirits manager Euan Campbell said: 'This was a really exciting experiment for the Society and we are truly delighted with the outcome.
'As we expected, the wood has made a real impact on the individual flavour of each whisky. The Jazz Trio are three of our finest and rarest releases to date.'
The SMWS Jazz Trio is named after the classic style of jazz band that traditionally features the double bass, drums and piano, with each bottling featuring a separate instrument on the label.
The three bottles will be available from SMWS as a single set for £1,250.
This year marks the Society's 35th anniversary, which was commemorated in July with another series of rare bottlings selected by whisky writer Charles Maclean.