R&B Distillers has launched its first two whiskies before construction has begun on either of its planned distilleries in Raasay or the Borders.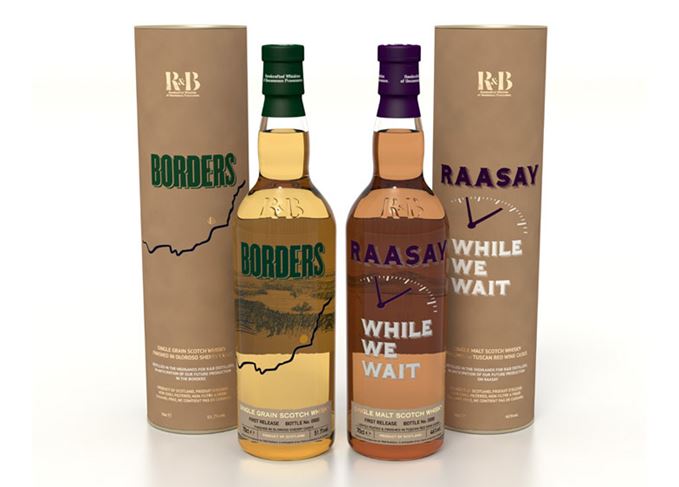 The company, co-founded by Alasdair Day and Bill Dobbie, has created While We Wait and Borders in the style of the distilleries it is planning to build on the Hebridean island and in southern Scotland.
While We Wait is a no-age-statement, 46% abv single malt made using both peated and unpeated whisky. It has then been aged in ex-Bourbon casks and finished in French oak Tuscan red wine barrels which give the liquid a 'lightly fruity aroma and a heather hue'.
The Borders is a no-age-statement, 51.7% abv single grain matured in ex-Bourbon barrels and finished in oloroso Sherry casks.
While We Wait is available for £56.85 per 700ml bottle, while Borders is priced at £49.98 for 700ml.
In addition to the two bottles, R&B is offering membership for its Na Tùsairean club at the cost of £599 for 10 years.
Members will receive one 700ml bottle a year from its first 100 casks for the duration of the membership. Two miniatures will be supplied with each bottle should members wish to preserve the bottles as collector's items.
R&B applied for planning permission on Raasay on 5 December 2014 and is awaiting a decision from the Highland Council. If granted permission, Raasay's Borodale House — an historic former hotel — will be converted into R&B's first distillery and visitors' centre.
Recently, Peebles was selected as the preferred site of R&B's Borders distillery. In an online poll, the royal burgh — a Scottish town that has been granted a royal charter — received 1,352 votes from a possible 2,262.
R&B faces competition to build the first Borders distillery in nearly 200 years as Mossburn distillers and The Three Stills Company are also keen to build in southern Scotland.
This article contains affiliate links, which means we may earn a small commission if a reader clicks through and makes a purchase. All our journalism is independent and is in no way influenced by any advertiser or commercial initiative.