The co-founder of R&B Distillers, Alasdair Day can trace his whisky heritage back to his great-grandfather's grocery and blending business in 1895. He talks to Gavin D Smith about getting Raasay distillery off the ground, and his ambitions to repeat the feat in the Borders.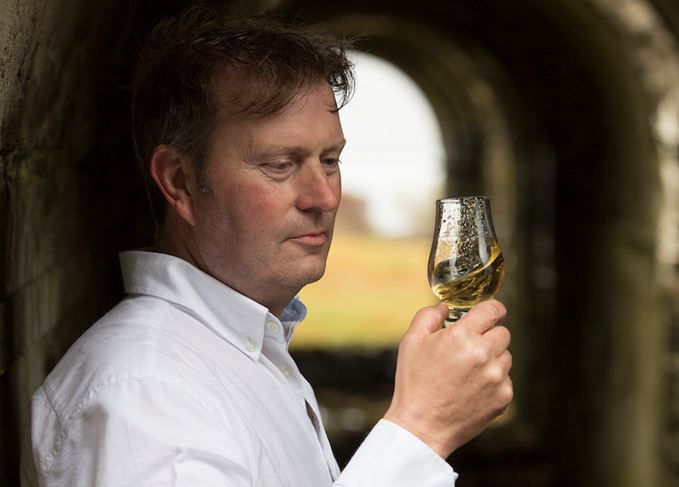 'Not a lot of people know this, but I was actually born in England – in Norwich in fact – where my father was working as a dentist. However, I always maintain that I was born on a tartan blanket and my feet never touched the ground, and I came back to Scotland when I was three months old.
'I graduated with a BSc (Hons) in Botany from Glasgow University and then worked in the food industry, initially with fresh produce and then with dairy, for 25 years.
'I first got involved with whisky because my great-grandfather, Richard Day, owned a licensed grocery shop, brewery and whisky blending business in Coldstream, in the Scottish Borders.
'The original business was established in 1820 and my great-grandfather joined it in 1895. I inherited the family cellar book from my father, and as well as all the sales records for 1820 and 1821, at the back of the book there is a record of all the blends produced by the company from 1899 to 1916.
'In 2009 I decided to recreate one of the blends from the book, and the following year I released my first batch of The Tweeddale.
'To date there have been five batches of The Tweeddale, including a Lowland Tweeddale single cask single malt, a Lowland Tweeddale single grain, and the Last Centennial Tweeddale blended malt.
'The latest releases have been a 27-year-old Tweeddale single grain (from Cambus distillery, which was used in many of the blends in my great-grandfather's book), and this month we are releasing The Tweeddale – The Evolution, a 28-year-old blended Scotch whisky.
'I got into whisky full-time in June 2013. Our first export order for the Tweeddale Blend came in during 2012, and I realised I had to choose between my full-time job or whisky.

Double act: Alasdair Day with R&B co-founder and sole investor Bill Dobbie (Photo: George Rankine)

'By then, it had become extremely difficult to buy aged stock (especially 12- to 16-year-old), so to be able to expand there were two options: either raise investment to buy new fillings, or raise investment to build a distillery to create our own spirit. I chose the latter.
'I looked at a site at Walkerburn, between Galashiels and Peebles in the Borders, but ultimately nothing came of that. I looked at various other sites in the area, but it was very difficult to find somewhere suitable.
'By that time, I'd met Bill Dobbie, with whom I formed R&B [Raasay & Borders] Distillers. Bill was my co-founder and sole investor, and we established the company in 2014.
'My other paternal great-grandfather came from Portvoller, a small village on the north tip of the Eye Peninsula on the Isle of Lewis, and I have always been fascinated by the two opposite corners of Scotland – the Borders and the Hebrides – and the different styles of whisky they might produce.
'Bill's best friend from school was Iain Hector Ross, whose wife's family comes from the Isle of Raasay, and when we were talking about the Hebrides Iain mentioned that the former hotel Borodale House on Raasay was for sale.
'When I visited with Bill in May 2014 I was struck by the view (probably the best from any distillery in Scotland), the fact that there had been illicit distilling on the island in the past, and the geology that influences the water supply.
'There was previously a Celtic well on the site and we now draw our water from the same source. Raasay and Borodale House looked like a great place to make Scotch whisky. Building on an island off an island certainly brings its challenges, as everything has been just that wee bit harder to do.
'We filled our first cask on 14 September 2017 and went into full production of one mash (one tonne a day), five days a week on 27 September, and we are making a lightly peated, fruity single malt. We hope to release the first bottling in 2020.

Varied tastes: Day's favourite whiskies range from Lagavulin to Miltonduff

'In the meantime, we have Raasay While We Wait – in the same style as the whisky we are producing on Raasay. We are now on our third release, and we have worked with a Highland distillery to develop the style of lightly peated single malt, using both their heavily peated and unpeated expressions, which we have finished in Tuscan red wine casks.
'The first release had an eight-week finish and the second release an 18-month finish in red wine cask. The finish of the third release is halfway between the two, and our aim is to balance the fruit from the red wine with the smoke from the peat.
'Meanwhile, our Borders distillery is very much an aspiration, as we have still a lot to do first on Raasay. We held an online vote to find out where most people would like to see the distillery located and the town of Peebles, on the Tweed, was the winner. Great for someone who owns a blend called Tweeddale!
'However, we're looking for any site in the Borders that could be bought and developed in a nice, straightforward way, and realistically we're looking at a five to 10-year timescale for the project, and probably closer to 10.
'When it comes to my own favourite whiskies, it's very much about mood, and where I am and who I'm with. I like Lagavullin and Caol Ila, Clynelish and especially some Speysides. I enjoy Mortlach and Miltonduff, but maybe that's because I've bought some really good casks of them to use in the Tweeddale Blend.
'I live in Livingston, between Edinburgh and Glasgow, and in my spare time I coach at Livingston Rugby Club, where my son plays, though with the Raasay distillery project, and travelling between home and the island so much, I've not had a lot of spare time recently!'