In an age where everyone has not only their own opinion, but also the means to express it via the Internet, is the professional whisky critic an increasingly endangered species? And how can he or she make their voice heard above the all-encompassing din? Tom Bruce-Gardyne reports.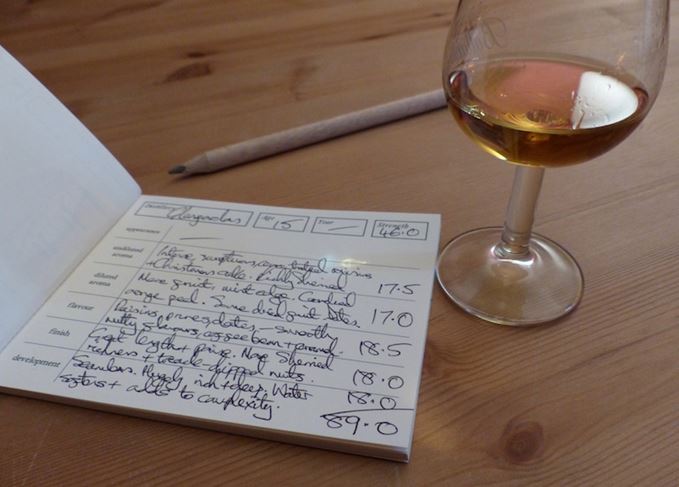 In case you hadn't heard, Canada's Crown Royal Northern Harvest Rye is this year's greatest whisky on Earth, according to writer and critic Jim Murray.
The verdict came down, not on tablets of stone, but in his Whisky Bible 2016. As last year, when Murray crowned a single malt from the Yamazaki distillery in Japan as the world's top dram, it has caused a bit of a stooshie, as they say in Scotland.
Some have suggested that this was the whole point, but Murray vehemently denies it was a publicity stunt, and insists sales of his book would be much higher had he chosen a Scotch whisky for the top spot.
It seems a good moment to debate the role of the expert critic, in the age of the ever more active amateur, armed with Twitter, Facebook and a billion blogs.
As journalist and book critic Jacob Silverman put it in The New York Times:
'The challenge for professional criticism going forward is to find a way to pay for it and to prove its relevance (and its unique character) in a culture that increasingly rates its products in terms of stars, "likes" and algorithmic recommendations.
'The value of good criticism – whether about books or films or restaurants [or, presumably, whisky] – is that it's precisely not this.'
Here, then, is the question: do professional critics matter any more?

YES: JIM MURRAY, WHISKY WRITER AND CRITIC
In 1992, Murray abandoned a lucrative career in Fleet Street to become the world's first full-time whisky writer. He has just published the 2016 edition of his annual Whisky Bible, which has sold over half a million copies to date.
'There is no doubting in my mind that the term or concept of expert has been significantly watered down in recent years.
'In 1975, I visited my first distillery, Talisker. It changed my life. And I spent the next 15 years tasting every whisky I could find or afford, making tasting notes of each of them – for no reason other than to have my own reference point. And I visited every single working distillery in Scotland.
'By about 1990, I knew that my knowledge of whisky was solid. But, when it came to giving my opinions on the quality of a whisky, I felt I had no right to do so. Write about the history and romance, certainly. But quality? No.
'It took a legendary Scotch blender, Jim Milne of J&B, to convince me that my views, values and understanding were sound. It was a massive compliment and, had he not given me that, I'm not sure I would have become the world's first full-time whisky writer in 1992.
'Now fast-forward to the Internet age and everyone has a voice, an opinion, an ego. Have these people done the knowledge, worked with the professionals and gone through genuine hardships to master their craft? Or have they tasted a bunch of whiskies when they've got home from work and then set up their own web page?
'Nearly 20 years ago, I wrote a book called Jim Murray's Complete Book of Whisky. It was before the Internet took hold and I tracked down and visited every single working distillery there was in the world.
'I took out a £50,000 loan to do it. And though the book sold 250,000 copies, I received about £25,000 in royalties. So I took a massive hit financially, but on the plus side I learned so much, spending weeks at a time in warehouses across the world finding out different maturation rhythms depending on cask type, grain type, season and so on.
'It was – and still is – learn, learn, learn. Which has meant I have been used as a consultant blender in the Scotch, Irish, Bourbon, Swedish, Canadian, Indian and many other world whisky industries.
'I'm not sure if the new wave of Internet experts has such a deep insight. The trouble is, the public wouldn't really know. Some people work hard to get their name everywhere. I usually keep a low profile – I'm far too busy nosing and tasting – other than when my Whisky Bible comes out each year.
'And, of course, I get a lot of negative press regarding the Bible, usually generated by keyboard warriors who have no idea that it has taken 25 years of solid hard work, dedication and professionalism to come to the conclusions I come to when giving a score.
'As it is unlikely they have done this kind of groundwork, then their ignorance is understandable. That and the fact we live in a society of instant soundbites and experts.
'A shame, because I write for the consumer rather than the industry. And it is the consumer, if they receive bad advice from a pop-up, self-styled expert, who loses out.
'I have been a professional writer for over 40 years. So the right of everyone to express a view is part of my DNA, and I 100% endorse discussion on the Internet and elsewhere, even if it is criticising me!
'That is every person's right. However, if you set yourself up as an expert, then a responsibility comes with the territory, as people looking for guidance may spend money on your word. I'm not sure if the new breed of "expert" always gets that point.'

NO: TOM SANDHAM, DRINKS WRITER
Sandham has enjoyed writing about drink for 15 years and is one of the Thinking Drinkers (with Ben McFarland, pictured left above), a drinks writing and comedy duo performing at the Museum of Comedy in London this December.
'I think the game has changed massively. With so many outlets for people to have a say, it's almost impossible to be the only voice.
'But credit to Mr Murray – if I were being phoned up by The Times or The New York Times, I'd be delighted, and so would any voice in our industry, because it would be proof our voice mattered.
'We are undoubtedly living in the age of Tripadvisor, where everyone's an instant critic and that simply means the professional critic has to evolve.
'I find the way alcohol is presented in the consumer media very boring. It's always about tasting notes and what's the best, even though taste is totally subjective.
'So, if the "amateur" has managed to pile in over the "expert", it's possibly because the expert hasn't done anything different since the late Michael Jackson.
'As professionals, we have to take our expertise in a new direction beyond: "This is the greatest Islay whisky because it tastes like…"
'There's heritage, social history, context and wider stories to engage consumers and present ourselves as an authority who knows the subject inside-out. It's difficult for amateurs to do that.
'We have to try and make editors present the subject differently; as the Thinking Drinkers, this is what we do at the Daily Telegraph.
'Granted I'm writing a "what's the best whisky" piece right now, so I appreciate the challenge, but any old mug can say they like whisky X and put it on the Internet.
'We need to be more creative. And not just in writing, but on film and when we stand up in front of audiences.'
So there you have it – an old pro defending his position against the the new wave of Internet experts, and a younger drinks writer on why professional critics need to evolve and move with the times.
We all have opinions, and now the means to express them instantly via our smartphone. Individually they may not count for much, but collectively they can be quite a force.
Take wine and CellarTracker, which now offers nearly 5m tasting notes and scores from more than 100,000 amateurs, all for free.
No wonder wine writers as illustrious as Jancis Robinson MW OBE are feeling the pressure. As she wrote in the Financial Times recently:
'I have gone from being a unique provider of information to having to fight for attention.'
It seems the sands are shifting fast, and life ain't going to get any easier for the professional critic.