A Bourbon with a four-grain mash bill has taken the World Whisky of the Year title in Jim Murray's Whisky Bible 2018, with Glen Grant Aged 18 Years Rare Edition retaining a place in the top three.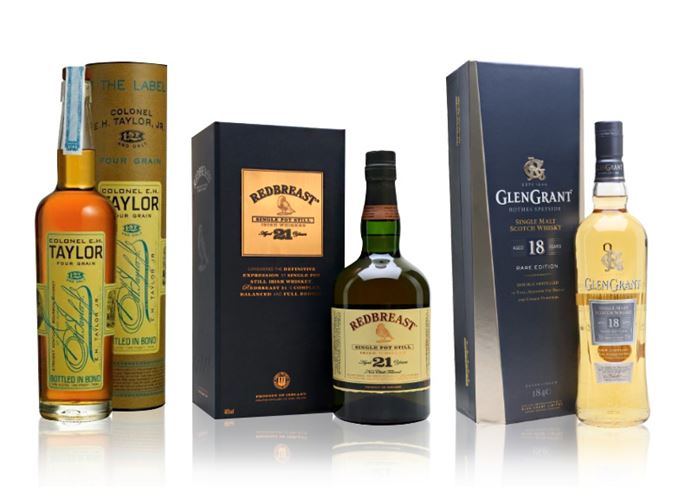 Colonel EH Taylor Four Grain Bottled in Bond Aged 12 Years, praised for its 'sheer undiluted beauty', topped the pecking order in the influential guide, published today.
Second was Redbreast Aged 21 Years from the Midleton distillery in Ireland, with Glen Grant Aged 18 Years Rare Edition in third – a year after the single malt expression finished as runner-up.
The result marks the third year in a row that Murray has named a North American whisky as World Whisky of the Year, following Booker's Rye 13 Years, 1 Month, 12 Days in 2016 and Canada's Crown Royal Northern Harvest Rye in 2015.
It is now four years since a Scotch whisky has won the title (Glenmorangie Ealanta in Whisky Bible 2014), with Japan, Canada and the US (twice) topping the list since then.
This year's winner, bottled by Buffalo Trace, combines the four grains – corn, rye, wheat and malted barley – used by Bourbon pioneer Colonel EH Taylor in the 19th century.
It scored 97.5 points out of 100, with Murray describing its finish as a 'slow, lightly oiled, gently spiced chocolate fade which goes on… and on'.
Redbreast's runner-up spot was the best result for an Irish whiskey in the history of the Bible, with both it and Glen Grant scoring 97 points.
Other winners included Crown Harvest Northern Rye (Canadian Whisky of the Year); The Norfolk Parched from The English Whisky Company (European); Nikka Coffey Malt Whisky (Japanese); Paul John Kanya (Asian); and Limeburner's Dark Winter (Southern Hemisphere).
Among Scotch whiskies, Compass Box secured two major awards: Scotch Blend of the Year for The Double Single; and Scotch Vatted Malt of the Year for 3 Year Old Deluxe.
FULL LIST OF WINNERS
World Whisky of the year: Colonel EH Taylor 4 Grain Bottled in Bond Aged 12 Years
World Whisky of the year (runner-up): Redbreast Aged 21 Years
World Whisky of the year (third place): Glen Grant Aged 18 Years Rare Edition
SCOTCH WHISKY
Scotch Whisky of the year: Glen Grant Aged 18 Years Rare Edition
Single Malt of the year (Multiple Casks): Glen Grant Aged 18 years Rare Edition
Single Malt of the year (Single Cask): Cadenhead's Glendullan 20 Year Old
Scotch Blend of the year: Compass Box The Double Single
Scotch Grain of the year: Cambus Aged 40 Years
Scotch Vatted Malt of the year: Compass Box 3 Year Old Deluxe
SINGLE MALT SCOTCH
No Age Statement (Multiple Casks): Ardbeg Corryvreckan
10 years & Under (Multiple Casks): Glen Grant Aged 10 years
10 years & Under (Single Cask): Scotch Malt Whisky Society Tomatin Cask 11.32 8 Year Old
11-15 years (Multiple Casks): Gordon & MacPhail Ardmore 2002
11-15 years (Single Cask): That Boutique-y Co. Clynelish 15 Year Old
16-21 years (Multiple Casks): Glen Grant Aged 18 years Rare Edition
16-21 years (Single Cask): The First Editions Ardmore Aged 20 Years
22-27 years (Multiple Casks): Sansibar Whisky Glen Moray 25 Years Old
22-27 years (Single Cask): Hunter Laing's Old & Rare Auchentoshan 24 Year Old
28-34 years (Multiple Casks): Glen Castle Aged 28 years
28-34 years (Single Cask): Old Particular Glenturret 28 Year Old
35-40 years (Multiple Casks): Brora Aged 38 years
35-40 years (Single Cask): Xtra Old Particular Caol Ila 36 Year Old
41 years & Over (Multiple Casks): Gordon & MacPhail Glen Grant 1957
BLENDED SCOTCH
No Age Statement (Standard): Ballantine's Finest
No Age Statement (Premium): Compass Box The Double Single
5-12 years: Grant's Aged 12 Years
13-18 years: Ballantine's Aged 17 Years
19-25 years: Royal Salute 21 Years Old
26-50 years: The Antiquary Aged 35 Years
IRISH WHISKEY
Irish Whiskey of the year: Redbreast Aged 21 Years
Irish Pot Still Whiskey of the year: Redbreast Aged 21 Years
Irish Single Malt of the year: Bushmills 16 Year Old
Irish Blend of the year: Bushmills Black Bush
Irish Single Cask of the year: Dunville's VR First Edition Aged 15 Years
AMERICAN WHISKEY
Bourbon of the year: Colonel EH Taylor Four Grain
Rye of the year: Thomas H Handy Sazerac 126.2 Proof
US Micro Whiskey of the year: Balcones Texas Blue Corn Batch BCB 16-1
US Micro Whiskey of the year (runner-up): 291 E Colorado Aged 333 Days
BOURBON
No Age Statement (Multiple Barrels): George T Stagg 144.1 Proof
9 years & Under: Buffalo Trace Experimental Collection Organic 6 Grain Whiskey
10 years & Over (Multiple Barrels): Colonel EH Taylor Four Grain
RYE
No Age Statement: Thomas H Handy Sazerac 126.2 Proof
Up to 10 years: Pikesville 110 Proof
11 years & Over: Sazerac 18 Years Old
WHEAT
Wheat Whiskey of the year: Bernheim Original
CANADIAN WHISKY
Canadian Whisky of the year: Crown Royal Northern Harvest Rye
JAPANESE WHISKY
Japanese Whisky of the year: Nikka Coffey Malt Whisky
Single Malt of the year (Multiple Barrels): Nikka Coffey Malt Whisky
EUROPEAN WHISKY
European Whisky of the year (Multiple): Penderyn Bryn Terfel (Wales)
European Whisky of the year (Single): The Norfolk Parched (England)
WORLD WHISKIES
Asian Whisky of the year: Paul John Kanya (India)
Southern Hemisphere Whisky of the year: Limeburner's Dark Winter (Australia)