Charles Chree Doig was – literally – one of the architects of the Scotch whisky world, immortalised by his pagoda-like Doig Ventilators – now mainly redundant, but aesthetically very much alive. Gavin D Smith tells his story.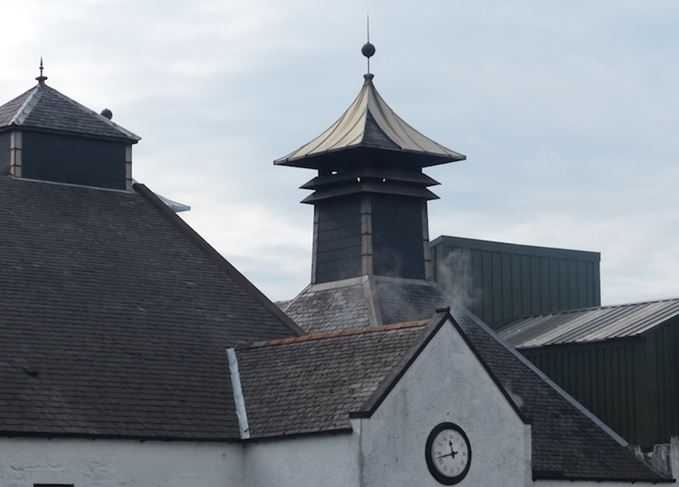 After the death in 1723 of Sir Christopher Wren, best known for designing St Paul's in London, the great architect was buried in the cathedral with an accompanying plaque. Translated from Latin it reads:
'If you seek his monument look around you.'
Much the same could be said of an altogether more obscure architect in relation to the landscape of Scotland, since many surviving 19th century distilleries were the work of Charles Chree Doig, the man responsible for creating the Chinese-style, kiln pagoda head regarded as a symbol of Scotch whisky distilling throughout the world.

Elegant lines: Doig Ventilators – like the one at Dufftown – married practicality to aesthetics

Doig was born on a farm in the county of Angus in 1855, the son of a Kirriemuir agricultural labourer.
At school he won prizes for arithmetic and what was termed 'General Scholarship', and his scholastic career was sufficiently impressive for him to stay at school until the relatively late age of 15, after which he was given a job by local architect John Carver, who practised in the village of Meigle.
When he was 25, Doig married Margaret Isabella Dick, with whom he had three sons, and in 1882 the family moved north to Elgin, where Doig joined the practice of a land surveyor named Harbourne Marius Strachan Mackay.
The young recruit was soon impressing his employer with his abilities as a surveyor and designer, and in a few years Doig had become a partner in the firm.
The last decade of the 19th century saw a great boom in Speyside distilling, so Doig was ideally placed to capitalise on the demand for new distilleries, along with the expansion and upgrading of existing ones.
Specialising in distilling projects, Doig was running his own practice by 1890, not only drawing up plans for the structures of new distilleries, but designing the stills and other equipment to fit into them.
Ultimately, he was also closely involved in ensuring that this equipment turned out fine whisky, being adept at solving engineering-related problems.
Doig's design activities stretched far beyond Speyside, to embrace Highland Park on Orkney, Talisker on Skye and Ardbeg, Caol Ila and Laphroaig on Islay. In total, he is credited with professional involvement in no fewer than 56 distilleries.
As a distilling innovator, and someone well aware of the many distilleries that had succumbed to fires, this most resourceful and versatile of designers even developed a ground-breaking fire extinguishing system which could be fitted throughout distillery buildings.
But it was for the revolutionary, Chinese-style 'pagoda head', properly known as the Doig Ventilator, that its creator became most renowned.

Busy man: Doig was professionally involved with 56 distilleries, including Ardbeg​

Previously, the roofs of distillery maltings had been equipped with revolving, conical cowls, which facilitated the removal of smoke from the kiln below, but were aesthetically unappealing.
Doig's new design was a kiln chimney which attracted air from all directions to provide a better 'draw' for the fire beneath. It also had the advantage of being considerably more attractive.
Doig's innovation was born at a site meeting at Dailuaine distillery, a mile from Aberlour, on 3 May 1889.
It subsequently became a trademark of distilleries throughout Scotland, as many distillery proprietors during this highly profitable era wanted Doig Ventilators for their functional ability, handsome appearance and, in some cases, because their friends and rivals had installed them on their distilleries.
Sadly, Doig's original pagoda head at Dailuaine was destroyed by fire in 1917, a year before his own death at the age of 63. Doig died after falling ill while shooting on moorland near Forres with his son, Alexander, who was employed at the War Office in London.
Doig's other sons, Charles Junior and Willie, had followed in his footsteps as architects, and the Doig family practice was ultimately absorbed by that of Alistair J Morrison, whose principal, Willie Brander, presented some 5,000 of the Doigs' plans to Elgin Library for preservation.
It is ironic that Doig's 'signature' pagoda head feature, which still adorns so many of our older distilleries, rarely has any practical use today.
Only a handful of Scottish distilleries continue to malt their own barley, rendering the pagodas of most purely ornamental.
Indeed, when Auchroisk was constructed near Keith in the early 1970s and Isle of Arran distillery was built two decades later, both were equipped with entirely cosmetic pagodas for tradition's sake.
Charles Doig would probably have been amused and flattered in equal measure…